Installation
User-Friendly Guide to Installing an Ecobee3
I did it. I installed my first home automation accessory. The Ecobee3 thermostat. Below is my experience captured through images and helpful insights.
Ecobee3 Thermostat
The Ecobee website said the average installation takes 45 minutes. Since I'm a complete newbie, I took my time researching common issues, thermostat wiring, and safety until I felt confident enough to start following the step-by-step instructions laid out by Ecobee. The whole process took me 2.5 hours, with the actual installation taking about an hour. For someone who isn't normally a DIYer, I consider that a success.
Key Things I Learned During My Pre-installation Research
Turn off the power to your HVAC system and thermostat first.
In an ideal thermostat wiring situation, the colors of the wires will correspond nicely to the letters in which they connect. For example, W is for the white wire, Y for yellow, G for green, etc. This isn't the case in all situations, and that is when labeling becomes really important. Regardless, you should always take a picture of your old thermostat wiring before disconnecting everything, so you can refer to it during the installation.
Old thermostat: corresponding colors to wire terminals and jumper bridge.
Generally, a thermostat can have between 4 to 6 wires. This is dependent on the capabilities of your HVAC system.
The red wire has two R terminal connection points, Rc and R (sometimes called Rh). The c in Rc stands for cool, the h in Rh stands for heat. The red wire connects to both by way of a jumper bridge. If you look closely at the image, you will see it.
The Ecobee3 connects the Rc and Rh terminals automatically which means you can choose either Rc or Rh to plug the wire into. It also means no jumper bridge is needed.
Finally, there is a wire called the "common" wire that connects to the C terminal. The common wire is generally black or blue. It closes a circuit to allow Rc/Rh to provide continuous power to a non-battery operated thermostat. The Ecobee3 and some other smart thermostats don't use batteries, so a common wire is necessary.
If there is no common wire, Ecobee3 comes equipped with a Power Extender Kit that attaches to your HVAC system and uses your existing wires to power your thermostat.
Installation
After shutting off the HVAC, I removed the old thermostat panel and got to work. I found mine uses six wires: white, yellow, green, orange, red, and blue, and they correspond to the same letter terminals. I also confirmed that my Rc and R terminals were connected by a jumper bridge.
Based on the wiring of the thermostat and my research, I felt confident I knew where four of the six wires would connect to on the Ecobee3. However, I was a bit confused about where the blue and orange wires would go.
If blue is the common wire, why wasn't it in the C terminal of my old thermostat? Since the old thermostat uses batteries, do I even have a common wire? Where does the orange wire go if the Ecobee3 doesn't have an O terminal?
Ecobee3 panel: the black tape is me being overly cautious.
From what I had researched and read in the instructions, I felt 90% sure the blue wire was the common wire and the orange wire should go in the O/B terminal. I decided to visit our HVAC system in the basement and look at the panel for clues. I confirmed the HVAC was shut down and then opened the panel to see if I could identify the common wire.
HVAC Panel
There was no wire connected to the C terminal. Perhaps I will have to use the Power Extender Kit. But wait a second, what is that blue wire wrapped around the other wires down there?
Missing common wire.
OK, I'm now pretty sure we have a common wire (blue) that hasn't been hooked up to our HVAC system. At this point, I felt 95% certain all I had to do was connect the newly found blue common wire to the C terminal on the HVAC and then go up to the thermostat and connect orange to O/B and blue to C, but just like on Who Wants to be a Millionaire, 95% certainty can still send you packing. It was time to phone a friend.
During a quick and easy call to Ecobee's helpful customer service to confirm my findings, I got the confirmation I needed and the go-ahead to connect the blue common wire to the HVAC's C terminal. I then ran back up to the thermostat, finished the rest of the connections, and slipped the Ecobee3's face plate in place.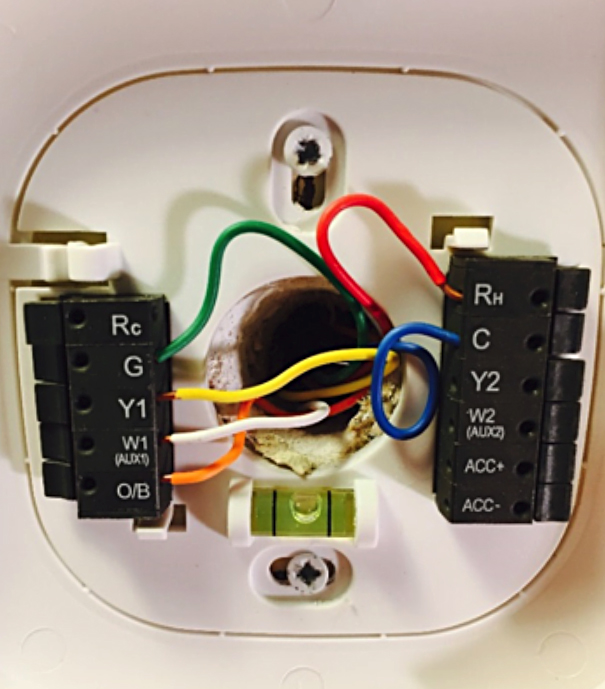 Ecobee3 with all wires in place. Good to Go!
Nothing happened. Then I remembered I had to power everything back on. With that, the Ecobee3 buzzed to life.
My Ecobee3 is ready ready to roll.
After a bit of system configuration at the terminal, I downloaded the Ecobee app and connected it to Apple HomeKit. I selected my desired temperature for winter and summer, and then I switched my HVAC to heat, and I waited for the magic to happen. When I heard the whir of air come through the vents, I gave myself a high five. I rock.
Now, when I'm out running errands and that icy air has me chilled to the bone, I can pull out my phone, turn my heat up to "Hawaiian paradise," and head on home. A smart life is a good life.
Sound like a good plan for your home? Check out our line of Ecobee products and other thermostats.