Christmas
Christmas Decorating Tips
It's Beginning to Look a Lot like Christmas
With the fall season upon us, it's not too early to begin thinking about Christmas and getting a head start on planning your holiday decorating. Before you know it, Thanksgiving will be over, and it will be time to string up the lights, trim the tree, wrap up presents, and set the table for a holiday feast.
Christmas lights create a warm, festive mood.
One of the time-honored traditions for the holiday season is to purchase and decorate a Christmas tree. A well-decorated tree instantly puts you in the holiday spirit. Though many people enjoy the yearly ritual of picking out a live tree, many more have switched to the convenience and ease of an artificial Christmas tree. If you haven't made the switch yet and still fear that Christmas wouldn't be the same without a real tree, you will be pleasantly surprised to find out that there are many reasons why an artificial tree is the perfect addition to your holiday décor.
Benefits of Having an Artificial Christmas Tree
They look and feel real
Many of the higher quality Christmas trees available today, such as the Fraser Hill Farms and Christmas Time brands, have branches that are molded from actual live trees to give them the most realistic look and feel. These branches, however, don't dry out and fall off all over your floor. The needles are durable and crush-resistant, so they'll retain their shape year after year with minimal "fluffing" when you unpack the tree from storage. Miss the smell of a real pine? Spritz the tree with a pine-scented spray or hide a few real sprigs deep within the branches to give it the same, fresh aroma of a real tree.
Lower cost and greater value
Buying an artificial tree not only saves you money on the initial purchase, but also in the long run, making it a great value. They cost less than live trees, and you won't have to buy a new one each year. An artificial tree can last anywhere from 10-20 years, so it will truly become one of your holiday traditions.
Easy to set up and take down
Forget driving to the tree farm, picking out the perfect tree, hauling it home on the roof of your car, then dragging it into the house, leaving a trail of shed needles in your wake. With an artificial tree, you just have to take the box out of the closet with the rest of your decorations. Most models set up in only a few minutes. Many come pre-strung with white or multi-colored lights, so all you need to do is add the ornaments and plug it in. How easy is that?
No watering required
Remember having to water your real tree? If you forgot this necessary task, those beautiful boughs turned dry and dull in no time, making your tree a dangerous fire hazard, especially when lit with old-style bulbs that got hot. Not only do artificial trees require no watering, they are made of fire-retardant materials to make them safer. The pre-lit models also use long-lasting LED bulbs that stay cooler to increase their safety and energy-efficiency.
Clean-up is quick and easy
Just as artificial Christmas trees are effortless to set up, they are similarly easy to take down. Unlike a real tree, they will not leave pine needles all over the floor, nor will you have to worry about spilling the water reservoir as you dismantle the tree. You only need to remove the ornaments and pack them and the tree up to store away until next year.
Added benefits
Unlike living trees, artificial Christmas trees don't harbor mold, moss, or other allergens to cause sinus problems or turn your room into a toxic hazard. They come with sturdy, built-in stands that are worry-free from tipping or being knocked over by a child or pet.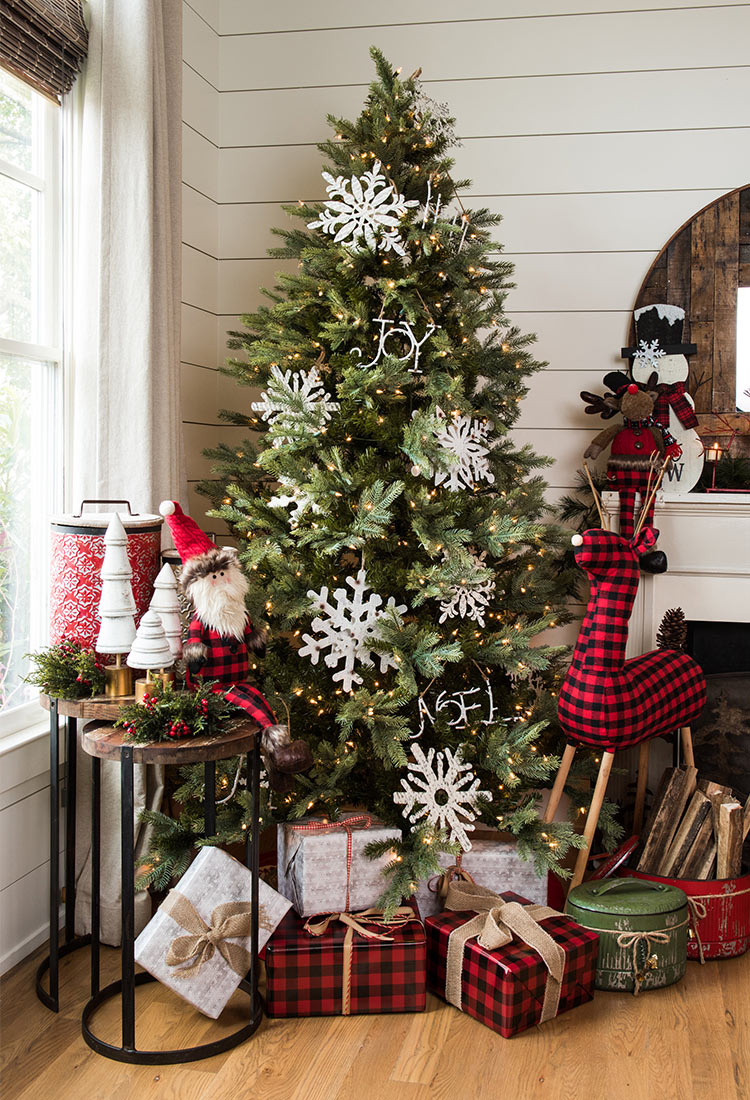 Stick to a theme to give your seasonal décor a cohesive look.
Deck the Halls for the Festive Season
For most people, decorating for Christmas goes beyond merely trimming the tree. Your whole house can be decked out in holiday splendor, indoors and out. So besides your tree, here's some ideas for making your home more merry and bright this season.
Select a theme
To keep your holiday decorations cohesive from room to room, stick to a theme when accessorizing your home. You can choose a theme based on color such as the traditional green and red, all-white, gold and silver, or blue and white. You can also pick a theme based on a particular décor scheme such as vintage, coastal-inspired Christmas, whimsical, Victorian, country, or anything else that suits your individual style and tastes.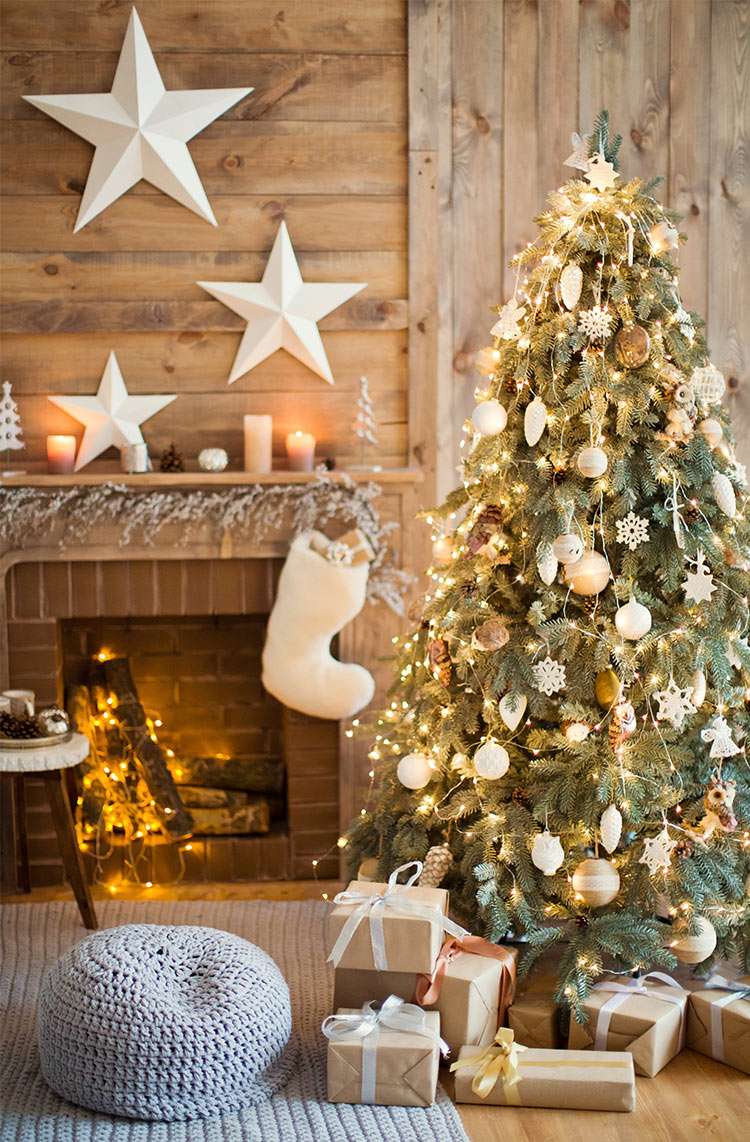 White Christmas decorations offer a versatile and timeless look.
Add some greenery with garlands and wreaths
Don't forget some Christmas classics. Wreaths and garlands made from evergreen, either live or artificial, are a traditional complement to your holiday tree. Hang a beautiful wreath on your front door. You can go traditional with a red bow, pine cones, berries, and holly accents, or embellish it with ornaments, dried flowers, or other decorative picks from your local craft store. Garlands can be draped around door frames, wrapped on staircase bannisters, and hung along a fireplace mantel surround. Mistletoe and poinsettias are also perfect plants to add to your space during the season.
Light some candles
Groupings of candles in holiday-themed holders on your dining room, table, on a mantel, a hall console, or in wall sconces will add a warm ambiance. Scented candles can also evoke a festive feeling. Besides decorating your home, candles can also be used as gifts. Add float candles or votive candle holders to your dining room table to impress your guests as they gather for a meal.
Hang some stockings
Stockings hung by the chimney with care lets everyone know Christmas is here. Whether you select store-bought or create your own, hang a personalized stocking for every family member as part of your holiday tradition. Stocking holders make them easy to hang without damaging your mantel. Even if you don't fill them with small presents or candy to be opened on Christmas morning, the stockings make a wonderful decoration for your mantel.
String up the lights
Besides lighting up the tree, strings of Christmas lights can be added to doorway surrounds, along stair rails, on mantels, and on entry tables. You can put fairy lights in candle lanterns to add a bright and festive glow to any room. Put LED candle lights (either electric or battery-operated) in your front windows to create a warm, welcoming glow since from outside.
Put up some indoor decoration
Have a little fun with your seasonal decorating. You can add holiday touches throughout your home with Santa, snowmen, angel, nutcracker, reindeer, or elf figurines placed on tables and shelves. If you have an heirloom nativity scene or a collectible village, Christmas is the perfect time to display them as part of your décor. Accent your sofas, chairs, and beds with holiday-themed throw pillows and pillow covers. When it's time to entertain, set your dining room table with fine table linens in styles perfect for a festive meal.
Don't forget to decorate the outdoors
Create some Christmas cheer with outdoor lighting and decorations. Along with a door wreath and garland, you can add pine boughs and poinsettias to your window boxes. Put some topiaries on your front entry accented with holiday bows and ornaments. Dress up your home's exterior with lawn figurines (some light up and have animation), icicles, and colorful lights strung in shrubs, trees, and wrapped around lamp posts. Line the front walkway with luminarias to light the way to the party with a soft glow that welcomes guests to your home.
Need some help in stocking up with decorations for the holidays? Check out Riverbend Home's great selection of Christmas trees, wreaths, garlands, ornaments, holiday table linens, accent pillows and pillow covers, candle holders, and seasonal décor. We have everything you need to get your home ready for Christmas.