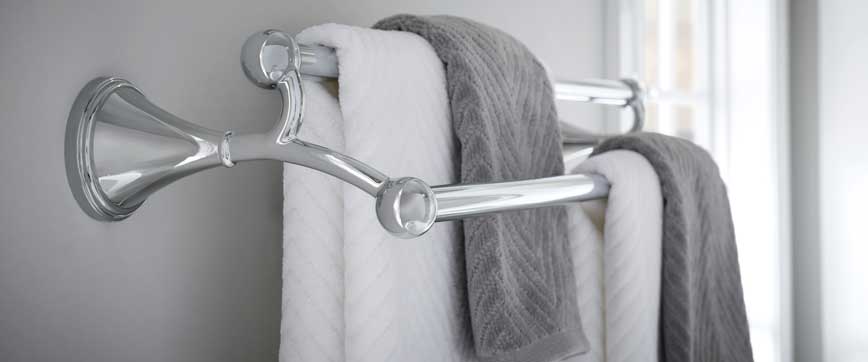 Bath & Shower Accessories
A bathroom is more than just the fixtures inside; the accessories you choose can make it a welcoming retreat. Room sprays and diffusers create ambiance and scent the bathroom with aromatic fragrances that relax and renew. Clay and reed diffusers come in attractive designs that look natural in the bathroom while they refresh the air. Bath and shower accessories pamper your skin and lend a spa-like quality to your daily bathroom routines; whether it's a pair of exfoliating gloves, a wooden body brush, or pedicure supplies, top-quality skincare products make you feel special. We also offer an assortment of grooming products, including tweezers, clippers, and manicure sets that simplify personal care. Make the most of your time in the bathroom with the beauty and care accessories available at Riverbend Home.
Accessories for the Bathroom, Sink & Shower
Bathroom accessories can make a big impact on the overall design and function of the space. Consider the layout and purpose of your bathroom and choose accessories that enhance both its form and function. For example, a wall-mounted toilet paper holder takes up less space than a freestanding style in a small bathroom. If you're designing a guest bathroom, consider installing additional towel bars. An absorbent bath mat offers a slip-resistant surface between wet feet and slick tile. From linens to shower curtains, find accessories in styles and finishes that make the most of your bathroom.
For a spa-like bathroom setting, opt for elegant bathroom dispensers to store special soaps, lotions, and shampoos. Battery-operated, hands-free, and wall-mount soap and lotion dispensers add interest to the space and keep messes to a minimum. Coordinate your collection with bathroom dishes, holders, and tumblers in shapes and themes to complement coastal, contemporary, or traditional décor. A matching set with a toothbrush holder, tumbler, and soap dish pulls together the look of a bathroom.
Amp up the luxury quotient in your bathroom with an indulgent towel warmer. Runtal and AMBA offer a selection of easy-to-install, wall-mounted hot water or electric towel warmers in finishes from white to stainless steel. And no spa-like bathroom experience is complete without superior-quality textiles. Our collection of bathroom linens and rugs includes plush bathrobes in Turkish cotton. You'll also find bath sheets, mats, and towels in an assortment of sizes, colors, and patterns.
Accessories pull together the look in your bathroom: Whether you're looking to match the shape of your towel bar with a hand towel ring or coordinate your linens with a new waste basket and tissue box holder, find every bathroom essential to accessorize your master, guest, or half bath at Riverbend Home.