Enjoy Outdoor Grilling All-Year Round
The Benefits of Cooking with Fire
During summer months, nothing is better than enjoying warm weather spending time in your backyard, cooking up some of your favorite foods. It's hard to beat the taste of a juicy hamburger hot off the grill or a perfectly grilled hot dog with all the fixings. Cooking and eating outside in the open air are simple summer pleasures that can be enjoyed beyond the season in the spring, fall, and sometimes even the winter months. Here's some benefits to cooking in the great outdoors.
Cooking outdoors is a simple pleasure that can be enjoyed beyond the summer.
Preparing and serving meals outdoors makes them more special
Maybe it's the fresh air or the scent of meat sizzling on the grill, but cooking outdoors seems more pleasurable than toiling over the stove in the kitchen. There's no better way to celebrate warm weather than cooking a homemade meal over an open flame.
Cooking outdoors is a social event
Whenever you prepare meals indoors, the designated chef is often left prepping and cooking alone in the kitchen while family and guests socialize in another room. When cooking outside, anyone stationed at the grill can easily chat with friends and family as they hang out nearby. They can readily pitch in and help to prep side dishes, gather plates, utensils, and condiments, and assist in clearing the table when everyone is done eating.
Host a party without worrying about cleaning your house
If everyone is gathering outdoors, you'll need less time and effort to make the indoors presentable to your guests. Mealtimes are usually less formal too, so you don't need to go all out in setting a decorative table. Just put a tablecloth on your picnic or outdoor dining table, string some lights or set out citronella candles around your porch or patio, and you're ready to party.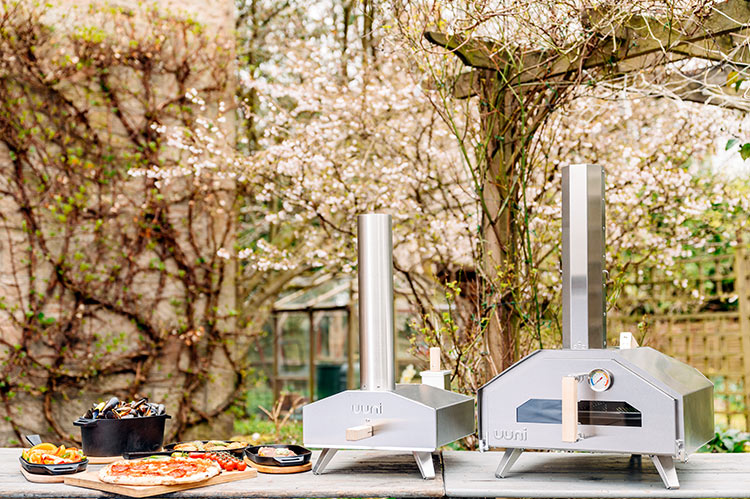 Ooni wood-fired pizza ovens are a fast, easy way to cook pizzas and other favorite foods.
You won't heat up the indoor kitchen
Even if you have air conditioning, cooking inside will heat up your kitchen. When it's hot and humid outside, the last thing you want to do is heat up the oven. Keep your interior and yourself cool and comfortable by cooking and serving meals outside instead.
Reduce kitchen cleanup
Cooking outdoors means there's fewer messy pots and pans to clean up. Eating outdoors usually means using paper plates and disposable utensils, eliminating the amount of dirty dishes to wash after dinner. You just need to clear the table and take out the trash. Done and done.
Go beyond dinner
Dining outdoors in not just for dinner. Pop a cast iron skillet on the grill and cook up pancakes, eggs, or French toast for breakfast. Won't your first cup of coffee of the day taste so much better on the patio as you catch a few rays of the morning sun? Lunch is just as easy to serve and eat outside. Cold sandwiches, salads, and sides need little prep and no cooking time. If you prefer something hot, a hamburger, hot dog, or grilled sandwich is fast and easy to cook up on the gas grill.
Go beyond burgers and hot dogs when you cook outdoors.
There's something everyone can eat
No matter what the food preferences are for your group, it's easy to serve up something to please everyone. You can grill veggies for vegetarians and vegans, fish for seafood aficionados, steaks for meat lovers, and foods to meet virtually any dietary need. Grilling makes it easy to customize each plate as you are cooking on demand. Also, every guest can bring a dish they like to the gathering or contribute foods they'd like you to grill.
Cooking on the grill is fast and easy
Except for slow-cooked barbecue or rotisserie meats, grilling tends to have quicker cooking times and easier preparation. You usually marinate, season, or baste meats and veggies and toss them over the open flame to cook. Gas grills are quick to fire up and take less time to heat up than your oven or electric burners.
You can cook outdoors any day of the week
Why save grilling just for weekends? Cooking and eating outdoors after a long day at work is a great way to relax and unwind from the daily grind. If you are a parent, the kids are more likely to burn off the after-dinner energy by playing in the yard rather than pull out their video games while you can leisurely finish your meal off with a beverage or dessert. Plus, there's less dishes and pans to clean up afterwards.
More people can gather outdoors
Entertaining outdoors lets you host more people than you can usually fit indoors, especially if your house is small or doesn't have an open enough layout to allow the right flow of foot traffic during large gatherings. Outside in your yard, people will tend to stand around the grill and chat instead of sitting before the meal. If you don't have enough lawn chairs to accommodate all your guests, most people are willing and able to bring along a few folding chairs with them to the party.
Food seems to taste better outdoors
Who knows if it's the ancestral lure of the open fire, the crisp fresh air, the sunshine, or the tantalizing aromas of the seasonings and meat juices wafting off the open grill, cooking outdoors seems to whet our appetites. No matter what food you have decided to serve, it just seems taste better when you prepare, cook, and eat it outdoors.
The Right Tools for the Job
A grill for every budget and taste
There are plenty of options available for outdoor grills. Besides the standard and basic charcoal grills, most people will use some form of gas grills. These are usually powered by tanks of liquid propane, but there are also models that use natural gas piped directly from your home's system. Gas grills can be mounted on mobile stands or carts with wheels for easy portability or more permanently mounted on in-ground posts or within a built-in base with a countertop in an outdoor grilling station or kitchen.
Post-mounted grills require less floor space than other models.
Grilling on the go
Also popular on the market are smaller and portable outdoor ovens/grills that use a variety of fuels including wood pellets, charcoal, or propane gas. Some models, like the Ooni Koda and Ooni Pro operate off a choice of wood pellets or propane gas fuels. The Ooni outdoor ovens were designed initially for making wood-fired pizzas outdoors, but they also can grill and cook just about any food imaginable. Fast and energy-efficient, they reach higher temperatures than your indoor oven to cook a pizza in as little as 60 seconds. Small and very portable in their own carrying bags, Ooni outdoor ovens can go to the beach, the lake, or mountain cabin get away, allowing you to cook outdoors anywhere you like to go.
Add the right accessories to get started
Along with a grill, you will need the proper tools and accessories to make grilling night a success. You don't need to spend a lot to get a basic tool kit. These are some of the tools you should have on hand.
Long-handled, locking tongs – get two pairs to use one for handling raw foods and one to handle cooked foods.
A long handled spatula – for flipping burgers and turning other foods.
A long-handled meat fork – for turning steaks and holding pieces of food while cutting
A silicone-bristle basting brush – for applying those delicious sauces and marinates
An easy-to-read thermometer – to ensure the food, especially meat, is properly cooked
Oven/grill thermometer – to check the working temperature of your grill if it doesn't have an inset or built-in thermometer of its own.
A long-handled lighter – to ease ignition on charcoal grills and gas grills without electric ignitors.
Heavy-duty oven mitts – to protect your hands and arms from flames and hot plates of food
Serving trays and grill cookware – for holding cooked food and grilling side dishes and non-meat items.
Resealable zip-top plastic bags – for marinating and storing leftovers
Ceramic briquets – an optional item that catches drippings and helps intensify flavors
Grill cover – to protect your grill from rain and weather when it's not in use.
Wire-bristle grill brush – to help clean off the cooking racks and grill.
Once you have your grill and accessories, you are ready to load up on your favorite foods and head outside and get cooking. Bon appétit!