Casual and Elegant: French Country Style
Traditional Style encompasses many sub-variations. One variation worth exploring is French Country Style. Among specific design elements and motifs, the adjectives casual and elegant are often used to describe the formal-yet-inviting feel of a French Country home.
Exterior Details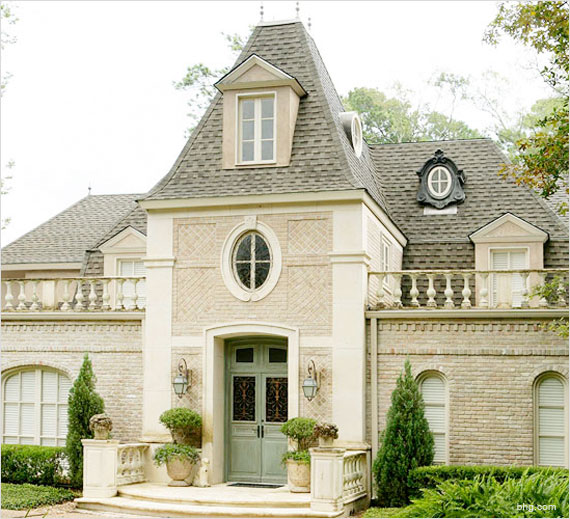 French Country Style homes are known for unique architectural details. The Mansard roof, with its two-tiered and flat top design, is a common detail specific to French Country homes. Exterior symmetry is also typical of French Country design with the front door located in the middle of the home as the focal point.
Smaller details such as well-manicured gardens, craftsman quality ironwork and detailed brass hardware are popular. Woodwork trim on windows and doors is often painted in a vivid color.
Tradition In Interior Design
If you're going for French Country Style, befriend your upholsterer. Traditional French Country homes showcase luxurious fabrics in rich colors and a mix of traditional prints. Typical French Country Style prints are gingham, stripes, fleur de lis, toile, and floral. It's not uncommon to see walls covered in the same fabric as the couch and chairs and no window goes undressed.
French Country traditions are kept alive through design. True French Country homes will have heirlooms and antiques that date back to the 18th century. Common design motifs are hens, eggs, and hot air balloons. Other common indicators of French Country Style are gilded furniture, chandeliers, tassels, and candelabras.
Traditional French Country Kitchens
Kitchens are built to suit a chef's every need because they're designed to house pots for every cooking purpose, have a panière (a cupboard built into the cabinets to store freshly baked bread), and usually have a built in wine rack too. They're also a great place to gather with friends and family.
A traditional apron front sink, bridge faucet and other kitchen appliances and distressed painted cabinets lend a rustic feel to the kitchen and ample seating makes the space inviting.
Traditional French Country Bathrooms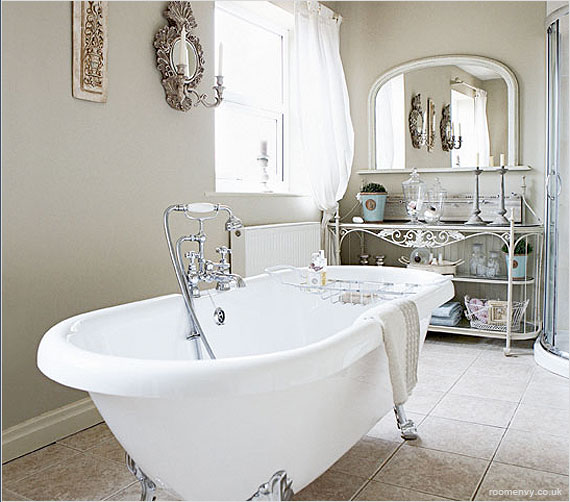 Bathrooms have a utilitarian but elegant feel. A traditional style sink and faucet with intricate details give the room an old world feel. A luxurious freestanding tub makes a great focal point for the master or guest bathroom. Details like claw feet, custom shower curtains, and chandeliers, and luxurious towels add a touch of European sophistication.