Buying Guide
How to Choose the Best Gas Grill
Efficient, easy-to-use, and a mainstay of any barbeque, gas grills let us cook up our favorite foods in minutes while enjoying the great outdoors, especially during the sunny summer months. With all the options available, the right gas grill can cook more than just hamburgers and hot dogs. It bring the versatility and performance of your indoor kitchen oven into your backyard.
With so many features, options, and specifications to choose from, finding the right gas grill can seem a little daunting. To help you select the right gas grill to suit your needs, we've put together some factors to consider when shopping for a new grill.
A gas grill makes outdoor cooking easy and enjoyable.
Pick Your Grill's Fuel Type: Propane vs.
Natural Gas
Gas grills use either liquid propane (LP) or natural gas (NG) as their fuel source. Most gas grills are available in both configurations and conversion kits are also available to reconfigure an existing propane grill to natural gas and vice versa.
Propane
Liquid propane is the most common type of fuel used in gas grills. The propane comes in a 20-lb portable tank that is refillable at specialty propane stations, gas stations, hardware stores, some grocery stores, and other retail locations that offer a tank exchange service in which you bring in your empty tank and purchase a full tank in replacement. Along with the easy accessibility of propane, the main advantage of a propane grill is that the portability of the tank allows you to place your grill anywhere.
Natural gas
Some gas grills use natural gas for their fuel. If your home already is piped for natural gas to use for heating, hot water, and appliance such as stoves and dryers, you have the option of attaching your grill to your home's existing natural gas plumbing. The main advantage to a natural gas grill is that you will never run out of fuel and never need to refill a tank. However, you will be limited to placing your grill since it must be located in access to your home's gas connections.
How Many Burners Do You Need For Your Grill?
The average gas grill uses three to four burners, though some smaller models come with two. Burners are hollow with gas inlet holes that allow the gas to enter through the venturi tubes and outlet ports that allow flames to exit. They are situated at the bottom of the grill body. Burners come in a variety of designs including H-shape, U-shape, bar, oval, bowtie, and S-pipe.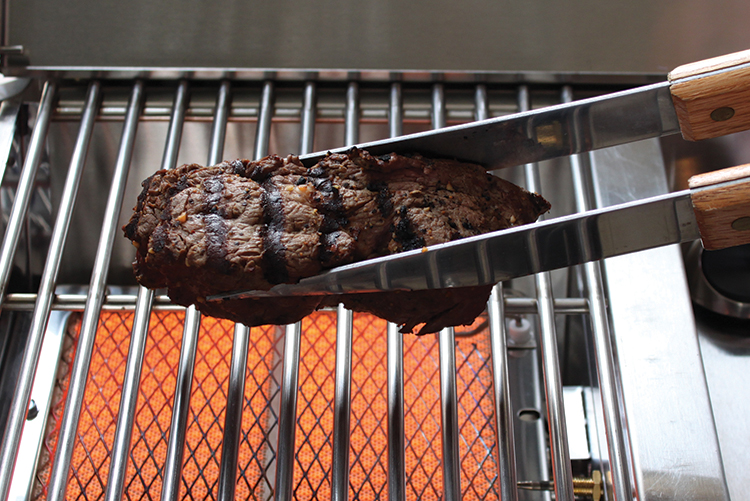 An infrared burner sears the meat to seal in the flavor.
Generally, you will need at least three burners to achieve even heat distribution. In addition, if you cook food by indirect grilling such as slow-roasting a chicken, smoking barbeque meat, or baking vegetables or fish in cookware designed for grill use, you will need at least three burners to cook food that is not placed directly over the flames (direct grilling).
The larger the grill, the more burners it will have, allowing you to cook more food more efficiently. Burners are usually made from tubular stainless steel, cast stainless steel, cast brass, and on lower end grills, porcelain-coated steel, and cast iron. The top quality grills use stainless steel or brass burners which are more resistant to corrosion than cast iron. Each burner will have its own control knob to adjust the level of the flame just like your kitchen stove. If you tend to cook for a larger family or entertain frequently, you will want to get a larger grill to give you more surface area to cook larger quantities of food faster. If you are single or only cook for two people, you can do fine with a smaller model.
Some models will also have a separate side burner. Side burners are great for cooking pans of sauces, boiling or steaming vegetables, or heating up other items that you want to cook indirectly. They are usually found on larger grills and offer an additional cooking surface.
Infrared burners use extremely high heat and are designed to give gas grills the ability to sear meats at over 1,300 degrees F using little fuel. Typical burners cannot reach this higher temperature. Infrared burners work by heating up an element such as a ceramic grate that obtains the higher temperature needed to sear the meat and seal in the juices and flavor.
What Role Do BTUs Play When Grilling?
The power or heat of gas grills is usually measured using British Thermal Units (or BTUs). A BTU does not, however, represent how hot the grill gets, but how much fuel it uses. Typically, the more fuel used, the greater the heat output. The actual ability of a grill to produce heat relies on several factors including its design, the cooking grid proximity to the burners, and the BTU rating. Using BTU capacity alone can be deceptive in determining a grill's cooking power since all three factors act together. A grill with a high BTU rating but poor design may not cook as well as another model with a better design but lower BTU capacity. However, a BTU rating is still a good starting place for predicting how powerful a grill will be.
Standalone or Built-in Grill?
A freestanding grill allows you to locate it anywhere in your backyard. A built-in gas grill is designed to mount in custom made counters.
Most gas grills are freestanding or standalone models. That is, they sit on their own stand or cart. Some models come complete with the grill body and base whether it is a post-style stand or cabinet-style cart. Other models are sold as individual components, meaning you buy the grill body separately and choose the type of stand or cart from various options offered by the manufacturer.
Built-in grills are designed to be installed in custom-made kitchen islands or counters to give you a seamless integrated look. If you plan on building an outdoor kitchen, a built-in grill is the option for you.
Accessorize to Expand Your Cooking Capabilities
Once you have your grill, you still need to accessorize it. Accessories let you make the most out of your grilling experience.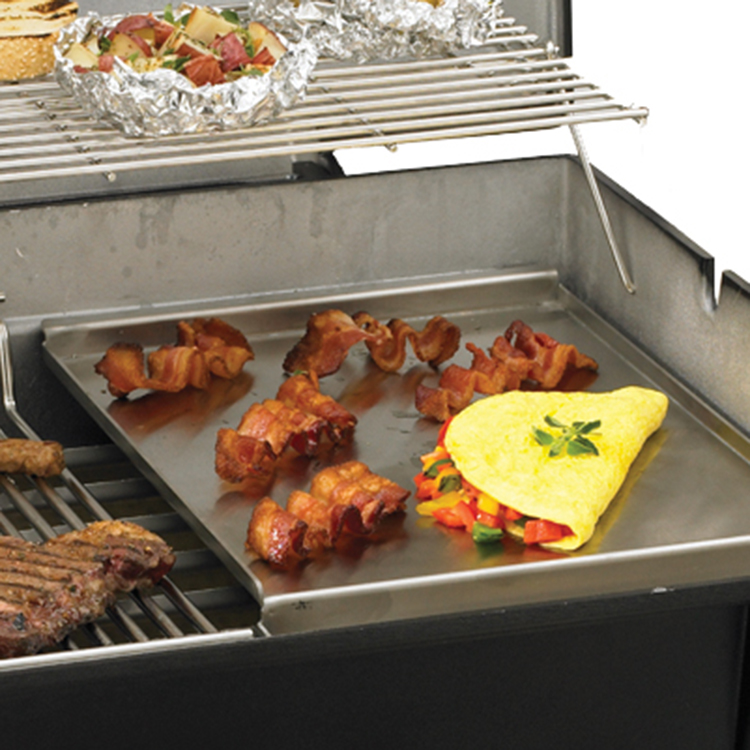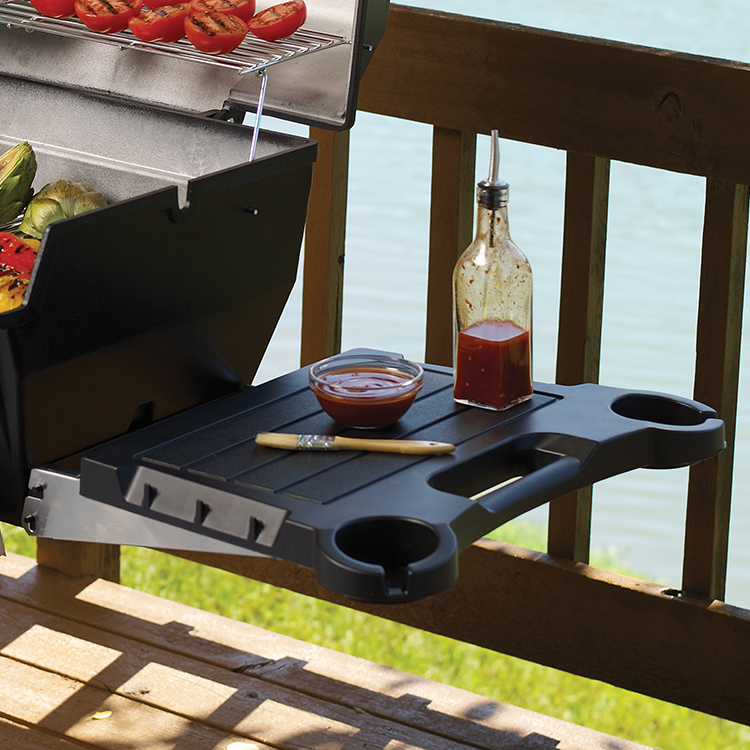 Accessories let you cook more than hamburgers and hot dogs.
Carts, Stations, and Stands
If you purchased a separate grill head or body, you will need to mount it either on a grill post, mobile stand, or cart-style cabinet with storage. If space is limited and you don't plan on moving your grill around, a post is probably a good option since it mounts either in the ground or stands on a patio. A mobile stand with casters is cost-effective and gives you the ability to place your grill in different locations or store it in a shed or garage during winter months. If you want storage space for tools and grilling essentials, a cart is the best bet. These also usually have locking casters to allow you to move the grill.
Rotisseries
If you love the taste of slow-roasted meats, a rotisserie is a must-have accessory for your grill. Rotisseries consist of a small motor (usually electric), a spit rod, spit forks, and a bracket to attach it to your grill and use the indirect grilling method to cook the food. The meat is attached to the spit rod with spit forks which hold it above the cooking grids. The motor slowly turns the spit to ensure all sides of the chicken, pork loin, or piece of beef are thoroughly cooked as the meat rotates over the heat.
Diffusers, Lava Rocks, and Ceramic Briquets
In order to prevent flame flare ups, you will need a barrier between the food and the flames. Gas grills rely on two types of barriers: heat diffusers and briquets (ceramic or lava).
Made of thin metal, heat diffusers or heat plates tent over the burners and allow the heat to pass through but prevent the fat and juice drippings from hitting the flames, causing them to flare up. High-quality diffusers are made of stainless steel that heat up quickly to help distribute the heat and vaporize the drippings to enhance flavor and make clean up easier.
Ceramic or lava briquets absorb heat from the fire and then in turn cook the food using the retained heat. The briquets rest on a separate bottom grid over the burners. Grills using ceramic briquets will take longer to heat up but will enhance the flavor of the food as the juices and fat drippings are heated and circulated as steam while the meat cooks.
Grilling Tools
You can't cook without the right tools. Along with your grill, you will want to have a selection of tongs, grilling forks, spatulas, basting brushes, cookware, and serving ware designed just for outdoor cooking. For easy cleaning, pick stainless steel tools without wood handles so you can toss them in the dishwasher. For tools with plastic or wood handles, handwashing is recommended to keep them in optimal condition.
Cookware and Serving Ware
Cookware designed for grills allow you to cook more than meat outdoors. Perforated or mesh cooking trays, pans, and baskets make it easy to cook items such as fish, vegetables, and smaller pieces of meat that might otherwise fall through the cooking grids. Having special outdoor serveware makes it more convenient to plate and serve food right from the grill onto your patio table.
Cleaning Tools
When you are done cooking, you will need to clean your grill so it's ready for the next barbeque. To make clean-up less of a chore, invest in some good grill cleaning tools such as brushes and scrapers to remove food residues from the grids, bottom of the grill, and cooking surfaces. It's a good practice to clean you grill thoroughly after each use to keep it in optimum working condition. Choose cooking grids of high-quality stainless steel or porcelain-coated steel for easy cleaning and durability.
Protective Covers
Protect your grill from the weather when it is not in use by keeping it covered. Grill covers are usually made of a durable water-resistant fabric or plastic such as PVC or polypropylene. When selecting a cover, measure your grill from side to side, front to back, and top to bottom to ensure a good fit. Take into consideration any side burners or shelves to keep these fixtures adequately covered.
If you're ready to get cooking, check out Riverbend Home's selection of gas grills, grill parts and accessories, and wood-fired pizza ovens.