Buying Guide
How to Choose Your Ceiling Fan
Ceiling fans are a great, economical way to make your home feel comfortable year round. In addition to the comfort that they provide, there are a few important factors to consider when choosing your ceiling fans. First, determine whether or not your home needs an air conditioning system or if ceiling fans will be enough to keep your home comfortable.
The Difference Between Fans and
Air Conditioners
A common misconception about fans is that they cool air like an air conditioner. Fans circulate air and create a breeze which feels cool but does not lower the temperature or humidity in your home. Air conditioners cool air using a coolant gas that lowers the temperature of the air which removes moisture, lowering its humidity.
Fans Help Keep You Warm Too
Fans with a reverse motor option can be used in cooler months to make a room feel warmer by circulating cooler air upwards and forcing warm air that gathers near the ceiling down. This more efficient distribution of warm air may even allow you to turn the thermostat down a few degrees without compromising your comfort level.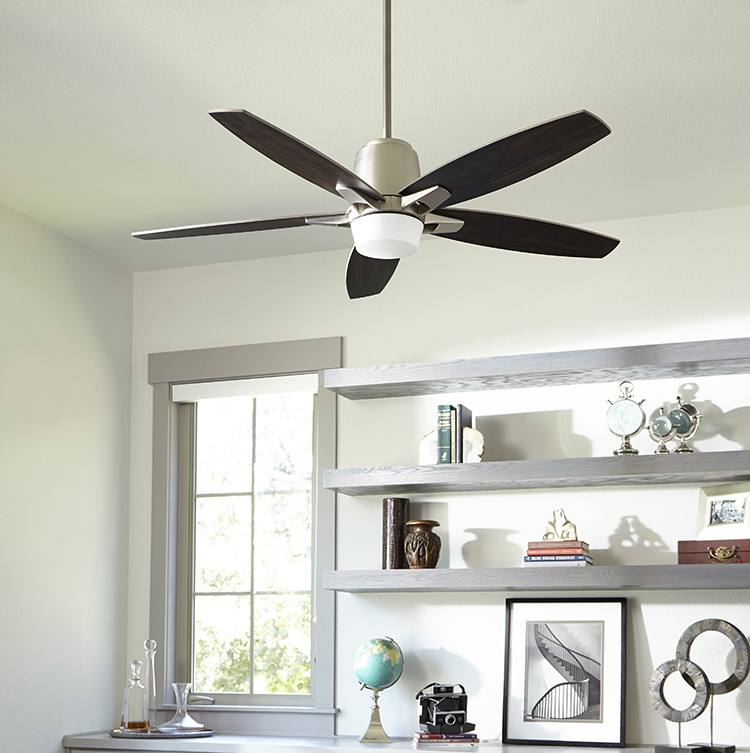 Ceiling fans are a great, economical way to make your home feel comfortable year round.
Size Up Your Space
There are two measurements that will help determine what type of ceiling fan best suits your needs: ceiling height and square footage.
Ceiling height
For "low" ceiling heights (9 feet or lower), look for a flush mount or "ceiling hugger" ceiling fan that can be mounted flush with the ceiling without a downrod. For "high" ceilings, a downrod can be used with an extension rod if needed. For optimal air circulation, an ideal ceiling fan height is about 8-9 feet above the floor. For safety and to avoid obstructed views, a ceiling fan should be installed no lower than 7 feet from the floor.
Square footage
The square footage of the room will determine the size of the fan blade diameter.
Outdoor Fans
When it's hot and buggy, an outdoor ceiling fan will not only keep you cool but will keep the bugs at bay. Don't have a covered area to attach a ceiling fan? Opt for an attractive wall mount patio fan.
Shop Collections