Buying Guide
How To Choose Your Kitchen Sink
Whether you are building, remodeling, or simply replacing, chances are you've got some decisions to make.
Think about the ways you use your kitchen sink. For example, if you bake, consider a single basin sink for large pans and cookie sheets, as well as a deeper than standard bowl. But if you frequently wash dishes by hand, you may prefer a double basin. See our "How many basins?" chart below.
Think ahead. If you know you are going to stay in your house, consider aging in place when you remodel even if you are still fairly young. Changing the height or location of the sink, for example, may make life easier later on. Or perhaps you're just starting out. A darling baby will soon turn into a toddler, and kids can be rough on fixtures; in a few short years you may wish you'd chosen tough stainless steel or granite composite rather than that lovely enamel. See our "Choose your kitchen sink material" chart below.
Consider your faucet. Depending on style, your kitchen sink may be pre-drilled with holes for faucet installation. Below, we'll give you some tips on making sure your sink matches your faucet.
An oversized single basin sink is great for washing large pots and pans; accessories increase versatility.
Choose Your Kitchen Sink Size
This may be the most important step to ensure the success of your project. Really. Even if you're simply replacing your sink, you still need to take certain factors into account.
Measure, measure, and measure again.
Measure your current sink carefully. At least twice.
If you want a bigger sink, don't just measure your countertop space. Also make sure the base cabinet space beneath is large enough to accommodate a bigger sink. Check out our product pages for the sinks you like; wherever possible, we've included the manufacturer's recommended minimum cabinet size.
Remember to choose a sink depth as well as length and width. Deeper can be better—unless you need to reserve space underneath for storage or a garbage disposal.
If you are building new or remodeling, consult your contractor or interior designer unless you're an experienced do-it-yourselfer.
Choose Your Kitchen Sink Mount
The style of sink mount you choose may be as simple as replacing one drop in sink with another. However, if you are considering a new style, or you are building/remodeling, be sure to discuss your mount style with your contractor, interior designer, or give us a call. Here are your main choices:
Drop in sinks have a rolled and finished edge or rim. They are dropped into a pre-cut hole in your counter and fastened underneath with clips. This mount is strongly recommended for formica and tile countertops.
Pros: Most common, easiest to install and replace; lower price; available in a variety of materials; works with most countertop materials.
Cons: Dirt can collect under the lip; other choices may be more striking or original.
Undermount sinks or recessed sinks are installed under your countertop to create a seamless flow.
Pros: Adds a sleek, contemporary look; stays clean – no lip or crevice above counter to catch dirt (a huge benefit for many owners).
Cons: More difficult to install than drop in; may be more costly; available in limited materials (stainless steel, copper); should only be installed in countertops made out of Corian, marble, granite, or other solid surfaces.
Apron front sinks (also called farmhouse sinks) are built into the counter on three sides, with the broad front of the sink showing.
Pros: Trending! Provide a unique country or rustic look; usually porcelain, but becoming available in more materials.
Cons: May be more costly than other mounts; installation may be more complicated, requiring support platforms; not a standard choice if you are concerned about resale.
Choose Your Basin Number
Single basin if…

You don't often wash dishes in the sink
You do often wash big items such as baking sheets or stock pots
You have room for a 2nd prep sink

Double basin if…

You prefer to stick to standard fixtures for resale purposes
You DO wash dishes by hand
You don't have room for a separate prep sink

Triple basin if…

You are a maniac of a multitasker
You want two work basins and a third small basin for your garbage disposal
You have plenty of space in your countertop (AND the cabinet below)
Consider Your Faucet
If you already have your faucet—or you have intense desires where faucets are concerned—you'll need to take those into account when you purchase your sink, as most sinks come pre-drilled with holes for the faucet and additional features. Of course, if you are building or remodeling and your faucet is going to be installed directly in the countertop or wall mounted, your sink should be chosen accordingly.
How many holes do I need?
These are guidelines. Check your products carefully.
A faucet with an integrated single handle usually requires one hole
A spout with a separate single handle usually requires two holes
A spout with two separate handles usually requires three holes
Any extra feature, such as a side spray, hot water dispenser, or soap dispenser, will usually require an additional hole
If your local building code requires you to install an air gap for your dishwasher, add another hole
Can I add holes?
Some lighter material sinks come with circles stamped on them to allow you to punch out the desired number of holes, but don't try drilling additional holes in sinks that weren't specifically designed for it. (FYI, be careful about drilling new holes in existing countertops for deck mounted faucets as well. It's better to have the holes put into a countertop before installation.)
What if my sink has too many holes?
For example: You bought a two-hole sink intended for a single handle faucet with a side sprayer, then you bought a pull out faucet and you didn't need the sprayer. Some faucets can be installed with an escutcheon, or decorative plate, to cover the holes. (Check to see if the faucet you are ordering comes with one, or you need to order it separately.) Or you can get covers for the extra holes.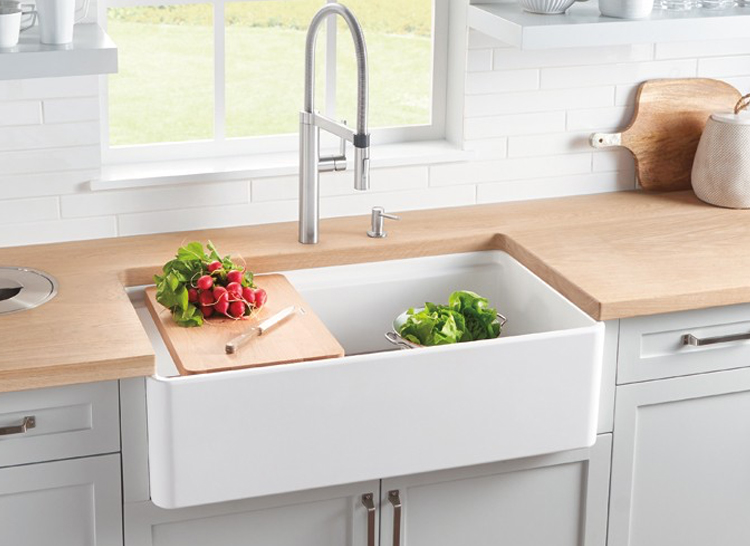 Know what style faucet you're likely to be installing with your sink.