Buying Guide
How to Choose Your Kitchen Sink Faucet
As one of the most used features in your home, choosing the right kitchen faucet is not a decision to take lightly. This comprehensive guide gives you all the information you need to make a good choice. Find comprehensive tips on faucet mount, number of holes needed for installation, picking the right faucet style, finish, and features and how to measure for kitchen faucet size and reach. This guide also includes a comparison of pros and cons for kitchen faucet finishes.
Measuring For Kitchen Faucet Size
and Reach
It's important to check every aspect of the size of your faucet before you order. First, you need to address size as it relates to functionality. Second, to look balanced, your faucet should be in proportion to the sink. A large faucet would visually overpower a small prep sink, while a small faucet might look odd in a large sink and countertop area.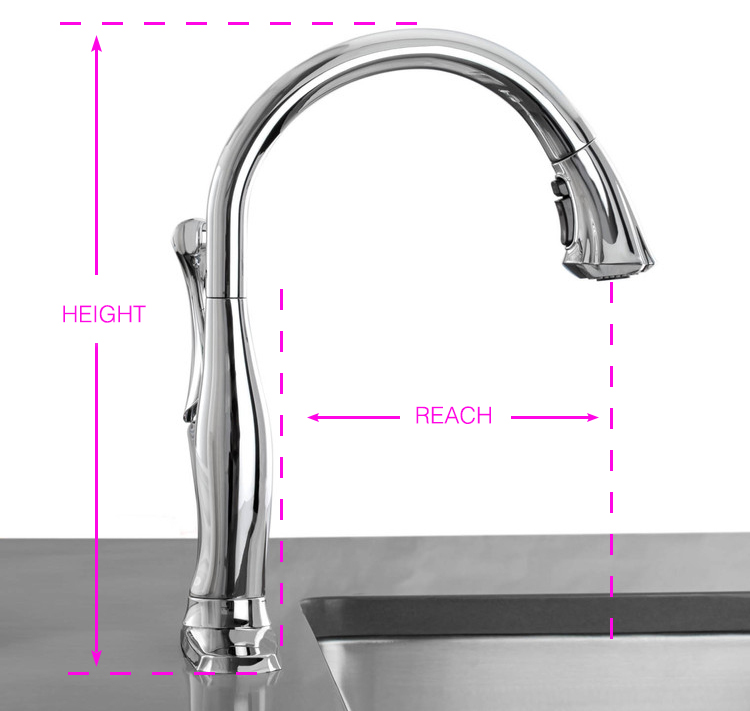 Height and reach are an often overlooked measurement, but they are very important considerations.
Height
You may find height expressed as deck to top of faucet and/or deck to aerator. Make certain you are choosing a faucet with adequate height to accommodate the items you'll be washing or filling. The higher the spout, the easier it is to fit tall pots under it for filling or cleaning. If you have a shelf above your sink or a wide window ledge, a tall faucet may not fit.
Reach
This important (and often overlooked!) measurement refers to the horizontal distance from the faucet spout to its point of connection with the sink or countertop. In other words, how far the faucet extends into the sink. This measurement determines how large an arc your faucet can cover within the sink basin. This aspect of your faucet also needs to be coordinated with your sink size so the water stream does not hit too far back or forward within the basin.
A pull-out or pull-down spout helps minimize a mismatch, but you'll still want your faucet to be aimed correctly with the spout in place. Also if you have a sink with two or three basins, you want to make sure the faucet reach is adequate enough to reach all the bowls of the sink. As a rule of thumb, the water flow should hit the drain while the faucet is on and not the sink. Measure the distance from the faucet holes to the middle of the drain to get the proper distance.
Clearance to backsplash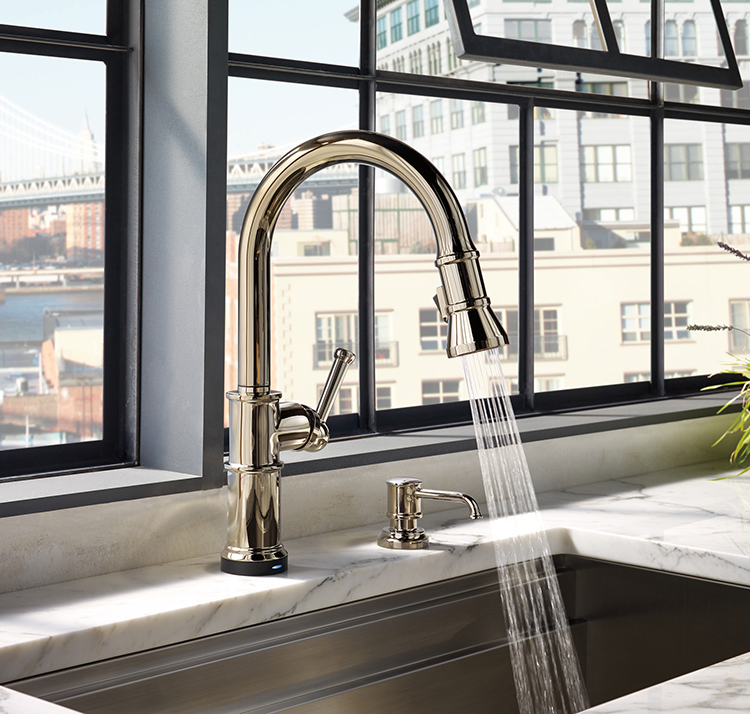 Not sure if you have a tight backsplash? Choose a forward-rotating handle.
Let's say you fall in love with a faucet whose single handle controls temperature by rotating back. You bring it home and install it, and it looks fabulous. Then you turn it on…and find out that the handle hits your backsplash before it's fully extended. Check the product specifications to see if there is a minimum recommended clearance to backsplash. Make sure the space between your backsplash and the handle allows for the recommended measurement, or select a faucet whose handle(s) have only forward motion to operate.
Spread
When you shop kitchen faucets you will see terms like "8-inch center spread". This refers to the distance from the center of one hole to the center of the farthest hole on the other side. Some widespread kitchen faucets come with flexible water line hoses that allow for some variance in spread.
Choose Your Kitchen Sink Faucet Mount
Many sinks come predrilled with holes for the faucet, so if you are simply replacing a faucet or you already have a predrilled sink, you know what you've got to work with.
You may have more flexibility if you are doing a build or remodel and you haven't yet purchased your sink. Or perhaps you are doing a new countertop with an undermount sink, so you won't be restricted to a certain number of holes. You may even have decided that your new faucet is going to be plumbed and mounted in the wall.
If that's the case, you can move on to choosing your kitchen faucet style. If you do need to pay attention to the number of holes your faucet requires, keep reading.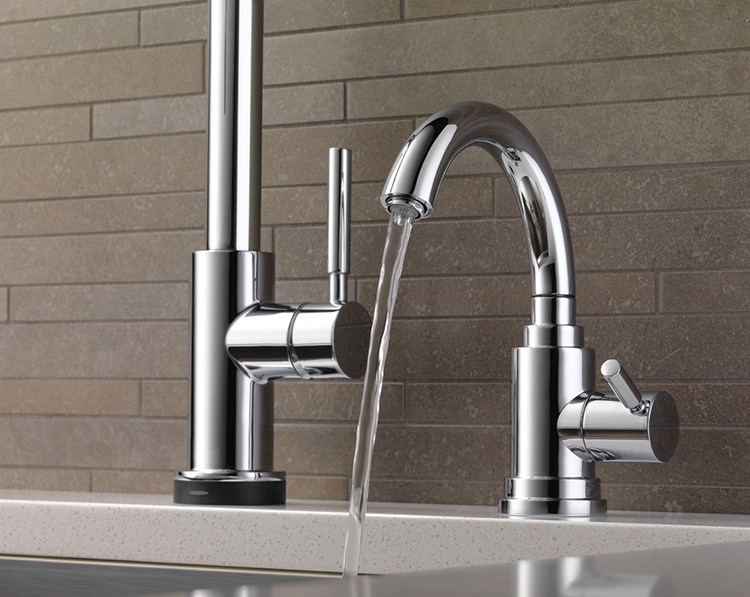 Any extra feature, such as a side sprayer, hot or cold water dispenser, or soap dispenser, will require an additional hole.
How many holes do I need?
Some faucets may fool you: they look like they need three holes, but really it's two. Or vice versa. Always check the faucet specifications–don't go by looks alone. Here are some general guidelines:
A faucet with an integrated single handle usually requires one hole
A spout with a separate single handle usually requires two holes
A spout with two separate handles usually requires three holes
Any extra feature, such as a side sprayer, hot or cold water dispenser, or soap dispenser, will require an additional hole
If your local building code requires you to install an air gap for your dishwasher, add another hole
Can I add holes to my sink?
Some lighter material sinks come with circles stamped on them to allow you to drill out the desired number of holes, but be wary of drilling additional holes in sinks that weren't specifically designed for it. (FYI, be careful about drilling new holes in existing countertops for deck mounted faucets as well. It's usually better to have the holes put into a countertop before installation.)
What if my sink has too many holes?
For example: You bought a two-hole sink intended for a single handle faucet with a side sprayer, but now you've got your eye on a pull-down faucet so you no longer need the sprayer.
Some faucets can be installed with an escutcheon, or decorative plate, to cover the holes. (Check to see if the faucet you are ordering comes with one, or you need to order it separately.) Or you can get covers for the extra holes, but not everyone likes the look.
Choose Your Kitchen Sink Faucet Style
Select a kitchen faucet style that fits your kitchen décor
Just like furniture or architecture, kitchen fixtures come in many styles like contemporary, traditional, transitional, craftsman and farmhouse, modern, industrial and more.
We've classified our faucet styles to make it easy to match faucets to the predominant style in your home.
Kitchen faucet spout types
Kitchen faucet handles
A single handle faucet has the handle incorporated into the spout. This style, which mixes both hot and cold water with a single lever, can be easier to use if your hands are full of rutabagas or cupcake pans. Some people prefer the more traditional look of double handles as well, meaning the hot/cold handles are separate.
Choose Special Features For Your Kitchen Faucet
It's Catch-22, you need to turn on the faucet to wash off the chicken juice or fingerpaint, but you don't want to touch your faucet with those dirty hands. The best solution is to get a one-touch faucet that features touch technology, which allows you to turn on the water by touching the spout or handles with any part of your hand or arm.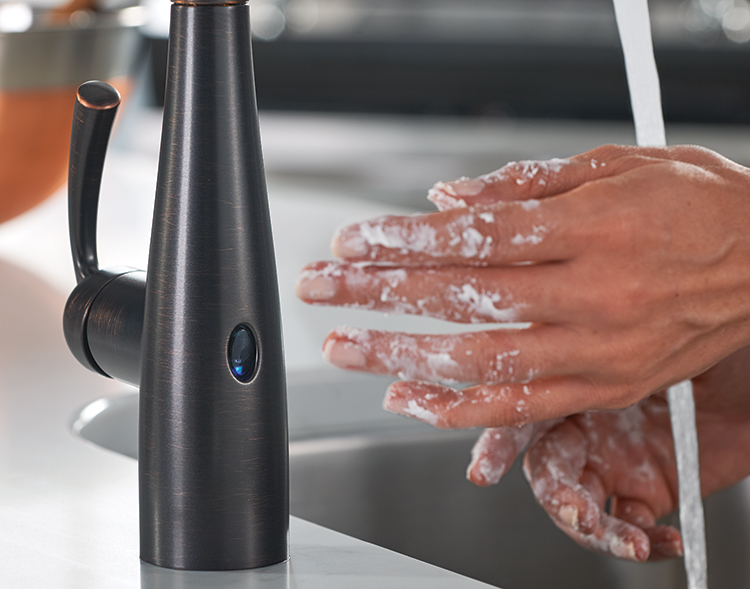 Touch or hands-free faucets are a great option if you don't like touching your faucet with dirty hands.
Or go for the next step: a completely hands-free faucet that turns on when you pass your hands below the spout. (We have heard from cat owners that both types of faucets may occasionally turn on when you aren't around…)
When a faucet is labeled with the WaterSense® symbol you know it meets water saving specifications designated by the EPA. This means it is designed with a maximum flow rate of 1.5 gallons per minute (gpm). With a quality faucet, you should not notice any difference in flow during everyday use.
ADA stands for Americans with Disabilities Act. Although the term is sometimes used to refer to accessibility concerns in general, strictly speaking it refers to government legislation requiring public buildings and facilities to be adapted for people with special requirements. To be labeled as ADA compliant, faucets must be operable with one hand without tight grasping or twisting, and able to be activated using a maximum of five pounds of force. In addition, hand-operated metering faucets must remain open for at least ten seconds.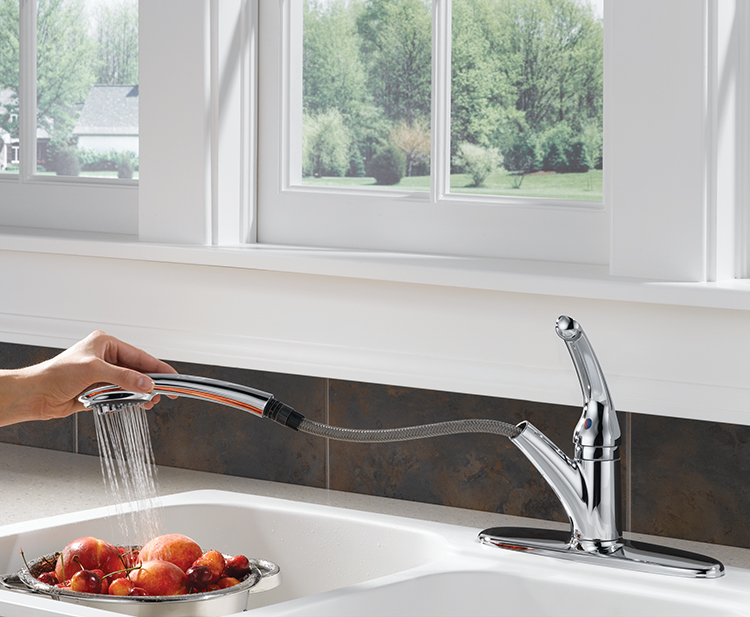 Consider who will be using the faucet. For seniors or people with disabilities, choose a faucet with a substantial, easy to grasp pull-out wand.
ADA certification tells you that a particular product meets government standards for accessible design. If you are building or renovating a home, you still need to evaluate whether that product provides features that meet your particular needs. Other accessibility building and renovation terms you may encounter include adaptive living and aging in place.
These are often smaller versions of full size kitchen sink faucet models. They are designed for a secondary prep sink in the kitchen or for the bar sinks in kitchen, home theater, recreation room, man cave, or anywhere else you entertain. In addition to being slightly smaller than kitchen sink faucets these models typically have less reach, as they are designed to be used with smaller sinks. They can be available with pull-down or pull-out spouts, one handle or two, in a variety of finishes so you can coordinate with other fixtures in the room.
Most manufacturers use the combined term "bar/prep", but others designate them separately. They are really interchangeable depending on the features you desire. These faucets are also great for a small main sink as they are less likely to splash or visually overwhelm the sink.
Passionate home cooks can now purchase a professional style pull-down faucet similar to those used in restaurants and commercial food prep facilities. They offer powerful spray action as well as control and flexibility. These faucets are sometimes referred to as "prep" faucets, which refers to their commercial use; they are not usually a good match for a small residential prep sink.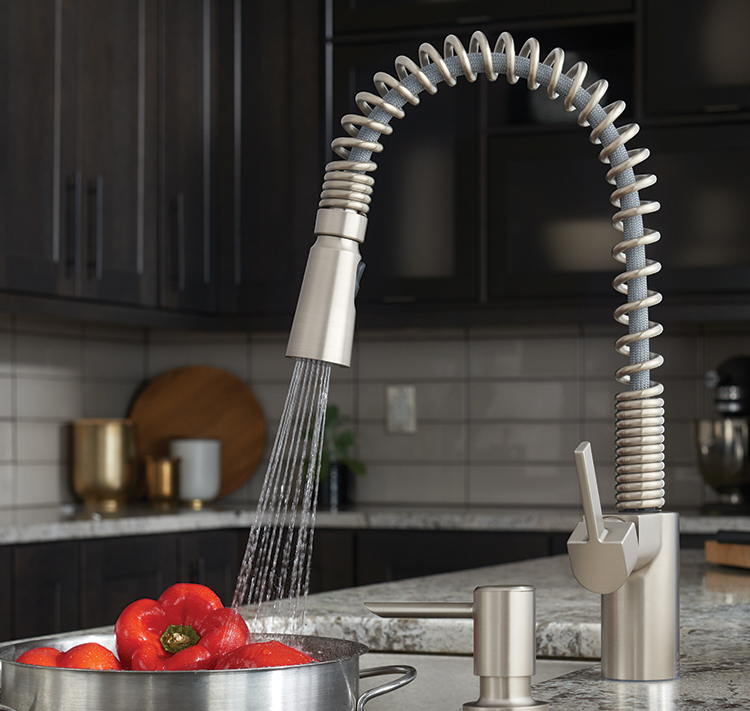 A semi-pro faucet can bring out your inner chef.
Choosing Your Kitchen Faucet Finish
What is the faucet finish?
Finish refers to the coating on your faucet. Your finish can be different metals or colors, with a variety of textures including polished, brushed, satin, matte, and others. The finish serves two purposes: it is both decorative and protective.
Like many fixture features, when you spend a bit more you often get more in ways that you can't really see. For example, two bronze faucets may look identical, but the process by which the finish was applied might make one faucet more resistant to corrosion, abrasion, tarnish, and discoloration.
PVD (physical vapor deposition) is a fairly new process for bonding a finish to a faucet. With PVD, the finish becomes an integral part of the faucet rather than just a coating. Faucet finishes utilizing this process resist tarnish, scratches, and corrosion, and retain their good-as-new look for a long, long time. (Note: Finishes that are meant to age into a patina generally do not use PVD technology.)
The warranty on the finish varies from manufacturer to manufacturer and even for different finishes from the same manufacturer. Check before buying.
You certainly don't have to spend hundreds of dollars to get a high quality finish. Just be sure you are getting the best value for the amount you can spend.
Finish pros and cons
The chart below shows a sampling of the most popular finishes. There are dozens of variations, with new ideas coming all the time from manufacturers trying to spark a new design trend. You will also find faucets with a combination of two finishes or an enamel/metal combination.
| Finish | Options | Pros | Cons |
| --- | --- | --- | --- |
| Brass | Gloss, satin, antique | Durable, solid, enhances antique and vintage decors | Can be costly |
| Bronze | Polished, brushed, oil-rubbed | Resists scratching; complements neutral decor | If resale an issue, may not appeal to everyone's taste, enhances traditional, Mediterranean, or rustic decor |
| Chrome | Polished, brushed, matte | Most economical; durable; enhances many decors; resurging in popularity | Shows water marks – easy to clean but needs frequent wipe down |
| Nickel | Satin, brushed, polished; | Durable, easy to clean, versatile; adds elegant, upscale note to decor | Some models may scratch, tarnish; plating can wear off |
| Stainless Steel | Polished, brushed, matte | Economical, won't corrode or tarnish; enhances modern decor | Shows water marks; easy to clean, but needs frequent wipe down |
Quality Matters
Start looking at kitchen sink faucets that you like and see how you feel about the prices. You may be surprised by the range. If you really love a faucet but the cost brings up visions of PB&J sandwiches for a year, contact us. Our Riverbend Home Consultants can usually suggest alternatives that give you the same look at less expense. If you like a faucet style but you want features it doesn't have, such as an all-brass body or a premium finish, we can help you upgrade as well.
Material
Once upon a time, faucet material was a simple issue. The party line was that to avoid leaks and last a long time, faucets should be made of metal, inside and out. Brass has traditionally been considered the best metal for the job.
However, most metals, including brass, leach a tiny bit of lead into the water. Regulations limit the amount of lead that a faucets contains. Since the regulations took effect in 2014, manufacturers have decreased or eliminated the lead in residential faucets.
Some companies are using plastic in the faucet body. This is not a new practice, but was previously considered a sign of inferior quality. Now it is virtually the only way to produce a truly lead-free faucet (even faucets that may be advertised as "lead-free" allow .25 percent lead).
Other manufacturers are finding different ways to meet these standards. As with every aspect of your project, stay informed and ask questions.
In addition to considering the material used in your faucet, pay attention to the valve cartridge, as well. Washerless faucets, especially those utilizing the newer ceramic disc cartridges, are less likely to drip and they will last longer too.
Speaking of value…
Now you know that the inner body of the faucet is as important as the outer body, if not more so.
Sometimes, faucets sold in a big discount store employ quality short cuts that you won't notice simply from appearance; a particular model may look identical to a faucet you like that is more expensive. Often these models bear off-brand house names, but these "special" versions are sometimes even marketed under a reputable brand name.
Buyer beware: If this is the case, you may save a few dollars at the cash register, but the inferior product may cost you money and time in the long run.
Design considerations
Most designers suggest that you coordinate your faucet finish with your other kitchen fixtures and appliances. For example, if you are adding a pot filler, you can match the finish of your main kitchen faucet as closely as possible. Or if you have all stainless steel appliances, that's a good choice for your fixtures as well.
Our advice? Take a deep breath and do whatever makes you happy. Some people prefer the exact same finish in every bath and their kitchen. Others go for a funky, eclectic mix right in the same room. It's your home. Enjoy!