How to Choose Your Medicine Cabinet
We always suggest that you begin your project by evaluating how you and others use the space and how your new design element will fit the room.
Are your toddlers now pre-teens? Replace your old cabinets with taller models. For surface mounts (see below), you may be able to raise the height of the cabinets with minimal wall repairs.
Determine whether the door swing arc (how wide it opens) suits the space and whether you need a unit with a door that opens to the left or right.
If you want a medicine cabinet with a metal frame, coordinate the finish with your lighting fixtures and faucets unless you have a flair for deliberately mixing finishes.
If you're building or renovating, select your medicine cabinets and lighting together, not only to make sure they are complementary in style, but also to save installation time by setting up the placement of the wiring, etc.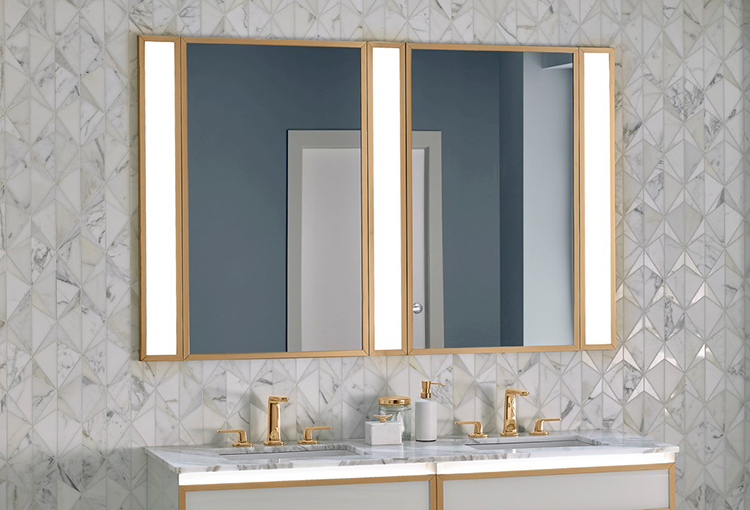 The medicine cabinet has gone from a humdrum necessity to a fabulous design element.
Choose Your Medicine Cabinet Mount
Recessed mount: Sleek and sophisticated
Recessed mount (aka flush mount) cabinets are inset into the wall. They provide a sleeker appearance, looking more like chic mirrors than medicine cabinets. However, installation can be tricky: unless you're simply doing a replacement with a cabinet the same size as your old one, these models require you to cut into your sheetrock. Before you do so, you or your contractor will have to determine whether there is electrical wiring or pipes behind the wall.
Surface mount: Easier to install, still stylish
Surface mount cabinets are installed on the surface of your bathroom wall and jut out. Depending, of course, on style, surface mounts may be less expensive than recessed mounts. They are definitely easier to install, and they are a better choice if you have electrical wiring or pipes in the wall over your sinks that you prefer not to move. Unlike the recessed mount, a surface mount cabinet only requires you to locate the studs in order to evenly distribute the weight of the cabinet. Of course, you'll center the cabinet over the sink; if you only have one stud within mounting range you will simply anchor it with hollow-wall anchors on the other side.
While some homeowners are adamant that an upscale look requires "hiding" their cabinets with a recessed mount, many people are quite satisfied with the appearance of the surface mount.You may also find a medicine cabinet that augments the décor you've established in your bathroom – and then you'll want to show it off. This may work well with more rustic décor styles such as Beach and Arts and Crafts.
Other mount styles
You may also find cabinets labeled "semi recessed", which means exactly what it says: they can be mounted partially inset into the wall to accommodate limited space within the wall.
Dual (aka universal) mount cabinets may be either recessed or surface mounted.
A recessed mount gives you the convenient storage of a cabinet with the appearance of a flat mirror.
Choose Your Medicine Cabinet Style
Matching your décor
Like so many other bathroom design elements, there are now many options to suit your own bathroom décor or theme. Here are ideas for the five styles we work with at Riverbend Home:
Are you all about the Arts and Crafts style? Choose a natural wood frame in a recessed style or surface mount style.
Contemporary? Check out some of the new technologies such as the Robern Uplift Medicine Cabinets. This collection features an upward sliding door that offers the functionality of a cabinet with the appearance of a sleek seamless mirror.
For a Traditional décor, look for pieces with nice detail such as a beaded wood frame and elegant mahogany finish.
Most styles are complementary to the ever-flexible Transitional décor.
If you've been following Riverbend Home's Escape style, you know it's all about elements that are out of the ordinary and that set a mood of tranquility or adventure. If this is you, consider spicing up your medicine cabinet by painting the frame a bright color or decorating it with sea glass or sparkly paint.
Consider the space available
If you have a wide wall area—for example, a large master bath vanity with two sinks—you've got lots of options. Consider flanking two standard size medicine cabinets with three lighting fixtures, two placed on either side of the cabinets and one between. A snazzy triple door medicine cabinet is a nice option for a mid-sized space such as a single wide bathroom sink with two faucets. You get extra coverage with the convenience of a single installation.
Consider vertical space too
For example, if you choose the Robern Uplift Cabinets, be sure you have adequate vertical space to fully lift the door. (Remember, these cabinets can install lower because the door won't hit your faucets.)
The Robern PL Series cabinets offer a whole new level of storage and beauty.
Accessibility Matters
The wheelchair friendly bathroom
For wheelchair access you can install a standard medicine cabinet at the ADA compliant height (bottom edge of reflective surface no higher than 40" above finish floor). Or you can think outside the box, with a specialized cabinet designed to mount low on a wall other than the sink wall. Some cabinets even include a refrigerated compartment for medications.
A surprising bonus: these specialized ADA units tend to have lots of style, reinforcing an increasing (and welcome) departure away from institutional looking accessible baths. If you want to mount your cabinet at the standard height over your sink, some medicine cabinets can be tilted to provide visibility for wheelchair users, but they will not have access to storage.
The Robern Uplift medicine cabinets feature an innovative upward lifting door and integral lighting.
Universal design
Perhaps you'd simply like every family member and guest, young and old, to be comfortable using the room. Or you're planning to stay in your home as you get older. "Universal design" is an up and coming term in the design community. It refers to the practice of making our homes functional and comfortable for users of varied ages and mobility levels.
In many cases, aging in place concerns are the same as issues for families with young children. You may, for example, want your medicine cabinet to extend out so children and seniors don't need to reach too far back. For all of us, young and old, lighted cabinets are useful for nighttime safety.