Buying Guide
How to Choose Your Pot Filler Faucet
They're More Useful Than You Think
One gallon of water weighs almost 8 ½ pounds. So whether you're cooking pasta for 10 or lobster for 2, it takes some work to get that big old pot from sink to stove.
Some decades ago, a passionate cook we know plumbed and mounted a simple cold water spigot over his stove to take care of this problem. Everyone thought he was–well–a crackpot.
Now pot filler faucets are appearing in homes everywhere. Like sink faucets, pot fillers are available in a wide variety of styles and finishes–but they are easy to choose because most people prefer to coordinate the style and finish with their existing décor and fixtures.
Unlike that crude stationery spigot our friend used, a modern pot filler swings over your pot as it sits on the burner, then swings back out of the way when it's done its job.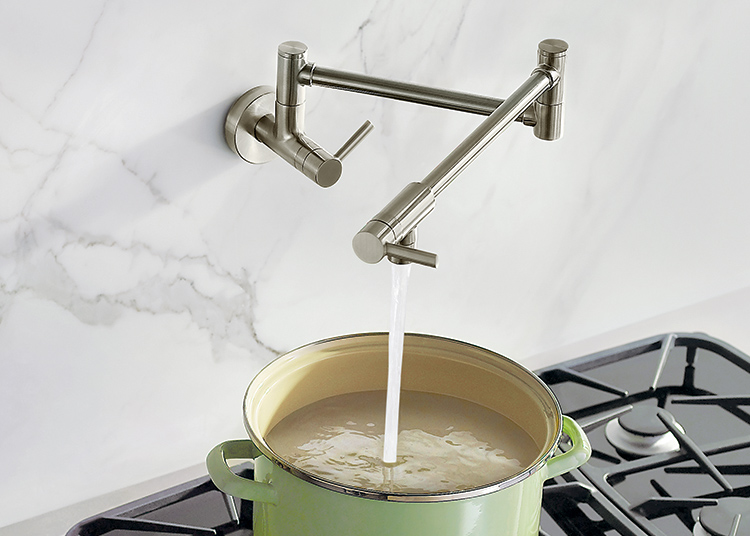 A double jointed model may be a bit more costly, but it has a longer reach so it's great for larger stovetops.
Here's What You Need to Think About:
Style: When pot fillers first began showing up in homes, manufacturers seemed to assume that most customers would prefer a contemporary look. Now there are many beautiful traditional and vintage styles as well.
Reach: You can choose a single joint or double joint model. Check the reach in the faucet specs to make sure the model you are considering can get to every burner. Double jointed pot fillers have a longer reach—20" or more to a typical 15" reach for the single jointed models–so they work better for large cooktops.
Handles: Most pot fillers have double handles (and two valves) so you can turn water on and off either at the end of the spout or at the wall. Some do have single handles, though, especially traditional styles.
Water supply: For a wall mount model, you'll need a plumber or contractor to install a half inch cold water pipe in the wall over your stove. For a deck mounted pot filler you'll need to bring the cold water line under the counter near the stove, and you'll also need to consider whether you can cut through the countertop, as you would with any faucet.
Height: Consider the height of your installation before you plumb. Make sure your pot filler will work for both your tallest pots and your shortest user.
Shop Collections