Buying Guide
How to Choose Your Toilet
Toilets 101
Modern toilets offer great choices: advanced functionality, earth-friendly conservation options and excellent design potential. If you're planning to splurge on just one fixture in your bathroom project, why not make it a high quality, good looking toilet with low-clog, easy clean features?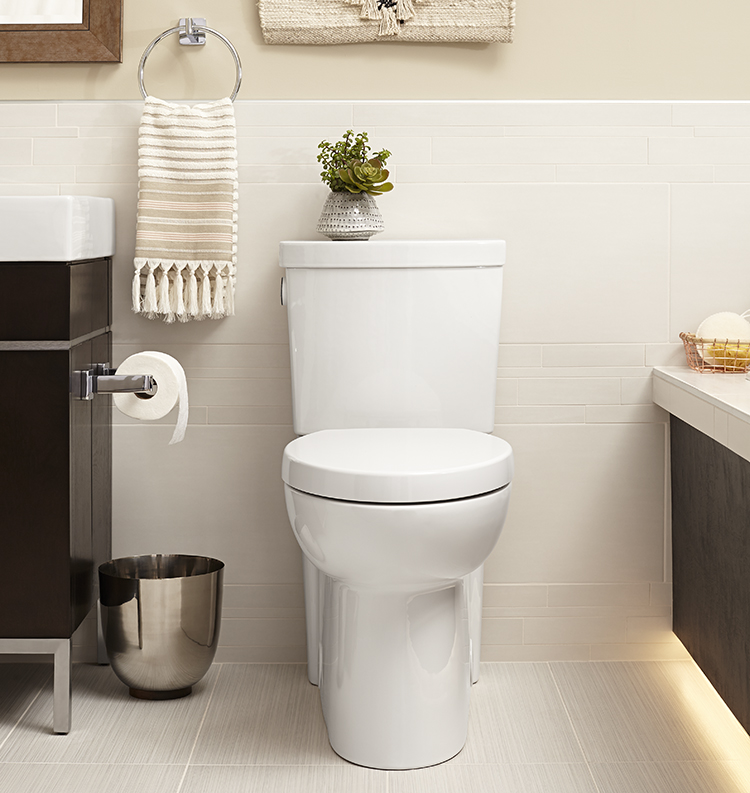 Toilets are one of the most used items in your home, why not have a beautiful one like the toilets featured in the American Standard Studio collection.
Rough-in Toilet Measurements
When shopping for toilets consider the rough-in toilet valve measurements. The standard rough-in measurement is 12″. To determine whether this size will fit for your toilet installation, measure the distance from the center of the toilet bolt holes to the finished wall. A 10″ rough-in toilet is a solution for tighter spaces, whereas the 14″ will address a larger gap between the toilet bolts and the wall.
Shape, Simplified - The Difference Between Round and Elongated Toilet Bowls
Round toilet bowls are more economical and fit more easily in tight spaces.
Elongated toilet bowls present a more modern silhouette and are considered more comfortable, but cost a bit more.
Many manufacturers offer both round and elongated versions of a particular toilet model, so you shouldn't have to compromise on décor style, finish, or other concerns by choosing the shape you prefer.
Configuration - One Piece or Two Piece Toilet?
Two piece toilets
Two piece toilets feature separate bowls and tanks.
Two piece toilets include a separate base and tank. Typically these pieces can be purchased together or individually; the seat is often a separate purchase as well. This type of toilet is most common. Benefits:
Most economical
May be easiest to find replacement parts
One piece toilets
One piece toilets come as one seamless piece.
One piece toilets are housed in one seamless unit. All parts of the toilet can usually be purchased as a single kit. They are more expensive than most two piece toilets, but in addition to a simpler purchase they offer multiple benefits:
Eliminate leaks between tank and bowl
Modern, attractive lines
Easier to clean (and keep clean)
Other useful toilet configuration options
Wall hung toilets
Wall hung toilets are great for small bathrooms.
Wall hung toilets are a relatively new approach to toilet style. Contemporary and sleek, they offer an intriguing alternative to traditional floor bases. However, they are neither inexpensive nor simple to install. They require an in-wall tank in a thicker than standard wall and a wall drain, a special concern if you are renovating vs. building new.
Now that we've given you the downside, here's the upside: wall hung toilets may be useful for wheelchair and walker users; they can be mounted at any height; they obviously make cleaning the floor a lot easier—and they look absolutely stunning.
Urinals
Residential Urinals are a great investment if there are a lot of gentlemen in one home.
Urinals: The latest thing in toilet technology is the residential urinal. They are perfect for homes with lots of guys, highly water-efficient, and are becoming increasingly available in attractive styles for home installation.
Tankless toilets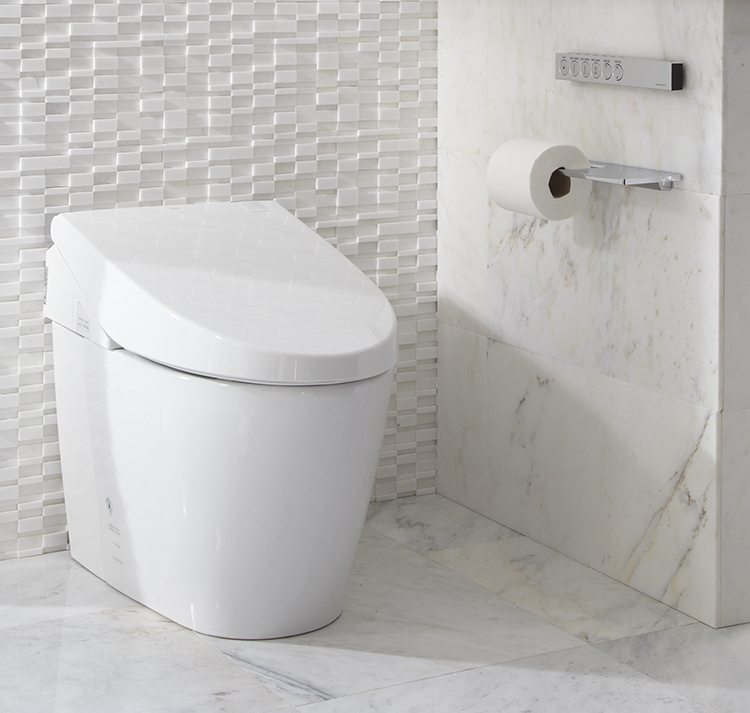 Toto Neorest®
Tankless toilets such as the Toto Neorest® series offer an especially sleek profile, plus lots of knock-out features and technology for your upscale bathroom.
Other Things To Consider When Choosing A Toilet
Bathroom style
There's no doubt about it, today's toilet designs add a lot of visual impact to your bath.
If your décor is contemporary, you've got a wealth of sleek new styles available to you. But traditional design schemes have not been forgotten, with updated styles featuring classic lines, sculpted bases and elegant touches such as contrasting wooden seat covers.
Try pairing a pedestal sink and toilet from the same collection.
To keep things simple, choose fixtures from the coordinated collections offered by most manufacturers. You can select a toilet designed specifically to match a particular line of sinks, other fixtures and even accessories.
New style choices for toilets are more about silhouettes and design details than variety of finish. Most toilets are still limited to variations of neutrals such as white and beige.
If you've got a small bathroom, it's well worth investing in one of the new slim, tankless or wall mount styles.
The trapway is a necessary part of your toilet, but those circuitous shapes on the base are a pain to clean. Concealed (or skirted) trapways provide a smooth look and easier cleaning.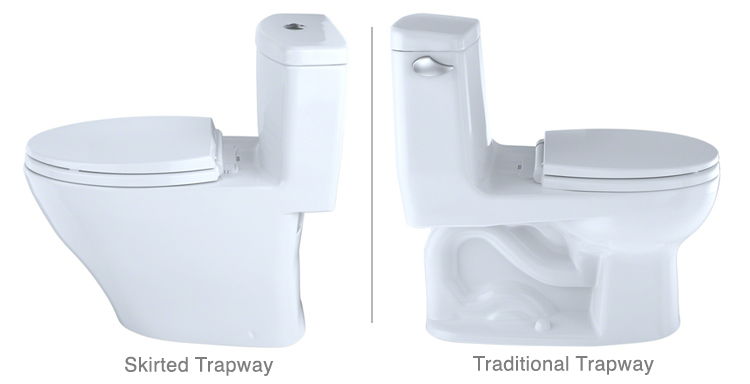 Accessibility
ADA approved toilets have 17"-19" high seats (measured from floor to top of seat) rather than the customary 14"-16".
Higher toilets are not only appropriate for wheelchair and walker transfers, they are also more easily used by seniors, anyone with limited mobility and tall people.
In fact they are called "comfort height" seats, as many people of regular ability and average height prefer them.
Elongated seats are generally recommended for handicapped users, but round ADA models are also available.
If you don't want to replace your toilet but you want additional height, purchase an elevated seat to bring a standard toilet up to ADA height.
Follow ADA guidelines when installing a toilet for limited mobility users, including properly installed grab bars.
Water efficiency
If you are concerned about water usage for either economic or environmental reasons, seek out a water efficient toilet. Better yet, save even more water with a dual flush toilet or urinal.