How to Make a House a Home with Accessories
Make Your Home A True Reflection Of You
Accessories make your house a home. They add a finishing touch to a room and give it a pulled together look. They make a drab room fab and flavor it with style. Decorative items add color, texture, and warmth to a space. The best accessories are more than just pretty objects that fill up a house. They add a personal touch to reflect the heart and soul of the people who call it home.
Choose Your Colors And Pick A Theme
Start with a plan for the rooms you want to decorate. Thinking ahead and creating a basic strategy before you begin makes it easier to pick out your accessories and reduces the chance of unnecessary impulse buys.
Having a strategy before you begin makes it easier to pick out accessories to complement the room.
First, decide on your room's color scheme. If your walls and furniture are neutral, you can go bold with accessories to add vibrancy and contrast. If your color scheme is bright, select trappings that complement or add a calming element.
Have a theme or design style in mind to achieve a cohesive look when decorating your home. Knowing what story you want a room to tell will help you pick accessories to play up that theme. Looking for a coastal, casual vibe, use blues, whites, and neutral tans that mimic the colors found at the beach and bring in decorative items using shells, sea glass, and nautical designs. Rustic industrial more your style? Bring in weathered woods, metals, and streamlined furnishings. Formal décor more your cup of tea? Classic furnishings, rich fabrics such as Damask and floral prints, still-life oil paintings, gilt frames, and crystal chandeliers are typical of traditional style.
Floor Them With A Great Rug
Don't overlook your floors when accessorizing. Regardless of the type of flooring you have, a rug is the foundation for creating a beautiful space. Area rugs will set the boundaries of a space and ground your furniture, so choosing the right size is important. In a living room, the area rug helps define the conversation area. It should be large enough that the front legs of the furniture are on it. In a bedroom, the rug should extend at least two feet beyond the bed on each side so your feet will touch it when you get up in the morning.
An area rug sets the boundaries of a space and grounds your furniture.
If you have wall-to-wall carpeting, you can layer smaller rugs over it to add color, texture, and pattern to create contrast in a space or tie a room together. On hardwood or tiled floors, an area rug also creates a layer of comfort and warmth. Use a rug pad to prevent slipping and sliding to add an extra measure of protection to your floor.
Let Your Walls Be Your Canvas
The walls of a room are the ultimate blank canvas. Accessorize them with color, art work, mirrors, sconces, and shelves. Nothing adds more interest and variety to a room than decorative wall accessories.
Your walls are prime space for accessorizing.
Hang artwork at eye level. One of the most common mistakes people make is to place their art work up high on the wall which makes it appear to be floating in space and disconnected from the rest of your wall décor. If hanging a grouping of pictures, think of the group as one unit and center your grouping at eye level. Keep art work in scale with the wall size. A small picture on a large wall will look lost, while a large picture on a small wall will overwhelm the space.
Mirrors can be used to create a dramatic focal point, brighten dark corners, visually enlarge a space, and balance the geometry of a room. Pick a mirror frame that complements your décor and place the mirror where it will reflect something beautiful so it enhances the space rather than distracts from it. As both a decorative and functional accessory, mirrors are a great way to give a room more impact while adding an attractive view.
Time Is On Your Side
It's no surprise given our obsession with time that clocks play an important role in your home. Besides helping us keep track of time, clocks add decorative accents to each room. From wall models to tabletop time pieces to freestanding grandfather clocks, you can find a clock to suit your taste and style.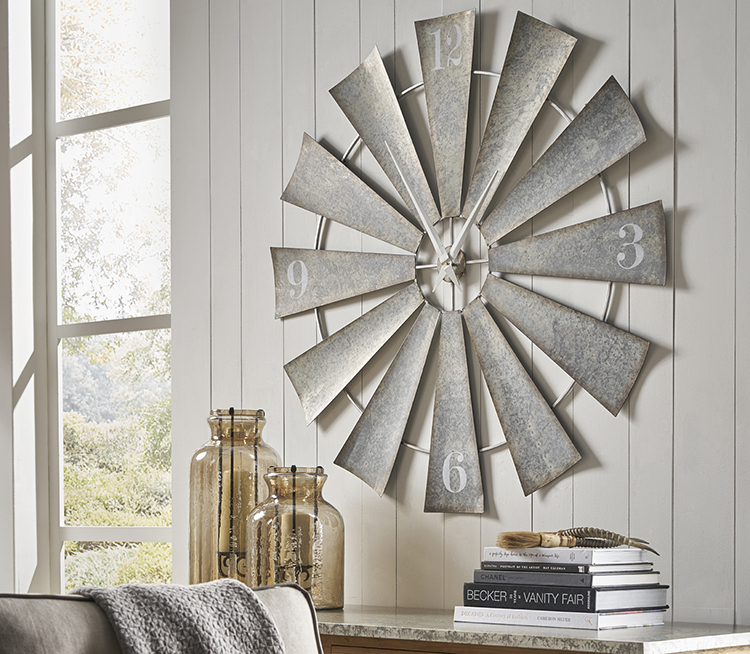 An oversized wall clock can make a dramatic statment.
Go bold, go vintage, or go retro. No matter what the style, an oversized wall clock makes a dramatic design statement above a sofa, over a mantel, or in an entryway. You can group a collection of smaller pieces to create an interesting arrangement on a table or shelf or create an impressive gallery wall of different sized clocks. Clocks are one of the most versatile accessories because they can be incorporated into any décor scheme and all the rooms of your home.
Shine A Light On Your Style
A well thought out lighting scheme can transform your entire room. It can enhance the mood of a room and add to its function. The best rooms use a variety of lighting types to illuminate the space from wall sconces to recessed light fixtures to lamps. The average room should have a minimum of three light sources. Try to position the lighting so all seating is well illuminated and the light extends to all parts of the room.
The best rooms use a variety of lighting types to illuminate the space.
Lamps used for task lighting in living areas should be positioned so the bottom of the shade is at ear level for reading. Consider the size of the table on which the lamp will sit and keep the height of the lamp in scale. Short tables need taller lamps while tall tables need smaller lamps. Floor lamps generally should be at least 40" to 42" high. Take into account the wattage of the bulbs, the size and color of the shade, the function the light will perform, the mood you wish to create, and the décor style of the room when selecting your lighting designs.
More Than Just Functional
Accent furniture that stands out and complements a room's décor, making it more than merely functional. In some cases, the decorative value of a particular piece is more important than any practical or utilitarian requirements you would have for it. A great accent piece will add color, definition, and drama to an interior space.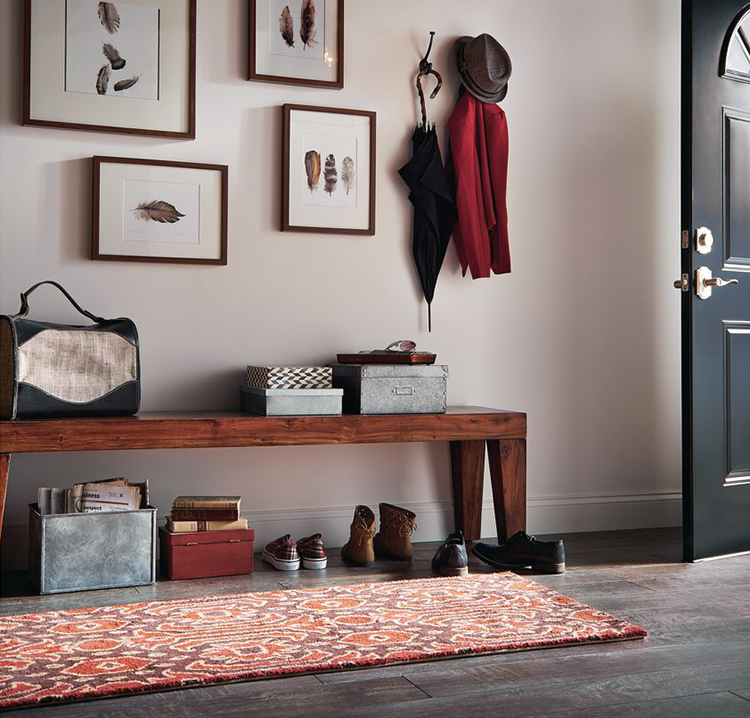 Adding functional accent furniture can anchor a room.
A beautiful coffee table will define and anchor the conversation area in your living room. An eye-catching console table sets the stage for welcoming guests in your entry. A pretty occasional table will add style to an unused corner and give you a handy place to display some accessories or a vase of fresh flowers. Accent seating such as stools, benches, chairs, and ottomans add a distinctive look to your décor while giving you added seating. Shelving units and cabinets give you needed storage along with options for displaying collections and mementos that give a room a personal touch.
It's All In The Details
Less is more when it comes to accessorizing. Keep your room from looking cluttered by reducing the number of items you put on display. Leave a piece out if it's not beautiful, serves a purpose, fits in the scale of the room, strengthens the focal point, or balances the color scheme.
Group collections together rather than scattering individual knickknacks about the room. You'll maximize the decorative impact and give prominence to items in the collection. When displaying multiple objects together, vary their size and height to add visual interest to your design. Layer the way you arrange items by overlapping items to create depth in a vignette. Mix in some accessories rather than filling every inch of shelf space with books.
Group collections together rather than scattering individual knickknacks about the room.
Get rid of unused and unwanted accessories by donating them, giving them away, or selling them. You can also keep favorite items and rotate them seasonally to give your rooms a fresh update throughout the year. Let your style evolve over time and change out items to keep your space from becoming stagnant.
There's No Place Like Home
Remember to have fun while you accessorize. Get creative, think outside the box, and use items in new and different ways. You can reinvent your existing accessories to save money and reduce the strain on landfills by repurposing older items. Choose objects that inspire you, bring you joy, and reveal something about your hobbies, likes, and dislikes. By decorating with items you love, you'll be happier with the results and have a home that reflects the real you.