Home Improvement Month: Kitchen Faucet Update
Want an instant kitchen update? It's amazing how much impact you can have by simply changing out your faucets. In honor of Home Improvement Month, here is the story of our recent adventure.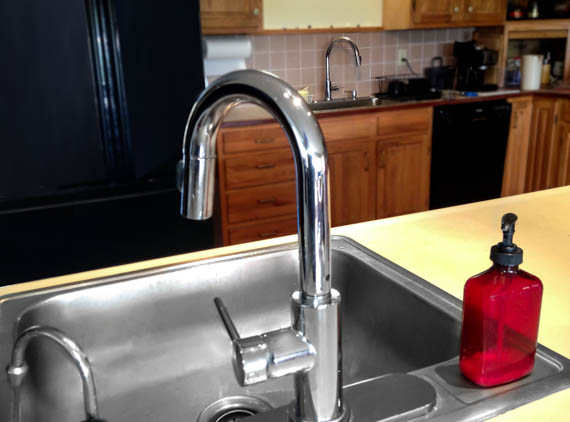 It Was Time for a Change
Our 20-year-old contemporary farmhouse has a main sink as well as an island prep sink. Both our sinks still had the standard economy 45 degree faucets our contractor originally installed. We'd replaced several cartridges over time to fix leaks in the dated valve technology. It was time for a change.
There were several limiting factors for our new faucets:
We needed a model that had a matching bar/prep faucet.
We don't have much space between the main sink faucet and the backsplash.
Both sinks are predrilled with three holes for the faucet, plus a fourth accessory hole.
We started by looking at examples of contemporary style faucets, some over our budget just to get an idea of what we liked.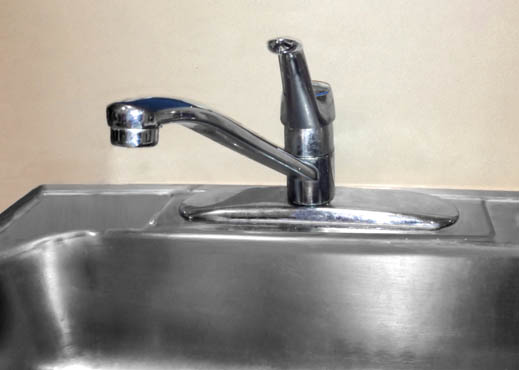 Prep Faucet Before
Main Sink Faucet After
When You See It, You Just Know
As soon as I saw the Delta Trinsic single handle pull down kitchen faucet duo, I loved it. Both main sink faucet and perfect match "little brother" prep faucet are classy and sleek, with geometric base columns, slim handles and a surprisingly affordable price. The technology is great, including the magnetic pull down spout (it resets back in the main spout with a satisfying thunk and stays put) as well as the high quality ceramic cartridge.
The Trinsic handle only rotates forward, so it doesn't hit the backsplash when you adjust temperature. The escutcheons (deckplates) allowed a seamless mount of the single handle faucets in our three-hole drills.
The sprayer in our main sink accessory hole is no longer necessary with the pull down so we replaced it with an extremely handy detergent dispenser. We already had a hot water dispenser in the accessory hole in the prep sink, and we kept that.
Reach: The Hidden Faucet Measurement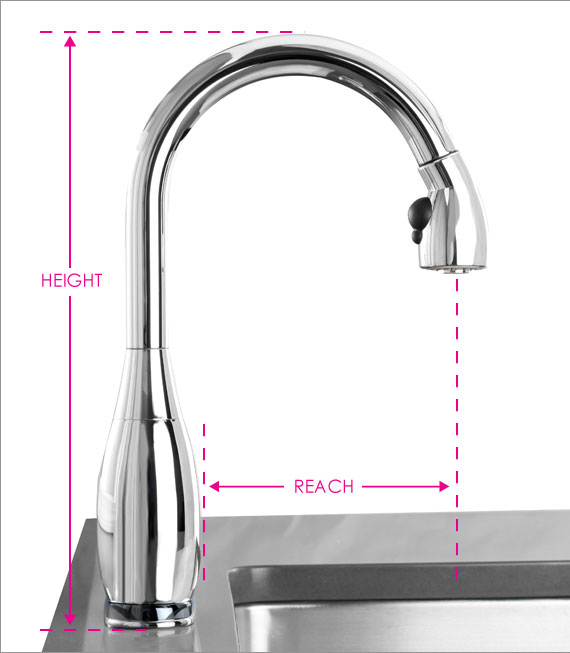 The main sink faucet is 16 inches from the sink deck highest point of the spout, with an 8-inch reach (horizontal distance from base of faucet to spout opening). Classic reach advice is to choose a faucet whose flow will hit the center of the drain.
The prep Trinsic is 13.5 inches high with a 5.5 inch reach. For me, the reach falls a bit short in our 21" prep sink, which is bigger than the typical 11" – 16" prep. The water flow hits slightly behind the drain. But my husband likes it because there is no splash and he finds it convenient for cleaning large pots and pans.
It's a matter of taste, just keep reach in mind when you measure for a new faucet.
Speaking of easy clean-up, the high arc styles make it much easier to wash or fill just about anything. And having a pull down on the prep faucet as well as the main model is a real treat.
Riverbend Home has a wide variety of kitchen faucets so you're sure to find the one that's perfect for you.