Riverbend Home Renovation Interview Series: Experiences, Advice and Tips from Everyday People Volume 2
Read some helpful advice for DIY renovation from real home owners.
We make it a point to listen to the stories and experiences of people who are or have been active in renovating their homes. We have found their stories encouraging, helpful and informative and wanted to share some of them with our readers. We hope you draw inspiration from each as you go forth on your own renovation adventure.
Profile: Mechanically Handy, Widowed Mother / Grandmother – Ohio, 55 – 65
What factors led up to your renovations?
We purchased our 1952 ranch-style home in 1999 in all-original condition. Electrical, plumbing, windows, and quite a few other items were outdated and in need of attention. Over the years, we hit the basics and handled other things as the need arose.
The one area we never addressed was the kitchen and adjoining half bath, both in the popular 50's color combination of pink, green, and brown. After my husband died, I had to decide if I would stay in our home long term or downsize. I decided to stay, but the kitchen and bathroom had to go.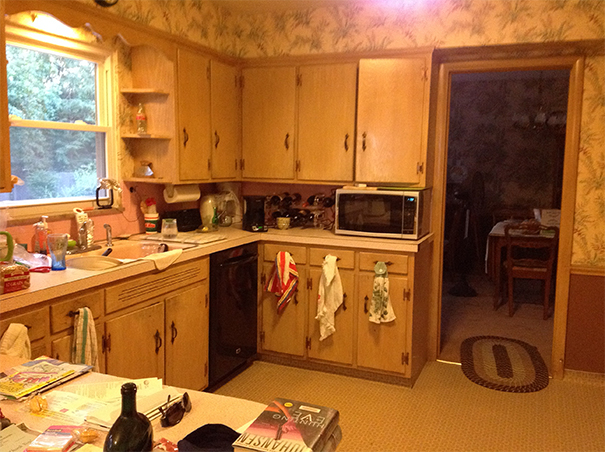 Before the major remodel: original pink, brown, and green kitchen.
Outdated pink tile and botanical wallpaper.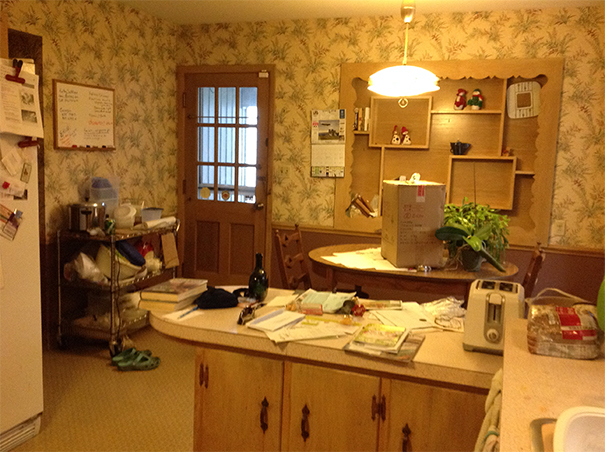 Adjoining half bath located to the left will also be renovated.
How did you start planning and preparing for your renovation?
I had lived with my pink kitchen for 18 years, I was not in a rush to make any mistakes that could be prevented with research. It took two years of casual exploration and six months of intensive online hunting to finally lock in my choices.
Online research was my first go-to. I had no experience with a project this large. I intended to take the kitchen back to the plaster walls and update everything. I needed to know projected costs, what materials I might want, what appliances would serve me best as I got older, what storage options were available, and even how a functional kitchen should be arranged.
The library is a great resource. Consumer reports covers a multitude of appliances, counter top options, flooring, paint, and cabinetry, and clearly explains how construction is likely to hold up under normal usage.
Before going to a store to buy what I liked, I needed to know what would work for me as well as enhance the value of my house in the long run. I visited every online and box store my friends recommended for sinks, faucets, cabinet hardware, wood, tile, and vinyl flooring. I talked to family members who had remodeled, and discussed options with my friends over breakfast.
I followed sales and watched for price reductions on the items I wanted. Some stores change prices every two weeks so staying with the process takes determination. I purchased my large appliances at a Labor Day sale and got a 20% price break for buying the fridge, oven, and microwave at the same time.
I also sat down and made a detailed listing of all the additions I expected to have (such as how many electrical outlets or switch plates I would need). I wanted the contractor to be able to understand exactly what I wanted.
Did you hire a contractor or did you renovate yourself?
I knew I needed a contractor. I approached this through word-ofmouth recommendations from friends and individuals who work with contractors through business connections. While business contractors rarely want to take on home projects, they do know the independent people in the business.
The contractor I chose had built a house for a friend. He was interested, said he did smaller renovations, came out, and gave me a reasonable verbal ball park price based on my list of wants. He recommended a cabinetmaker, and we discussed timelines. I verbally agreed to go to the next step and requested a written estimate. I contacted the cabinetmaker, negotiated,placed my order, and left a message for my contractor to work out time lines. My contractor disappeared and never returned my calls.
The cabinetmaker became aware of my contractor challenge and recommended someone he knew. This individual turned out to be the best part of the entire project.
What was the biggest unforeseen renovation obstacle?
A long, slow leak in the roof that would have eventually ruined my newly remodeled kitchen wall.
Fortunately, the contractor advocated for tearing off the plaster walls, adding insulation, and rebuilding with dry wall, since the wiring and plumbing needed to be completely redone.
Because of the leak, I needed wood repair and a new roof even though my shingles were less than 15 years old. My contractor used people in his network to seal the roof temporarily (it was January) which allowed the continuation of the kitchen project.
By what percentage did you go over your intended renovation budget?
My contractor took the time to understand why I was completing this renovation. He saw my laundry area in the basement, sized up the half bath, took into account the fact I had two other full bathrooms, and suggested the half bath become the laundry area on the first floor. Since my goal was to live here into my senior years, this made sense and required a financial realignment. I had saved for this project a long time and had built in a buffer. The laundry room addition stayed within my 10% contingency plan. Taking the kitchen down to the studs added a few more percentage points. I also negotiated to do the painting myself which saved some money.
Of course, once spring arrived I still had the roof to contend with and needed to find financing for that rather significant "overrun.". But I am grateful the leak was found before it impacted my new kitchen. My contractor put me in touch with the right people to resolve the roof issue. Networking is a wonderful thing.
If you could go back and give your pre-renovation self some advice, what would it be?
Keep expectations reasonable. Things do go wrong (a gas pipe was in the wall framework where it could not be moved to accommodate something I wanted). Even with thorough planning, it is important to be flexible and find multiple options that can provide satisfaction. I can honestly say I love how my kitchen looks now.
After the kitchen remodel: an amazing transformation!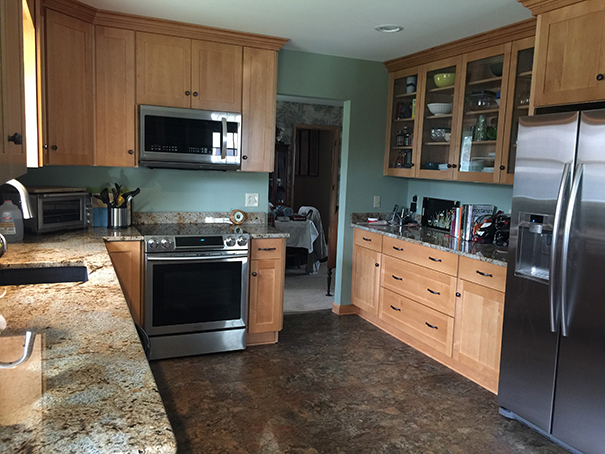 Fresh paint replaced the old, dated wallpaper.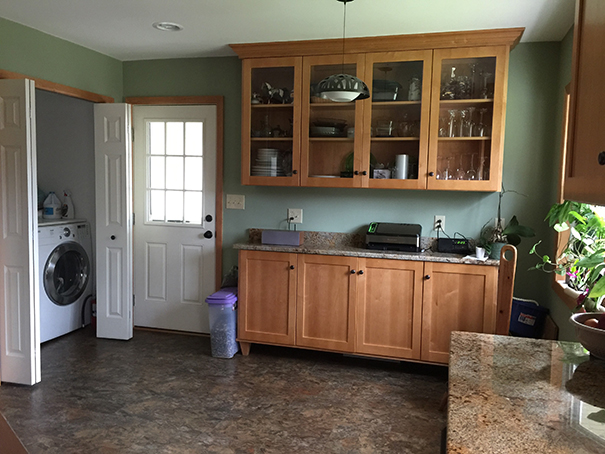 The former half bath becomes an easy-access alcove for the washer and dryer.
Any other helpful tips for renovators?
Do your homework and think things through. Use your cell phone to take pictures of things you see that you like as well as product names and model numbers for future reference. Understand what living without a kitchen for five weeks will entail beyond the dust and mess. Kitchen doors leading outside and being replaced in February means it can be cold in the house!
Make no assumptions with your contractor. Explain your wants and ask questions up front and throughout the entire process. Finally, keep a sense of humor, because you will need it.
Kitchen Faucet Choice & Product Review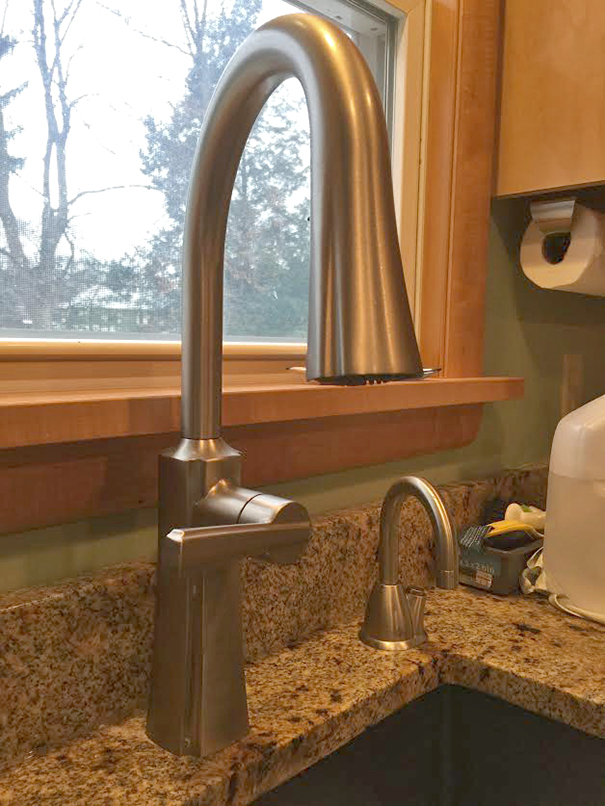 The Moen Etch single-handle faucet has a streamlined pull-down sprayer.
Tell us about the kitchen faucet you chose and why you chose it.
I bought a Moen Etch S72608SRS faucet with a pull-down sprayer and matching soap dispenser.
What attracted me the most to the Etch Moen faucet was the straight, clean lines and the fact that it was impossible to see where the sprayer attached to the faucet. I like "different", and most pull-down sprayers show a line where the faucet and sprayer connect. On mine, the design is seamless, and I like that. I only have one sink, so the height of the arc is good for getting pans and other items under it easily. It also swivels side to side, which I like, but most faucets can also do this.