Demystifying the Stainless Steel Kitchen Sink
Because of the popularity of stainless steel as a kitchen sink material, you can find a stainless steel kitchen sink in a wide range of prices, sizes and styles. However, the differences between types of stainless can be a bit of a mystery until you learn a few simple facts.
What Is Gauge?
The most basic fact about stainless steel sinks is probably also the most misunderstood: The lower the gauge, the thicker the steel. And generally, depending on other quality factors, a thicker stainless steel kitchen sink is a better sink. Thicker steel is more resistant to dings and dents and you will notice less of a "clang" when you toss an item into the sink or put in heavy pots and pans. If you have a garbage disposal you are quite likely to notice the difference in vibration between higher and lower gauge sinks.
The stainless steel sink gauges you will find for household kitchen, bath and laundry room use generally range from 16 to 22, with 16 gauge on the thicker end of the continuum.
What Gauge Is Right For You?
An 18 gauge stainless steel sink is common and our consultants tell us that this is usually fine for household use.
If you want an economy sink, perhaps for a second home, prep or bar sink or a property you rent out, you can go with a higher gauge to save a bit of money. Conversely, if you want premium quality or you plan to put your sink through a workout with kids, dogs, or hobbies, our experts recommend investing in 16 gauge.
What do those other numbers mean?
In addition to gauge, when you shop for a stainless steel kitchen sink you will usually see some form of the words Series 304 18/10. This describes the second important quality factor: Grade.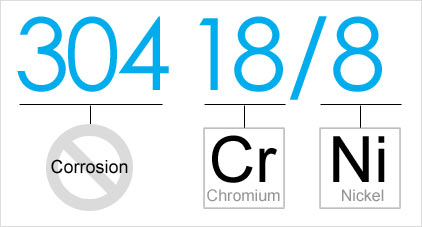 Sinks available for residential purchase will almost always be in the 300 series (usually 304) which indicates good corrosion resistance.
The grade label also refers to the amount of chromium and nickel contained in the product. (Stainless steel is usually alloyed with other metals to improve its properties.) So, for example, 18/8 means that the stainless steel from which a product is fabricated contains 18% chromium and 8% nickel.
Here's what you need to know: the higher the content numbers, the more corrosion resistant the material. Again, whether or not you want to invest in a higher quality sink depends on your budget, how much punishment it's going to take and how long you want it to last.
If You Want The Cadillac…
If you are ready to spend a bit more for top quality, you can purchase a stainless steel kitchen sink with an undercoating that deadens sound and reduces condensation inside the cabinet.
Cut To The Finish
While composites, enamel coated steel and cast iron, and other kitchen sink materials offer a wide color range, stainless steel sinks are basically the same "color". However, different surface appearances such as polished (shiny) or brushed (textured) provide a modest level of choice.
Tip: Different manufacturers' versions of these basic finishes may also vary.