The Mayne Way to Make Your Home More Appealing
Add Instant Curb Appeal
Everyone looks forward to the arrival of spring, especially after a long, cold winter. For most of us, the return of warm weather signals the time to clean up our yards and prep our outdoor spaces for upcoming summer activities.
Take stock of your houses exterior and fix, replace, or change whatever is worn, outdated, or just plain ugly. If your home is currently lacking in curb appeal, a few minor updates may just be the remedy it needs.
Aside from a fresh coat of paint, newly cleaned exterior siding, or a well-manicured lawn, you can easily spruce up your home's appearance with the addition of some outdoor accessories. You'll make a huge impact on your home's look and increase its overall value. Riverbend Home offers a selection of stylish and easy-care yard and garden products from Mayne that are just the ticket for beautifying the outside of your home.
Improve your home's curb appeal with outdoor accessories.
Bring on the Blooms
Nothing garners attention like a garden full of beautiful flowers. Even if your yard is small, you can make your home bloom with color by adding box planters underneath your windows. Mayne window boxes provide a space-saving way to plant a container garden while creating an eye-catching focal point on the front facade of your house. Made of weather-proof, fade-resistant polyethylene, these window planters are maintenance free. A built-in reservoir inside their double-walled design reduces the need for frequent watering, so your flowers will remain healthy and hydrated with less effort. When summer's over, you can fill the boxes with dried floral arrangements for fall and pine boughs or swags of winter greenery such as holly with festive bows to create some outdoor decor for the holidays.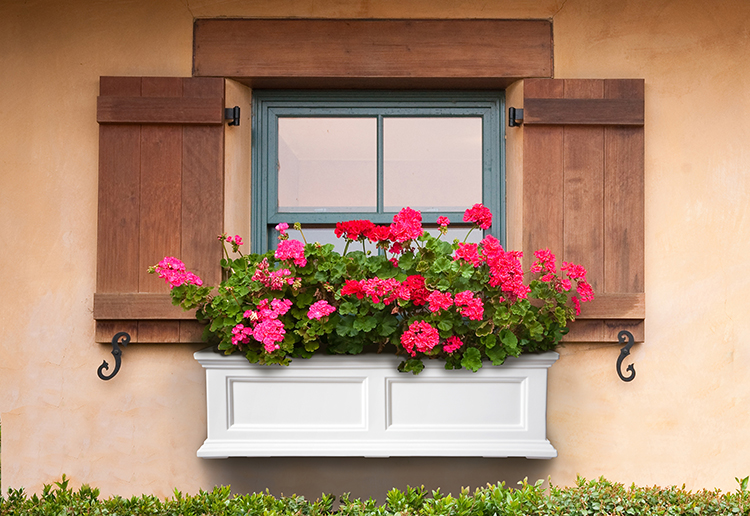 Window boxes are a great way to add visual interest to the front of your home.
Additionally, freestanding planters make it easy to bring an array of potted plants and flowers to your outdoor living spaces. Use them to give new life to your patio, deck, porch, walkway, or front entrance. They can easily be relocated whenever you wish to change your portable gardens for the seasons or even be moved indoors to protect plants from winter weather. To promote water conservation and provide and ever-ready source of supply water for your plants, add a rain catcher to your yard to capture and store rainwater and recycle it for your gardening needs.
Patio planters give your home a welcoming touch.
Get Organized
Is yard clutter getting out of control? If you have pool supplies, lawn game equipment, gardening tools, or even bags of seed for your bird feeder you need to keep within reach but out of sight, consider outdoor storage bins. The decorative and functional containers can help you organize and store a variety of items to keep them from cluttering up your lawn, pool deck, and patio. Similarly, hose reels can keep your unsightly garden hose tidy and hidden from view to keep your home looking neater. Make clean up easier around pool and patio areas by adding an attractive waste bin.
Control yard clutter with storage bins, waste bins, and hose reels.
Shine a Light on Style
Create ambience and add a measure of safety and security with an attractive lamp post. Outdoor lighting will illuminate walkways and doorways and help deter intruders from invading your property. A decorative post not only provides a practical holder for an outdoor lantern, it enhances the appearance of your home's exterior and can offer a cohesive look when paired with your house trim and coordinated with a set of planters, window boxes, and mail box posts.
A Look That Delivers
Your mail box is prominently on display, yet often gets neglected when it comes time to update your outdoor spaces. Make it more appealing to look at with a new mail box post. Easy to install and maintenance free, a Mayne mail box post can do wonders to improve your curb appeal. Pretty and functional, a new post will give your basic mail box a stylish makeover. Choose one with a separate newspaper slot to keep your daily delivery off the lawn or driveway. Select one with an integral planter to add some colorful floral arrangements to further enhance its visual allure.
Welcome Home
Give your home a welcoming touch and help visitors locate your address by adding signage to your property. An attractive address sign post gives your home an upscale look while making it easier to spot your house number from the street to identify which house is yours.
Isn't it time you gave your home a facelift? Mayne Outdoor Products are weather-proof, low-maintenance, and are backed by a 15-year manufacturer's warranty.