Style & Design
Transitional Style: Versatile and Welcoming
Twenty-two years ago we decorated our New England saltbox in a style we called, with an utter lack of interior design savvy, "contemporary farmhouse". We juxtaposed a modern chef's kitchen, loads of skinny casement windows and an open floor plan with warm woods, a squat black woodstove and understated Shaker furniture.
With a little research I found out that our style has a name: Transitional. This synthesis of old and new has been steadily outdistancing Traditional and Contemporary styles in popularity.
What Is Transitional Style?
A Transitional décor accommodates both Traditional and Contemporary elements in a fusion that works on its own. It mixes the coziness and elegance of Traditional with the clean lines and modern feel of Contemporary. Transitional style gives you the freedom to pull in elements you like without being locked into either old or new.
To make Transitional style work, create a smooth, versatile backdrop. Designers recommend neutral colors, crisp lines, and minimal patterns to create a feeling of calm and balance. Textures and tonal depth provide interest in lieu of more obvious design techniques.
In addition, avoid extremes. A formal sofa grouping straight out of Downton Abbey is going to pull your living room toward Traditional, while a gleaming urban chic steel island in the center of your kitchen is going to say "Contemporary" no matter what else you choose.
What is Transitional Not
It's easy to confuse Transitional with Eclectic style, which brings in elements from multiple styles and often results in a fanciful mix. The Transitional room usually sticks to classic Traditional and Contemporary elements—although we never say never when it comes to making your personal design statement.
Also, you don't want your mixed décor to be a random hodgepodge. There are rules to follow, just as with any style. Whether you hire a designer or do the research yourself, it pays to become educated before you renovate or redecorate.
The Transitional Kitchen
Balanced tones of black, white, and neutrals form the palette. (The trend toward white cabinets will definitely rock a Transitional kitchen.) Stay away from elaborate trim, moldings and fabrics, but don't go Zen with a truly minimalist absence of detail.
Against this serene backdrop you are free to add both woods and metals. You've got lots of options for countertops; the new concrete counters or traditional butcher block are both great ways to go.
Avoid ornate patterned tile backsplashes, but jump on your favorite monochromatic trend: subway tile, glass, or rustic brick. Heart set on steel appliances? Go for it, as long as you break up the stainless look with warmer materials in your cabinets and other elements.
Since faucets tend to be focal points, stick with transitional models featuring gentle curves and lines. Almost any sink will work, though you might want to stay away from a themed piece like a hammered copper farmhouse sink. Not that farmhouse style is verboten: A basic white ceramic model will work just fine. Or consider a stainless steel farmhouse sink as the perfect fusion of old and new.
While you can stay safe with lighting and hardware solutions that are also classified as Transitional, these are great spots to bring in some character. You may choose a low-key Traditional chandelier or colorful pendants with a bit of urban pop.
Hardware offers another opportunity to add a more decisive touch without hijacking the entire room – plus it's an easy update when you want a new look.
The Transitional Bathroom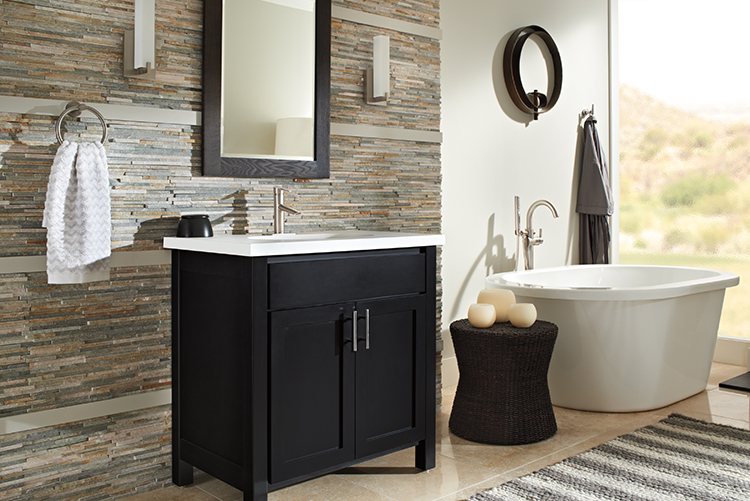 "Clean and simple" rule the day in the Transitional bathroom. If you create a calm, neutral backdrop you have plenty of freedom to get creative with a handmade vessel sink or a rich dark wood vanity.
Remember to keep window treatments and accessories simple and neutral as well. Consider glass blocks, simple shades or shutters rather than curtains. Use wall art or fresh flowers for color pops.
As in the kitchen, it's wise to stick with sink faucets classified as Transitional to anchor your style. There are many beautiful models to peruse; choose a collection that also includes shower and tub faucets and accessories.
Your goal should always be creating a personal retreat rather than sticking to a particular design scheme, and Transitional makes it easy. If you're installing a tub, choose one you love, whether it is a nostalgic clawfoot style or a sleek modern box. An oversize shower with a contemporary feel will look great as well.