A Weekend Warrior's Renovation Series: Bathroom Remodel – Episode 3
The Master Plan
"Vision without execution is hallucination" -- Thomas Edison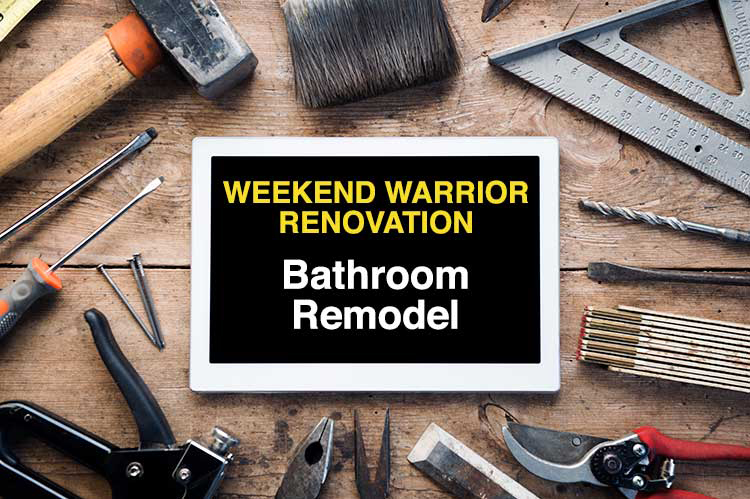 In the second installment of this series, I outlined the major design decisions related to layout, fixtures, surfaces and finishes for my bathroom renovation. Before I begin work, I like to layout tasks and projects into a work plan or checklist. There are lots of dependencies for things to keep moving along without downtime, so this really helps me get organized. While this plan is specific to my project, perhaps it will help you think through a work plan for your project.
Always be sure to check local codes and secure any necessary permits with your local building authority. For instance, because our home was built in 1960, we obtained a lead-free certification from a state-certified inspector prior to performing our first project in our home four years ago.
The Task List
Here we go!
Demolition

After demolition - walls down to the studs.

Rough electrical for recessed lights, vanity lights, vent fan, switches, and outlets
Construct partition wall
Install alcove tub
Rough plumbing
Install blocking in walls to support panel radiatorand floating makeup vanity as needed
Install insulation and vapor barrier as needed
Take pictures and video while walls and ceilings are open for future reference
Hang 1/2" Hardie Backer Board for tub and shower walls
Hang plaster board (blue board) on ceilings and then on walls
Veneer plaster application on walls and ceilings

Plaster board on walls and ceiling. Recessed ceiling lights and rough electrical installed.

Reinstall original wood medicine cabinet
Shower wall waterproofing
Shower wall tile installation

Shower wall tiling completed, and alcove bathtub installed.

Wall tile grout installation
Prime and paint walls and ceilings
Radiator installation, including re-piping supply/outlet in floor
Patch and level subfloor
Put down 1/4" Hardie Backer Board floor tile underlayment
Mud seams and waterproof floor tile underlayment
Floor tile installation

Floor tile and grout installation, and baseboard radiator installed.

Floor tile grout installation
Seal all grout
Install double vanity

Double vanity installed - quartz countertop with drilled holes for faucets.

Finish plumbing for tub/shower and toilet
Install new pre-hung entry door
Install door and window casings, and baseboard trim
Construct base/support for floating makeup vanity
Templating for quartz vanity tops
Finish electrical
Final caulking and painting
Final mounting of bath accessories, wall decor, window coverings, etc.
Did I say three months for this project? Reality has set in, and there's a lot to do! I'd better get working. Stayed tuned for more updates.