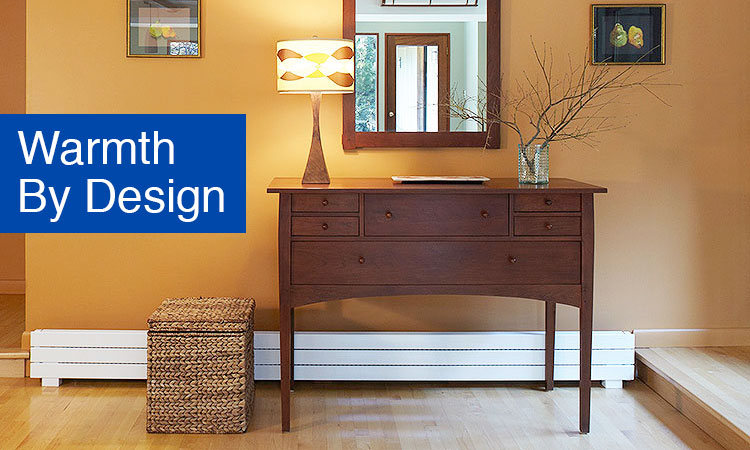 Runtal Radiators offers a wide selection of hydronic heating and electric radiant heating products including European-style panel radiators and towel warmers made in their state-of-the art factory in the USA. Runtal's line of hydronic, electric, and steam heating products, from electric baseboard heaters for homes and offices to large scale panel radiators for commercial use, provide comfortable indoor climates for any room. Whether you are building from scratch or remodeling an existing room, Runtal Radiators has residential and commercial options to meet your specific needs.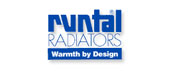 Baseboard & Panel Radiators
Runtal flat panel radiators come in a variety of sizes and configurations and are paintable to match any décor. Runtal radiators are easy to install, affordable, and can help make your home more energy efficient. Choose from electric, which uses convection to circulate warm air, or hydronic modeled on your heating system needs.
Electric
Space saving with only a 2.25 inch depth
Simple wall-mount design
Lengths from 3 to 10 feet (in 12 inch increments)
120, 208, and 240 volt configurations
Hydronic
6, 9, and 12 inch high baseboards
Lengths from 2 to 14 feet
Use to replace fin tube or cast iron heating
Full range of trim kits, corners, and end caps
Sample Heating Requirements:
| Region | BTUH/Sq. Ft. |
| --- | --- |
| New England, Upper Midwest, Southern Ontario | 40 |
| New York to Philadelphia | 40 |
| Philadelphia to Washington, DC | 35 |
| Seattle to Portland | 25 |
Need Runtal Sizing &
Installation Advice?
Read our in-depth article
How to Choose A Runtal Heater
Installation
Runtal radiators can be used to replace current baseboard radiators or installed in new build situations. They may be used as a direct replacement for fin-tube or cast iron radiators. Easy to install, they come in many different types and can connect to your existing baseboard piping, attach to walls vertically, or be installed in columns. They offer minimal system maintenance, less piping, operate quietly, and provide a consistently comfortable indoor environment. For more installation tips, view this helpful article How to Choose a Runtal Heater.
Price
Runtal radiators come in a range of prices based on type, size, and accessories. Priced only a little more than old-fashioned style heaters, their energy-efficient design allows for increased heat transfer and helps significantly reduce your energy consumption, making them cost-effective in the long run. They may be used with lower water temperatures, lowering the cost to run your burner. In addition, a well-designed Runtal heating system uses less piping and can be used with a smaller boiler and pump. This adds up to a greener, more efficient, and energy-saving heating system.
Vertical Radiators
Runtal's vertical panels are ideal for providing heat in situations with limited floor space for radiators. They are perfect for entryways, kitchens, or small rooms. Runtal's vertical panels are available in heights from 20 inches to 29 ½ feet in increments of 2 inches.
Towel Radiators
Runtal manufactures a full line of towel warmers in both electric (plug in and direct wire) and hydronic formats. They can be used as a supplemental or main heat source in your bathroom.
Perfect for bathrooms, indoor pools, saunas, and spas, towel radiators let you enjoy the luxurious feel of warm towels as you dry off after your bath or shower. They help your towels dry faster after use and can be used to warm a robe along with your towels for a total spa experience in your home.
Shop Towel Warmers
Riverbend Home Is Here
To Help
View our insights on the Benefits of Baseboard Heaters. We are always here to help. Contact us with questions. Thank you for letting Riverbend Home help you find the perfect solutions for your home or commercial space.