About Electric Non-Thermostatic Tankless Single Point Water Heater - OPEN BOX
You'll always have hot water on demand wherever and whenever you need it with this point-of-use SP4208 Non-Thermostatic Electric Tankless Water Heater. Its tankless design eliminates the need to heat a storage tank full of water, the inconvenience of running out of hot water, and energy wasted through standby heat loss. The heater is activated only when the water turns on, making it 99% energy efficient. Use it for hand washing, kitchen, bar, and utility sinks, a low-flow, handset shower, dual hand wash sinks, manufacturing facilities, modular buildings, and tenant spaces. The compact, easy-to-install unit mounts directly to the wall, uses simple compression fittings to connect to one cold water line, and requires no temperature and pressure valve. It reduces calcification, liming, sedimentation, and Legionella bacteria growth caused by a tank of standing water. Features an ABS UL rated 94V0 cover, a flow-restricting aerator, a replaceable Ni Chrome cartridge insert, a high temperature limit switch, a standard temperature range of 100 degrees to 140 degrees F, and a maximum operating pressure of 150 psi. UL listed. Made in the USA.
Dimensions: 10-3/4" wide x 5-1/4" high x 2.78" deep
Weight: 4 lbs
Water fittings: 3/8" compression fitting at top of unit
Power: 4.1kW; Wire size: 12AWG; Maximum volume: 2.0 gpm
Heater activates only when water is flowing
Electric Non-Thermostatic Tankless Single Point Water Heater - OPEN BOX Product Specifications
| | |
| --- | --- |
| Model Number | SPEX4208 |
| Wattage | 4.1 KW |
| Voltage | 208 V |
| Amperage | 25 A |
| Phase | 1 PH |
| Height | 5-1/4 IN |
| Length | 10-3/4 IN |
| Width | 2-7/8 IN |
| Collection | 1 |
Shipping & Returns
Not eligible for return unless defective.
Electric Non-Thermostatic Tankless Single Point Water Heater - OPEN BOX Customer Reviews
Clearance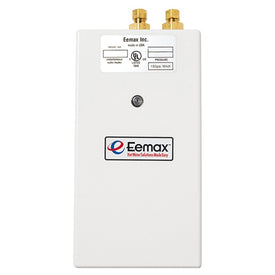 Electric Non-Thermostatic Tankless Single Point Water Heater - OPEN BOX
SPEX4208 | Eemax
$180.86
$332.76 Save $151.90