Style & Design
Decorating Ideas for Craftsman Style Homes
What's not to love about a Craftsman style home? They're warm, inviting, and showcase the simplicity and beauty of fine handicraft. What began as an Arts and Crafts style movement in the late 19th century has evolved into an architectural style that remains popular throughout the U.S. even today.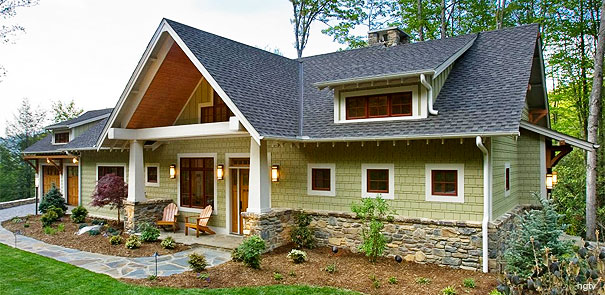 Typical Craftsman homes feature low-pitched rooflines, deep overhanging eaves, and tapered front columns.
Unlike the more ornate and highly decorated structures of the Victorian era that preceded it, the Arts and Crafts movement emphasized original craftsmanship, simplicity of form, use of natural, local materials, and visibility of handicraft. In other words, true Craftsman style is simple, unadorned, and useful. Restored historic homes and new houses built in the Craftsman style still boast the signature features including front porches with exposed rafters under deeply overhanging eaves, tapered columns, low-pitched rooflines, and linear window detailing.
The beauty of Craftsman homes lends itself to a wide variety of decorating options. Whether you wish to reflect the history of the original structure of a restored home or update the décor to a bright and modern style, the possibilities are endless. Let's explore some of the ways to furnish a Craftsman-style living spaces.
Historically Speaking…
If you want to stay true to a home's historical roots, focus on warm, earthy tones, stained trim work, patterned textiles full of character and comfort, and natural textures found in materials such as wood, stone, leather, stained glass, and tile. Furniture with simple lines such as Mission or Stickley styles were traditionally found in these homes, and are still quite popular today. Oak or other fine woods stained either light or dark work well in a Craftsman setting. Dark, deeper colors such as brown, green, red, and yellow are commonly used, but practically any color that plays up the richness of the woodwork is suited to this decorating style.
Lighting styles such as art glass, Tiffany or leaded glass with geometric motifs look great and remain true to the Craftsman's origins. Antiqued and distressed metal finishes dominate fixtures and hardware used in these homes. Aged brass, oil rubbed bronze, copper, nickel, and pewter in kitchen and bathroom faucets and cabinet hardware all work well. Simple hardware such as knobs, cup pulls for cabinetry, and cross-style handles or simple lever handles on faucets would all be wonderful choices.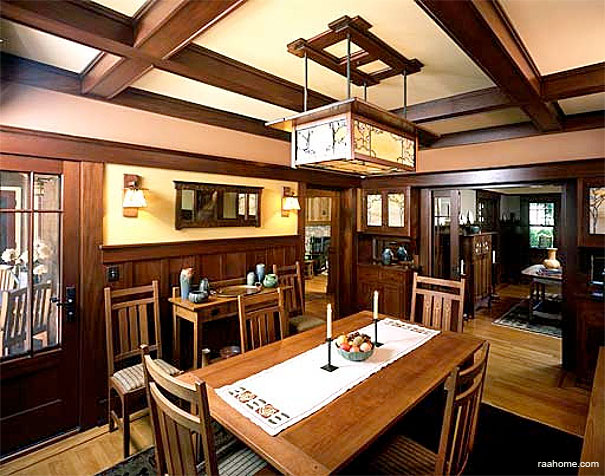 Craftsman interior with typical dark stained woodwork, board and batten wainscoting, mission-style furnishings, and art glass lights.
A Home for Today's Lifestyle
For more a more contemporary look, newer Craftsman-style homes lighten and brighten the interior using white wooden trim work, a cooler palette, contemporary art and decorative accents, and transitional or modern lighting. Neutrals, lighter blues, greens, and buttery yellows are good color choices. Transitional, Traditional, Mid-Century Modern, and some Contemporary collections of furnishings and accessories pair well with Craftsman-style architecture. You can modernize the interior spaces with contemporary touches while still blending in more traditional accessories that pay homage to the Arts and Crafts roots. Though simpler furnishings work best, you can have fun and mix a variety of styles for a more eclectic look.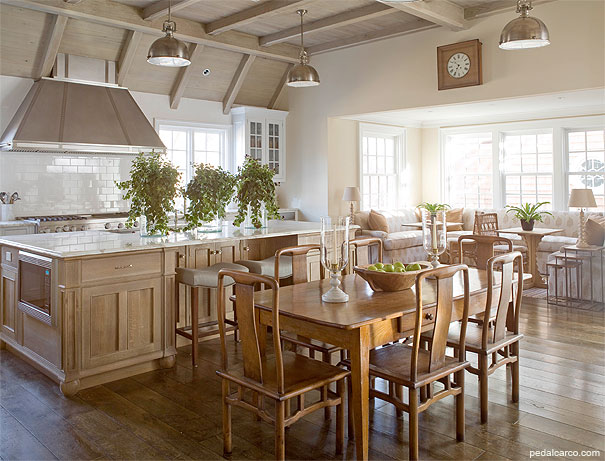 A more modern Craftsman kitchen with transitional décor.
While certain design elements in Craftsman homes feel traditional, they have a more simplified style with less ornamentation or detail. Any decoration is more restrained and play up natural or handcrafted features such as wood grain, metal finishes, and stained glass. In this type of home, the furnishings that look best are less fussy with the focus more on craftsmanship than embellishment.
Need more design inspiration? At Riverbend Home you'll find a wide selection of items hand-picked by our designers for the Arts & Crafts style décor.