Buying Guide
How to Choose a Utility Sink
A Sink for All Uses
Having a laundry sink, also called a laundry room sink or utility sink, in your home can be a major convenience. Think about all the varied tasks that these sinks can help you with over the course of a busy week. Utility sinks are useful for handwashing dirty clothes, treating stains, cleaning up after messy jobs such as gardening, painting, heavy-duty cleaning chores, home repairs and DIY projects, emptying mop buckets, and even bathing muddy or shedding pets. In these instances, a utility sink is handy for keeping extra grimy, greasy, and dirty items from coming into contact with or causing damage to your kitchen or bathroom sinks.
Riverbend Home is a great source for utility sinks whether you are in the market for a drop-in laundry sink, a mop sink, a slop sink, small utility sink, wall-mount laundry tub, Mustee utility sink, or Mustee laundry sink, we carry a wide selection of models, size, and styles in a variety of materials to suit your needs.
If you have the room and plumbing set-up to add a laundry, utility, or mop sink to your laundry room or basement, you will find there are many options available for brands such as Mustee, sizes, styles, materials, and designs when it comes to these hard-working sinks. Here are some things to consider when selecting just the right utility sink to suit your needs.
Installation Style
When it comes to choosing your laundry sink, one of the first options you need to be aware of is the type of installation style you require or prefer for your particular sink set-up. Utility sinks are available in drop-in, undermount, wall-mount, floor-standing (floor mount), and portable.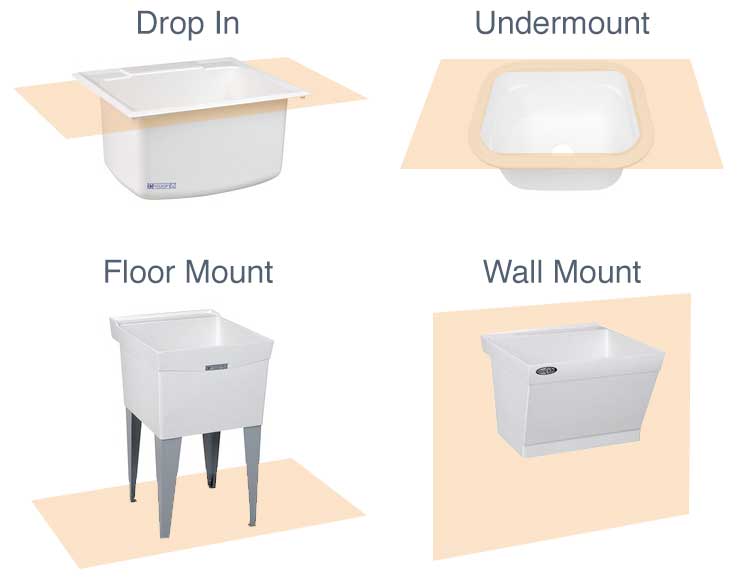 Utility sinks come in a variety of installation types.
Drop-in utility sinks
Also called self-rimming or overmount, a drop-in laundry sink mount into a hole cut into a countertop or work surface. The sink basin sits below the counter with the rim of the sink remaining above. They are easy to install and work with most surfaces you would have in your utility or laundry room. The Mustee 10 self-rimming utility sink is an example of a drop-in model.
Mustee 10f Self-Rimming Utility Sink
Undermount sinks
Unlike drop-in styles, undermount laundry sinks, such as the Mustee 2218 model, mount underneath the countertop so its edges are concealed. This style offers a more contemporary look and makes cleaning easier as you can wipe spills and mess from the counter into the sink without a rim becoming an obstruction.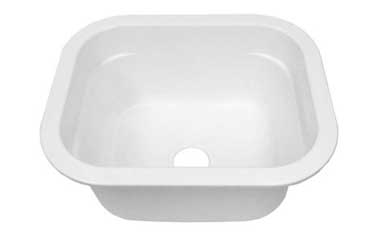 Mustee 2218 Undermount/Topmount Utility Sink
Wall-mount utility sinks
If your room lacks a countertop, has limited floor space, or you're looking for a more streamlined look, a wall-mount utility sink such as the Mustee 17w and Mustee 18w models may be the best choice for you. They are installed as standalone units that mount directly into wall studs. Wall-mounted utility sinks are great for basement installation where countertops do not exist, and allow for easy cleaning of the floor underneath them.
Floor-mount sinks
Similar to wall-mount sinks, floor-mount laundry or utility sinks are installed as standalone units without the need for a countertop, though some people install them next to one to use as a nearby work surface. A floor-mount sink comes with legs or a base and can be installed anywhere you have access to plumbing lines. Many of these come in a variety of sizes from small sinks for compact areas to large sinks that easily accommodate bathing large dogs.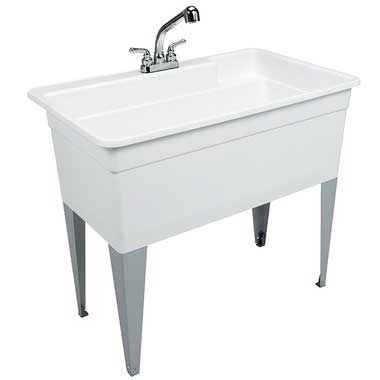 Mustee 28CF Big Tub Utilatub 40x24x34 Combo Utility Sink
Floor-mounted mop sinks including the Mustee 65m and Mustee 63m mop sinks make it easier to wash out mops and empty cleaning buckets.
Portable sinks
Portable utility sinks are generally mounted on wheeled carts that allow you to move them from one location to the next as needed. They usually have supply lines that easily connect to existing plumbing and are great for use as a shop sink in garages, outdoor patios, campers, classrooms, healthcare facilities, hair salons, construction sites, and mobile grooming stations.
Material
Another major factor to consider when shopping for a utility or laundry sink is the type of material that makes up its construction. Some of the most popular materials are as follows:
Fiberglass/Acrylic
Popular materials for utility sinks, fiberglass and acrylic are both lightweight, durable, and easy to maintain. Sinks made from this material is resistant to stains since it is non-porous, cost effective, and come in a variety of colors, shapes, and styles. It is generally reinforced with other materials to strengthen it. Mustee specializes in a proprietary fiberglass material called Durastone® that is a combination of fiberglass and crushed stone that is strong, mildew-resistant, and can be molded into a variety of configurations. One model is the Mustee 18f sink.
It can get scratched and is not as heat-resistant or chemical-resistant as other materials. Use only non-abrasive cleaners on it, and be careful when handling sharp items such as knives or scissors and harsh chemicals and petroleum-based product near the sink which can damage its surface.
Porcelain/Ceramic
Porcelain is mainly used in drop-in or undermount sinks. It is attractive, durable, strong, and resistant to heat and chemicals. Some sinks are made of solid porcelain while others have a steel or cast iron base that is covered with a baked-on porcelain veneer finish. While durable, porcelain can be chipped or stained. Have care when handling heavy items that can drop and damage it, and clean up messes after each use to prevent stains from setting in.
Stainless steel
Stainless steel is an excellent choice for sinks and can be used in any environments. They are easy to clean, rust-resistant, and come in a wide range of sizes, installation types, surface finishes (satin, brushed, polished, etc.), and designs. It is heat-resistant, chemical-resistant, and strong. However, they can be loud when water hits them (look for models with special noise-dampening coatings underneath) and can be more expensive than fiberglass.
Cast iron
Cast iron is a traditional material used to manufacture sinks for decades. It is a strong and durable material that is usually used in combination with an enamel coating to withstand conditions such as high water temperatures, harsh cleaners, and rough use. The enamel coating can wear off over time, exposing the cast iron to corrosion. It can, however, be re-glazed to prolong its useful life.
Plastic
Plastic such as impact-resistant polypropylene is used on smaller, more economical sinks and standalone wash tubs. While not as strong or resistant to heat or chemicals as other materials, it tends to be fairly durable, easy to clean, and cost effective. Plastic sinks usually have a one-piece molded design, are lightweight, and can come in a variety of colors.
Other Factors
Once you have determined the best installation type and material for your needs and budget, you should also factor in other attributes in the sink design you choose. Do you need two basins or one? A shallow basin or a deep one? Do you need them pre-drilled with faucet holes and if so, how many?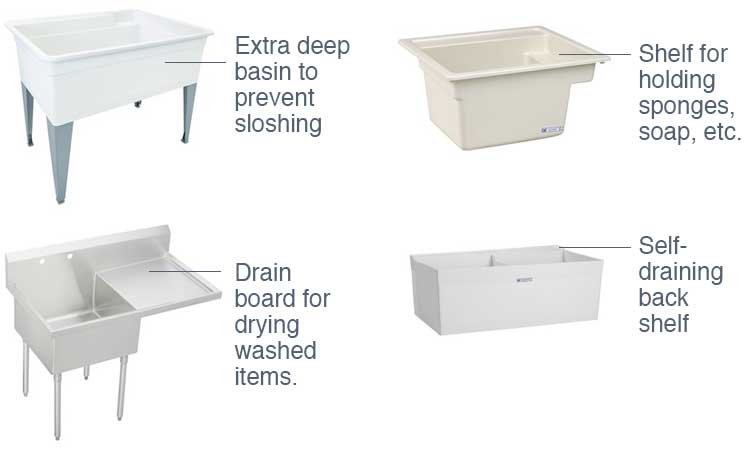 Choose other attributes based on what tasks your sink will perform.
The shape and size of the sink including width (side to side), length (front to back) and basin depth are important to consider based on the space available and the uses planned for the sink. Small or basic models are generally sufficient if you only need a place to rinse and wash your hands or clean smaller items. Larger wash tubs such as the Mustee 28cf or Mustee 28f Big Tub Utilatubs are deep enough to prevent sloshing when cleaning larger items and are great for when the family pet needs a bath.
Some designs include extended washboards that extend to the side of the basin. These are handy when handwashing items as they give you a place to rest items recently cleaned or about to be cleaned. Some models include such conveniences as soap dishes, bucket hooks, and basin dividers.
Faucets
Along with a sink, you will need to also select a sink faucet, drain(s), and plumbing fittings needed for installation. Utility faucet designs come in two-handle and single-handle models, centerset and widespread, deck or wall mounted, and are available with a wide range for spout types such as low-arc, high-arc, gooseneck, rigid, and swivel, and handle styles including cross, lever, knob, and wrist blade. Some models include such options as wall braces to increase stability, bucket hooks to hold pails while refilling them with water, and threaded spouts for easy hose connections.
Once you have determined what you need, check out Riverbend Home's selection of sinks, fittings, and faucets for your utility and laundry rooms.