Since 1932, E.L. Mustee has been manufacturing a wide selection of utility sinks, shower stalls and enclosures, tubs, service basins, washer and hot water heater pans, laundry sinks, and shower seats and accessories.
Crafted with care in the USA, Mustee products are designed to add luxury, convenience, functionality, and greater livability to your home.
Mustee offers products for commercial, institutional, industrial, and residential use with unique design options to suit both new build and remodeling applications. Mustee products not only look great, they are built to last.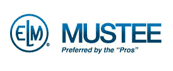 Best Selling Mustee Products
Mustee 63M 24″x24″ Mop Sink
Mustee 30 DURASTALL® 30″x30″x73″ Freestanding Shower Stall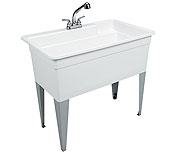 Mustee 28CF BIGTUB™ UTILITUB® 40″x24″x34″ Combo Kit
Mustee 28F BIGTUB™ UTILITUB® 40″x24″x34″ Utility Tub Only
Utility Sinks & Tubs
Mustee utility tubs and laundry sinks are up to the task, whether you're washing the dog, cleaning paint brushes, or soaking delicates. Versatile, durable, and stain- and mildew-resistant, Mustee utility tubs and sinks, make any kind of clean up easier. For the best in sizing and selection, go with the brand that is preferred by the pros, as well as homeowners. Mustee offers a variety of options from freestanding wash tubs and sinks for easy installation, wall-mounted sinks for spaces where floorspace is more limited, and drop-in sinks for laundry rooms with existing countertops.
Utility Sinks
These multi-task sinks add a great look to the laundry room—so attractive you may want to use one as an at-home bar sink.
Molded fiberglass construction
Self-rimming, easy to install and clean
Multiple pilot holes make it easy to install a single or dual handle faucet with a 4″ or 8″ center, soap dispenser, or side sprayer
Colorfast surface finish and stain resistant
Utility Tubs
Ranging from 18″ to 40″ wide, UTILITUB® tubs can accommodate any location. Their deep bowls and 18 – 23 gallon/bowl capacity help retain water and cut down on splash and overflow.
All models hook up to a standard 1½″ P-trap
Available in both floor- and wall-mounted designs
One-piece molded construction and impact resistant
Utility Tub Combo Kits
Everything You Need in 1 Box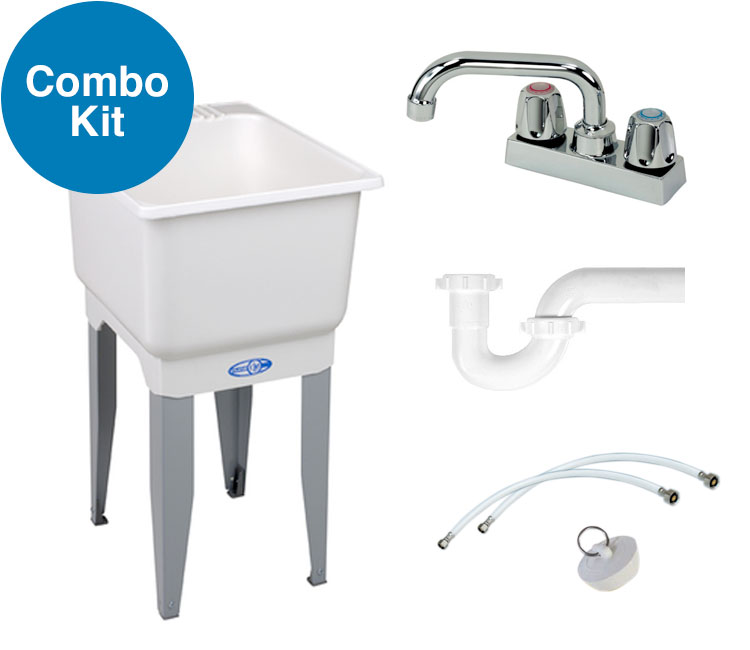 Combo Kits Include:
Utility tub (single or double) with self-leveling legs
1½″ P-trap with 12″ tailpipe
4″ center set chrome faucet with 6″ wing spout and aerator
Two flexible, braided 20″ supply lines, Teflon® tape, and drain stopper
Mop Basins & Accessories
Mustee mop basins make clean up fast and easy. They are perfect for factories, hospitals, schools, or even in the garage or basement.
One-piece molded from impact-resistant Durastone® fiberglass
Drain seals for connecting 2″ pipe or 3″ soil pipe
Available accessories include service faucet, hose & hose holder, mop hanger, bumper guards, and wall guards
Add the convenience of an extra freestanding shower to your home with an easy-to-install, mildew-resistant DURASTALL® shower stall. Everything you need is included in the box. Plus, knock-down construction makes portability extremely easy.
What's included:
Slip-resistant floor with drain
Shower valve and head
Shower curtain and curtain rod
Safety railing with molded-in soap dish and shampoo holder
Shower Bases, Walls & Accessories
Shower Bases
Mustee DURABASE® shower bases come in square, rectangular, and neo-angle models. The 60″ base version is ideal for those wanting to replace a standard size tub with a walk-in shower. The CareGiver® shower base is designed to comply with ADA dimensions for transferring from walker or wheelchair to shower seat and is easily retrofitted to an existing shower.
Slip-resistant floor with Starburst® design
Ribbed underbody for strength and support
Smooth, colorfast semi-gloss finish that resists scuffs
Walls
Mustee DURAWALL® bathtub and shower walls feature convenient direct-to-stud mounting, and leak-proof, tongue-and-groove panels. Panels can be trimmed to simplify installation in out-of-plumb alcoves.
Molded-in, self-draining shelves
Gloss finish that is mildew and stain resistant
Complete line of complementary accessories
Accessories
Add safety and comfort with Mustee CareGiver® accessories. CareGiver grab bars are made from high grade 18 gauge stainless steel, finished in smooth satin, and are available in straight or angled models.
CareGiver fold-down shower seats allow for ample comfortable shower seating up to 400 lbs when properly installed. These shower seats are wall mounted and are either self-supporting or have leg supports and are available in L-shape or straight configuration. All are rust and mildew resistant and feature smooth cushion edges.
Washer & Water
Heater Pans
Give yourself peace of mind about a possible leaking water heater or washing machine with a Mustee DURAPAN®. These pans are reinforced for added strength, feature a removeable front for easy placement, are securable to the floor to prevent movement, and are easy to clean. Choose from a 2″ ABS, PVC, or iron drain pipe connection model or one with a 1″ PVC drain connection that can be installed on the bottom or any side depending on your requirements. Choose the extra large pan for oversized washers. Always install these pans in compliance with local codes.
Shop Washer & Water Heater Pans