Buying Guide
How to Choose Pendant Lighting
For a versatile lighting option, you can't go wrong with pendant light fixtures. A pendant can easily suit any of your lighting needs, providing overall room illumination, task lighting for a focusing light on a specific area, and as accent lighting to highlight a particular feature or space.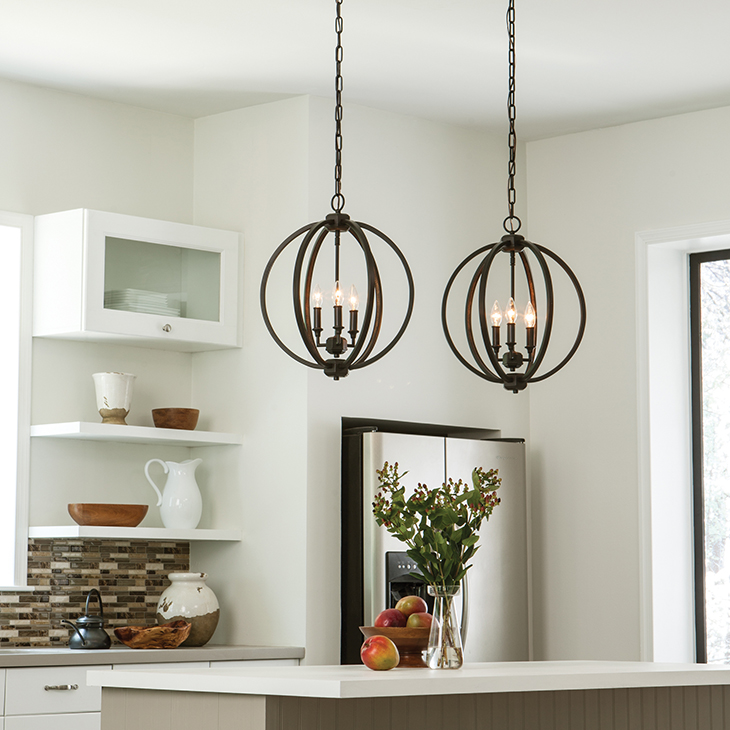 Pendant lights not only provide illumination, but can also act as dramatic sculptural artworks within a room. Whether used as general-purpose lighting or as task-specific lighting, the addition of one or more pendants can instantly transform the look of a room, taking it from ho-hum to extraordinary. With so many styles, sizes, and designs to choose from, how do you know which light to choose? We've put together some helpful tips to help you make the right choice when selecting your pendant lighting fixtures.
What Is The Pendant Light's Purpose?
The first step in choosing the right pendant for a space, is to first determine what its main function will be within that room. Pendant lighting fixtures generally serve three uses:
General-purpose or overall lighting of the room
Task lighting to shine light on a specific area for safety and clarity
Accent lighting to illuminate a particular feature
If selecting a pendant for general-purpose lighting, your best bet would be to consider a fixture with a diffuser or semi-opaque finishes to prevent the pendant from casting circles of bright light. The goal is to create an overall diffuse glow about the room. For a softer glow, try pendants with fabric shades.
For a task-specific application, a pendant that is open at the top will ensure the light shining underneath it is not too harsh while remaining bright enough to shed light on your work area. Glass or acrylic shades will also help maximize the light emitted in a concentrated area.
For accent lighting, you might want to add a dimmer switch to allow you to adjust the amount of illumination needed at different times of the day or to vary the ambiance. A dimmer will also help reduce glare.
What Size Pendant Light Do You Need?
Oversized pendants are a great lighting option if you have the space for one.
When choosing your pendant lights, you should consider the size of the room in which they will be installed. Scale is important. You don't want to pick a fixture that is too large or too small for the space. Typically, the bigger the room, the bigger the pendant you will need. Oversized pendants can make a dramatic impact, but if they are too large, they can make the room look cluttered or even block your lines of sight across the room. An undersized or mini pendant can get lost in the room and look insignificant against the other furnishings, but look perfect in a smaller space.
What Height Should You Hang Pendant Lights?
Another crucial point to consider when installing pendant lights is the height at which you need to hang them. If hung too low, the fixture will obstruct your view, block the flow of traffic about the room, and be too conspicuous in relationship to other elements in the space. If hung too high, the pendant won't be noticeable and not cast the light where and how you need it. As a general rule of thumb, install larger lights higher and smaller lights lower.
As a general guideline, average-sized pendants should be hung about 28" - 34" above a countertop such as a kitchen island or about 30" above a dining room table. For rooms with an eight-foot ceiling height, the pendant should hang between 12" – 20" below the ceiling. For every additional foot of ceiling height, add 3" to this measurement. Some pendants feature retractable cords that allow you to adjust the height easily to suit the task requirements. Retract the pendant for more diffuse lighting or pull it in closer for more intimate lighting.
Where Should You Position The Pendant?
By hanging groups of pendants at varying heights, you create a bigger visual impact.
As in real estate, the perfect pendant is all about location, location, location. If you want pendant lights to function as your overall lighting source, space several of them evenly throughout the room. For a more exciting effect, try clustering them in a tighter configuration or create a cascade of them down a hall or up a stairwell.
You can also hang a group of pendants at slightly varying heights or group fixtures from the same collection or range but with different shade shapes or colors to add more visual impact. For over a kitchen island or billiard table, linear or island pendants designed for this application are a great choice or you can hang several mini pendants above the length of the island.
What Style Of Pendant?
Pendant lighting fixtures come in a vast array of designs, styles, finishes, and mounting options. It's all a matter of personal style and what looks best to enhance the look of your existing décor. The pendants you choose should fit the style of your home's interior, but also allow you to express your personality. You can opt for a minimalist look with simple cord-hung styles, stick with a classic traditional design, or go bold with brightly colored shades and unique designs. Unlike other types of lighting fixtures, pendants are made to be noticed, so don't be afraid to step out of your style comfort zone and try something fresh and new.
Pendant lighting style galleries
Looking for a special design to suit your existing décor or need some style inspiration? Here are four popular pendant lighting styles to browse.
Riverbend Home Knows Lighting
If you're ready to add pendant lighting to your home, check out the wide range of pendant lighting fixtures Riverbend Home has to offer from island pendants, mini pendants, foyer pendants, and LED pendants.
For more ideas for other style lighting fixtures, check out Riverbend Home's great selection of chandeliers, recessed lights, ceiling fans, foyer lights, and flush and semi-flush mount ceiling lights.