How to Choose Your Bathroom Lights
Just as photographers and filmmakers stress the importance of lighting, interior designers and architects do too. In this article, our consultants will help you optimize the light in your bath to best showcase your finished design project. With the increase in choices and available options, customizing your bath lighting has never been easier.
Strategic lighting will have a big impact on the outcome of a bath design project.
Know Your Budget
As with every design project, determine your budget before you start. Always have a little cushion for unexpected complications. Luckily, lighting does not have to cost you the proverbial arm and leg, but it will have a big impact on your finished project, producing immediate returns on your investment. Think of your renovation or new build as art; you wouldn't fork over a fortune to buy a Monet and then not showcase it in your home, right? The same should go for your bath design.
Safety first
Know your local building codes . Be aware that not every lighting product is approved for use in the bath. Some codes state to look for products that are UL listed for damp or wet locations. This means that they meet or exceed safety requirements established by UL (Underwriters Laboratories), a safety testing and certification organization. In addition, placement of switches must not be within reach of water, and most codes require that all outlets be a GFCI (ground-fault circuit interrupter) outlet.
Plan it out
Where does your room need lighting?
You already know that the vanity and tub/shower areas will need lighting. However, have you thought about other areas you may like to shine light on too? For example, some homeowners want to be sure that there is sufficient task lighting around the toilet. Or, you may want to accent interesting architectural features or wall decorations with focused light as well. Lastly, check to see if there is any space in the room that does not get ample light at any time of day.
For good measure
Once you have determined where lighting is needed, be sure to measure carefully. Draw a sketch of each wall and include the dimensions of every fixture. These notes will come in handy when you're speaking to a design consultant.
The four types of lighting
Now that you know where you need lighting, determine the purpose you want each light to fulfill. There are four major categories of home lighting: ambient , task , accent , and decorative . A well-lit room will feature a cohesive blend of ambient, plus one, two, or three of the other lighting styles listed as well.
Ambient: Also known as "general lighting", ambient lighting is the main source of the overall lighting in a room and should illuminate a space evenly.
Task: Illuminates targeted areas that require ample lighting to perform specific tasks or activities such as reading, shaving, or applying make-up.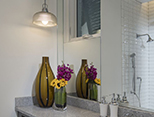 Accent: Very focused, serves the purpose of highlighting specific features such as artwork, plants, shelves, displays, or other focal points in a room's design or architecture.
Decorative: Serves as decoration and can also contribute to ambient, task, or accent style lighting.
Aesthetics
Keep lighting in mind when choosing your faucet finishes and hardware. If you have an eye for thoughtfully mixing and matching finishes, go for it. Otherwise, there are plenty of lighting options available for every style and finish so coordinating with major fixtures, hardware, and even bath accessories should not be an issue.
Start with the Vanity
The vanity area is an excellent place to start and use as your style reference point for the rest of the bath.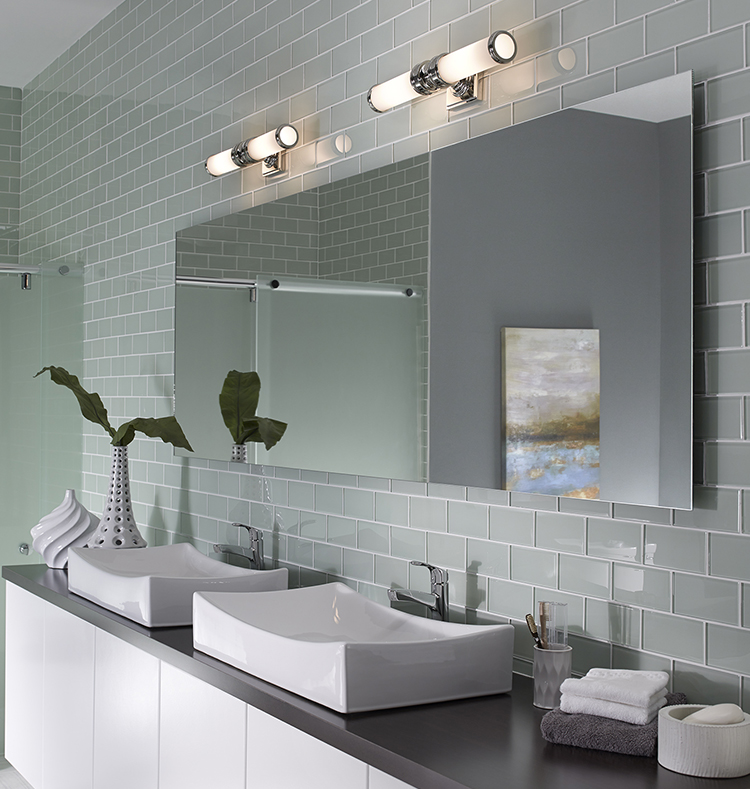 Overhead lighting such as light bars should not exceed the width of the vanity or it will overwhelm the sink and look disproportionate.
Size
This is where knowing the measurements of your space will come in handy to avoid mistakes that will eat up budget and time. Choosing a fixture that is the right size and proportion for your vanity is important to the design and overall "feel" of the room.
Purpose and type
Consider a blend of ambient and task lighting for the vanity. Pair lights overhead with lighting on each side at eye level around the mirror. This will eliminate unflattering shadows that result from overhead lights alone and make daily tasks difficult.
There are many options for vanity light fixtures. Some popular choices are bath light bars, sconces, recessed lighting, pendant lights, ceiling fixtures, chandeliers, or a combination of a few. Look for fixtures that will provide ample task lighting.
Style
With the variety of vanity lighting options available, there's no need to skimp on style. Draw your inspiration from fixtures already in place in your bath and throughout your home.
Match Your Bath and Shower Lighting
Good light is beneficial in the bath and shower area for both aesthetics and safety. Be sure to pick a fixture that is approved for wet locations (UL listed) and is up to code.
It's important to light the shower area well.
Size
Consider the overall size of your shower space to determine how many lights will be necessary. Single shower stalls or baths will benefit from one or more task light fixtures, whereas a luxurious oversized shower or bath may require additional lights.
Purpose and type
Aside from helping to prevent slips, falls, and spills, sufficient light in the shower is needed for tasks such as shaving, shampooing, operating the shower itself, and cleaning. The most common type of light in this area is recessed lighting. For installation, recessed lighting must be enclosed by a waterproof plastic light cover with an airtight rubber seal for safety. LED bulbs can be used in place of incandescent bulbs in recessed lighting, and they offer additional safety in wet areas as they have a lower output. LED bulbs are typically more energy efficient as well.
Style
Due to safety restrictions, options are more limited when it comes to task lighting in the shower or bath. However, details such as the finish of a recessed light trim can be matched to the finishes of the rest of the fixtures, accessories, and lighting in the room rather than to the color of your ceiling.
Light the Night
Additional night lighting is an excellent option to consider if you are incorporating aging in place principles into your home, or for young children who might wake up during the night. With age, additional light is needed to make up for compromised vision; planning ahead with this in mind will help.
Toekick and under counter lighting shine light in hard to see places.
Fixtures: Many lighting fixtures come with an optional nightlight feature. These features often require a double rocker switch 1000-2 or equivalent for installation to operate the main light and night light separately, so be sure to plan ahead if considering this option.
Toekick: Toekick lighting is a great and unexpected way to layer the light in your bath and can help illuminate a path and help you find your way with ease at night. Install toekick lights along the base of your vanity or cabinets to light up the floor and highlight a clear path when it's dark.
Under Counter: Under counter lighting is similar to toekick lighting. These linear strip lights will shine light into dark drawers to illuminate things that are otherwise hard to see.
Bring in the Natural Light
Take advantage of any natural light you may have available. Utilizing natural light helps cut down on energy cost and carbon footprint, makes a room appear bright and airy, and is the most flattering light. There are many options when it comes to windows in the bath that allow for adequate natural light and still provide privacy.
Skylights are a great way to bring natural light into tricky areas.
Windows: For new builds or renovations, consider installing privacy windows, which are smaller in size and placed higher on the wall. Other options are porthole windows, skylights, tubular skylights (an excellent solution when space is limited) or any combination of the options listed. Each of these windows will provide that much-coveted natural light, but keep you concealed from view from the outside of your home.
Glass: If installing new windows is not an option, different types of glass can be installed in existing windows that will let the light pour in but still have you covered. Frosted glass and stained glass are two options that can be fitted for existing windows.