Buying Guide
How to Choose Your Bathroom Sink
What do you really want to know about the different types of bathroom sinks? We all like to know what's trending, but most people want to know what's right for them—their family's activities, budget, and space.
Undermount Sinks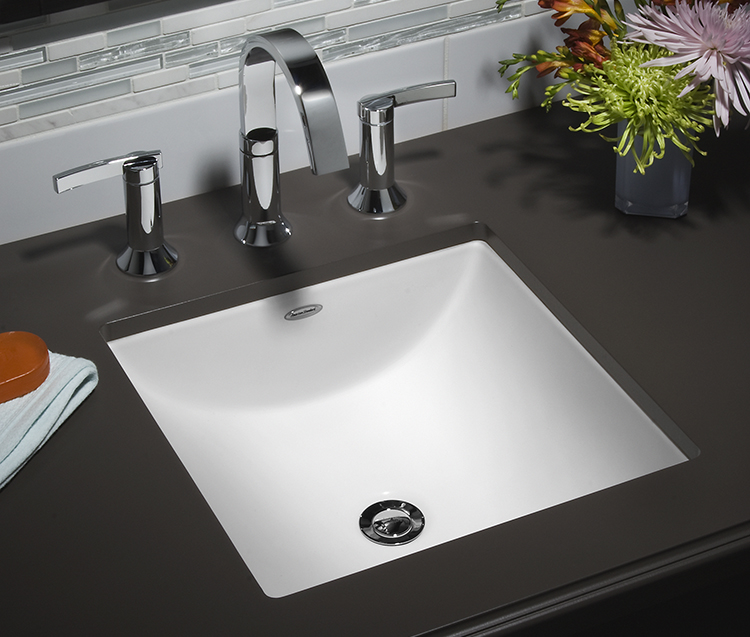 Undermount sinks add a sleek contemporary look.
These bathroom sinks are set beneath the countertop, usually on a vanity. Undermount sinks have no lip jutting above the counter so they present a smooth surface. Although undermounts are available in many colors, materials and styles, they are often associated with contemporary designs due to their sleek appearance.
When they work best:
When you like the look.
For quick clean-up because there is no lip to gather dirt.
When you need a style that works well with a vanity.
Drop In sinks
Drop in sinksare easy to install and come in a wide variety of styles.
Also called self-rimming sinks, drop in sinks are as common in the bathroom as they are in the kitchen. They have a finished edge or rim that rests on the counter, usually on top of a vanity base. They are popular because they are easy to install and replace and they are available in an wide range of styles and sizes.
When they work best:
When you want an inexpensive or convenient option.
When you have an existing hole in your countertop and you want to do a quick replacement.
When you need a style that works well with a vanity.
Pedestal Sinks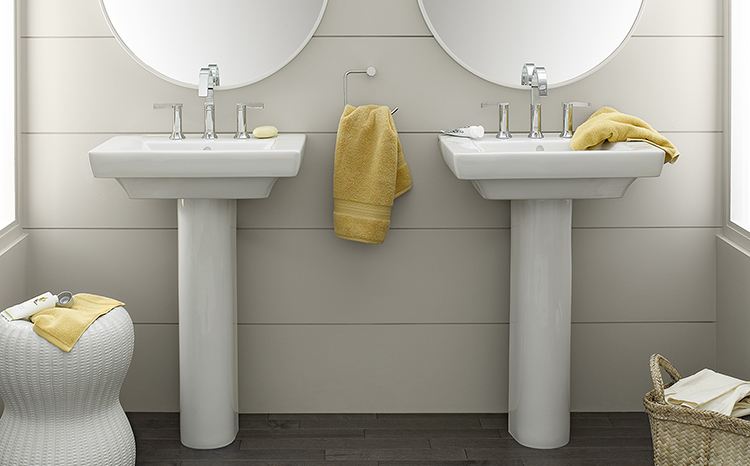 Pedestal sinks are a great minimalistic style option is you already have enough storage space.
These bathroom sinks consist of a basin set atop a column or pedestal. They pack a lot of style punch, but they don't provide storage. They are available in a wide variety of décor styles. Pedestal sinks can have a dramatic effect. The combination of basin and pedestal offer a more definitive expression of a particular style than a basin alone—even more effective when you coordinate with other fixtures such as the toilet.
When they work best:
When you have a small bathroom.
When you have minimal storage needs, such as for a powder room, or adequate storage elsewhere in the room.
When you want to be able to clean easily around the base.
When you want your sink to make a strong style statement.
When you want to coordinate a suite of products within the bath.
Vessel Sinks and Other Above Counter Sinks
Vessel and above counter sinks give your bathroom a tranquil spa like feeling.
The darling of many designers, this category includes two different styles of bathroom sinks. The terminology is often confusing and inconsistent with lots of overlap.
Vessel sinks are a subset of above counter sinks. They usually have a bowl-like appearance. They sit entirely above the countertop, joined only by a drain in the base.
Other above counter sinks include shallow round basins, ovals, rectangles, or irregular shapes that sit completely or partially above the counter. These bathroom sinks can be installed on a regular countertop or on a shelf or other non-traditional base.
When they work best:
When you want to lend special pizazz to a contemporary décor.
When you want to establish a tranquil Escape style with the feeling of an exotic locale, Zen bath, or spa.
When you want a more artistic look to your bathroom décor.
If you want to pair your sink with a wall faucet or tall/extended faucet.
If you want a smaller installation hole in your countertop than you would need for a drop in or undermount.
Wall Sinks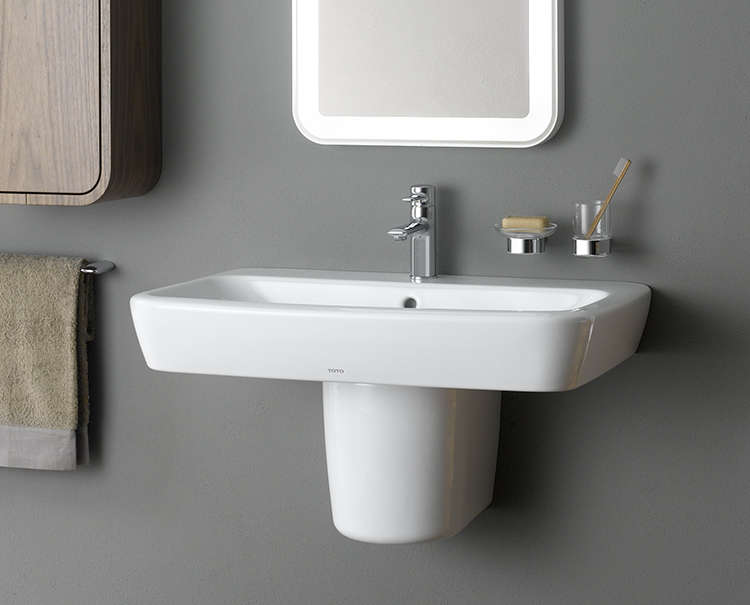 Wall mounted sinks are especially great if you have accessibility concerns such as wheelchairs.
Wall sinks are mounted directly on the wall, with the pipes attached underneath. There is no stand or vanity so this style does not provide storage.
When they work best:
Accessibility : wall sinks can accommodate wheel chairs.
Small bathrooms.
If you like the look: low profile, not bulky, often modern.
If you want the ultimate ease in cleaning your bathroom floor.
When storage is not an issue.
Vanity Top Sinks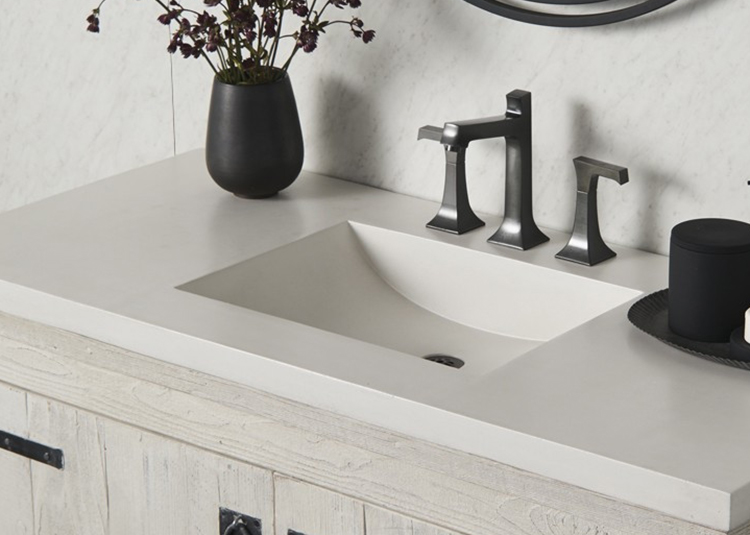 Counterop and basin are one seamless piece, making them easy to install and clean.
This can also be a confusing term; almost any sink can be a vanity sink when it's paired with a vanity. We use the term "vanity top sinks" to refer specifically to a one-piece seamless counter and basin installed on top of a vanity. Vanity top sinks are available in many attractive colors and a variety of materials such as granite, porcelain and china to provide design flexibility. The basin may be the same color as the countertop, or a contrasting color.
When they work best:
If you want the look of an undermount with easier installation and maintenance.
If you want a super easy-to-clean sinktop.
If you like the one-piece look but console styles do not provide adequate deck or storage space.