How to Choose Your Kitchen Lighting
Make the Most of It
Lighting is one of the most important elements in a functional kitchen. When renovating your kitchen, be sure to make lighting a priority early in the planning stages before closing up any open walls or ceilings to ensure that you get the ideal lighting configuration for your daily needs. Remember that the best lit kitchens combine multiple types of lighting.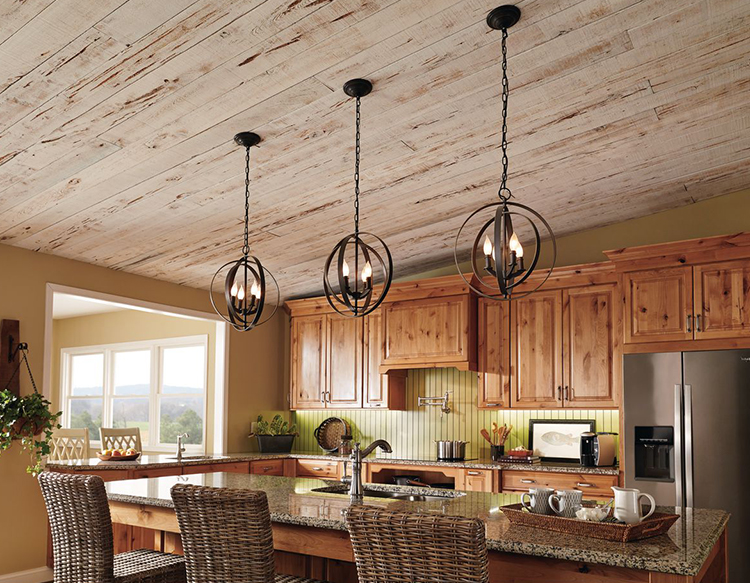 Make lighting a priorty in your kitchen.
Safety First
As with any electrical work, hire a professional. Lighting will need to be up to local building code standards. You'll need to know what kind of lights you can install before you pick them out. Depending on their placement in the kitchen, you may need lighting fixtures that are UL listed for damp or wet locations, which means that they meet or exceed the safety requirements established by UL (Underwriters Laboratories), a safety testing and certification organization. In addition, placement of switches must not be within reach of water, and many codes specify the type of outlet needed.
Plan It Out
Focus on sections of your kitchen. Divide it up into different areas such as the island, sink, stove, and countertop area where you know you'll be doing lots of food prep. Be sure that each work zone receives plenty of task lighting. For more control and social lighting options, plan to have sections of lights on separate light switches.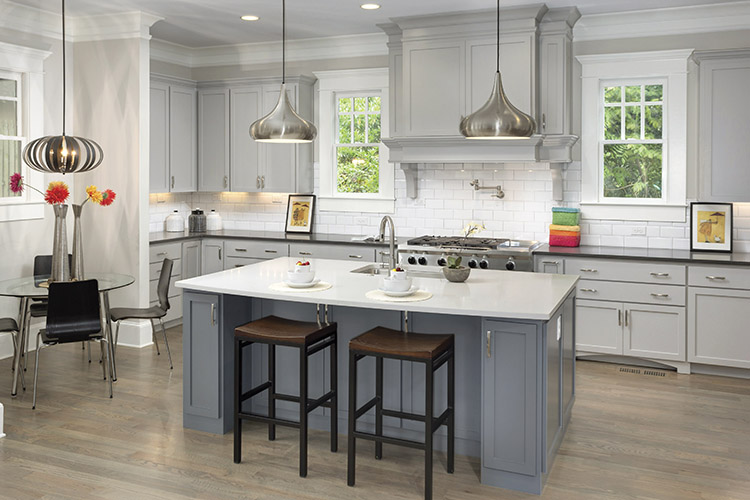 Good kitchen lighting is functional and will improve a room's overall appeal.
What Kind of Lighting Does Your Kitchen Need?
There are four types of lighting: ambient, task, accent and decorative.
Ambient: Ambient lighting, also known as "general lighting", is the main source of light in a room and illuminates a space evenly.
Task: Task lighting targets areas that require sufficient lighting for tasks such as preparing food, washing dishes, or cooking.
Accent: Accent lighting highlights specific areas or features of a room such as artwork, china sets, or unique architectural features. It tends to be brighter and more focused light than the rest of the room.
Decorative: Decorative lighting is a functional structure that adds to the overall décor of a room and also provides light.
By choosing decorative lighting you can bring lots of personality to your kitchen.
The Layout
Start with the basics
Recessed lighting is an excellent option for ambient lighting in a kitchen. Spread each light evenly throughout the room and then complement it with other types of lighting and stylish fixtures. Another popular option for ambient lighting is track lighting, though this limits the opportunity for additional decorative lighting fixtures.
Add a statement
Give your kitchen a focal point with decorative lighting. Over the sink, kitchen island, or in the middle of the room are great places to hang a light. Use this fixture as inspiration to coordinate the rest of your kitchen lighting. Most manufacturers have collections of coordinating fixtures such as chandeliers, sconces, and pendants.
Light up hard to see spaces
Inadequate lighting can be unsafe. Illuminate hard to see spaces and provide additional task lighting with undercabinet lights and toekick lighting along cabinet baseboards for even more visibility, especially at nighttime.
Use undercabinet lighting to light up hard to see spaces.
Showcase with accent lighting
Smaller recessed lights that provide bright focused light are a great way to highlight favorite china pieces or glassware, while wall sconces can help make a ceiling appear higher.