How to Create a Great Outdoor Space
When it comes to your home's exterior, your front yard may add curb appeal to your property, but your backyard is the place you really make your own. It is the outdoor sanctuary where you can entertain, relax, and play, especially during the summer months. Whether you want to host backyard barbeques with family and friends, kick back and catch up on some rest and relaxation, or simply get outside to enjoy the fresh air and sunshine, there are some aspects of an outdoor space that can make it much more enjoyable so it becomes as lived in as the interior of your house.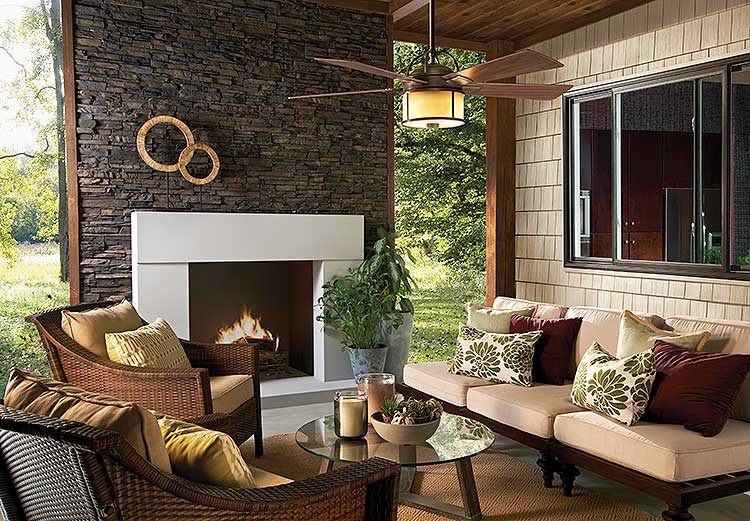 A great outdoor space is an extension of your living room.
Make It Private
Your backyard should offer some seclusion and be a source of serenity. Depending on how close you are to your neighbors, privacy screens or a fence are a worthwhile investment. Either will help block the views from surrounding homes, block noise from the street, and create an enclosed, private space to enjoy. Vertical screens or outdoor drapes designed for porches and covered patios can also be used to give the illusion of wall on a patio or deck, turning it into an outdoor living room.
Incorporate Nature with Plants
Without some lush landscaping, your outdoor space is incomplete. Along with flower beds and colorful shrubbery situated throughout the yard, add some planters filled with greenery and flowers around the patio, window boxes on your porch railings or under windows. Taller plants and vertical plantings can increase privacy and take up less of a footprint on smaller decks and patios. Smaller potted plants set on tables or specially made stands add to the ambiance of garden oasis and can easily be moved indoors during the winter months.
Add ambiance and privacy with planters.
Cook Up Some Culinary Delights
When you want to entertain outdoors, having a place to grill and cook in the backyard is a must in order to keep hungry guests fed. If a fully equipped outdoor kitchen is not in the budget or feasible for your yard space, a gas grill on the deck or patio will work just fine. Stock up on plenty of grill accessories and keep them within easy reach to avoid unnecessary trips back and forth to your kitchen. For the more adventurous chef who wants to go beyond the standard hamburgers and hot dogs, an outdoor pizza oven fueled by wood pellets or gas will let you cook up your favorite Italian pizza along with a variety of other foods within a few minutes or less!
Bring the taste of wood-fired pizza, meat, and fish to your own backyard with the portable Uuni wood-fired oven.
Comfy Furnishings to Withstand the Weather
If you want to relax, you need a place to sit. Invest in some patio furniture that is designed to hold up under harsh weather conditions year round whether your region gets rain, intense sun, or snow. Choose furniture made from teak, aluminum, or all-weather wicker with cushions made of fabric that resists stains, mold, and mildew. You can set up different zones for dining, lounging, chatting, breakfasting, and just sitting while catching up on reading or enjoying a refreshing beverage.
Outdoor furnishings are designed to withstand sun and moisture.
Throw Down Some Shade
Your outdoor space will be much more enjoyable if it's shaded from the hot, glaring UV rays. If you don't have a covered porch or outdoor space, you have various options for creating some needed shade. You can build a gazebo or pergola covered with vines to shade a sitting area while adding an attractive architectural feature to your yard. On an open deck, you can add a retractable awning that mounts to the side of your house and folds down or retracts back when it's not in use. For a more affordable option, set up a patio umbrella over your dining table or near lounge chairs by the pool to provide protection from the intense sun and offer a cool bit of shade.
Add shade in open areas with an umbrella.
Come Sit Around the Campfire
Sitting around the warmth of a fire is a great way to gather guests together for s'mores and stimulating conversation as the sun sets or the weather gets cool. Large outdoor living areas can incorporate a fireplace to make the space more of any extension of your living room. Another way to enjoy the crackle of the flames is to add a fire pit and create a seating area surrounding it. Make the fire a focal point for you and your guests to enjoy all year round.
A fire pit offers warmth and a great place to sit and chat.
Stay Comfortable Year Round
Make sure your outdoor space has the essentials to keep you comfortably warm or cool no matter what the weather so you can enjoy the outdoors throughout the seasons. For the spring and summer months, a patio fan will help circulate the air and keep your patio or porch cooler. For cooler night and into the fall and early winter season, a patio heater will extend your enjoyment of the outdoors by ensuring you stay warm as the temperatures drop.
Keep It Light and Bright
Entertaining at night calls for proper outdoor lighting. Walkways, garden paths, pool areas, and your outdoor living space should all be properly illuminated for safety, visibility, and ambiance. Besides using wall sconces, ceiling lights, post lights, and landscape lighting in your backyard, you can also light up your space by stringing miniature lights overhead or along a railing to make it more festive. For a more elegant and intimate lighting effect, place decorative candle holders in strategic locations around your furnishings or floating in a bowl to incorporate a more natural light source once the sun goes down.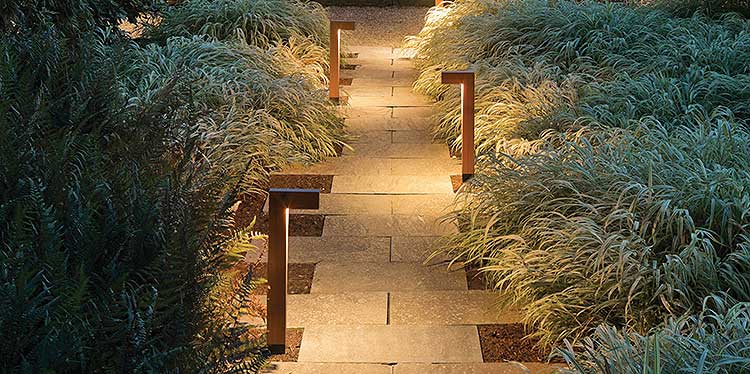 A well-lit path adds safety and ambiance.
Soothe with Sounds
The addition of soothing sounds will transform your outdoor space into a relaxing, tranquil retreat. A water element such as a pond, waterfall, or fountain can provide the gentle sounds of water rushing, flowing, or bubbling across rocks to give the sense of serenity and accentuate the ambiance of your garden. You can also use wind chimes to add a pleasing sound when a gentle breeze blows.
Accessorize Your Space
Bring your sense of style to your exterior spaces by accessorizing your yard and outdoor living room. Dress up your patio with some accent tables, vases, pillows, sculptures, and other decorative accents. Planters or a trellis situated around the patio add a touch of greenery and colorful blooms. Unique outdoor sculptures and statuary adds interest and character to further personalize your outdoor spaces. Choose materials that will withstand the sun and wet conditions or move them indoors for storage when you are not outside.
Dress up your outdoor space with a variety of accent pieces and accessories.
If your backyard is in need of a makeover to make it ready for outdoor activities, check out our selection of products for your outdoor spaces.