Outdoor Living
How to Create an Outdoor Container and Planter Garden
Jazz Up Your Yard with Colorful Container Plants
If your yard is boring, bland, and lacking in color, try growing plants in containers, pots, planters, and window boxes as an alternative to traditional garden beds. Versatile for sprucing up outdoor spaces both large and small, these portable garden displays can have a great impact on the look of your home's landscape. Their compact size is suitable for any size yard, patio, or porch in suburban, city, and rural settings. Plus, their portability allows you to re-arrange them when needed or desired, and you can easily move them inside or in a greenhouse during winter months.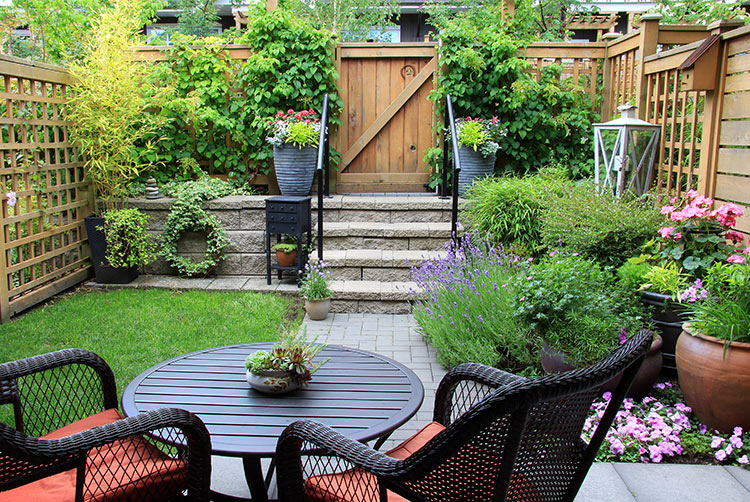 Container gardens are an easy way to add color and variety to your landscape.
Think Thriller, Filler, and Spiller
Starting a container garden is easier than you think. Your container garden is really just a miniature flower garden or floral arrangement planted in a pot or planter. To make a container garden look its best, you should select plants that provide both width and height to the arrangement. To create an appealing display, you should use the "thrillers, spillers, and fillers" plant selection technique. Using these three different types of plants will create a well-rounded, attractive, and upscale looking planter arrangement.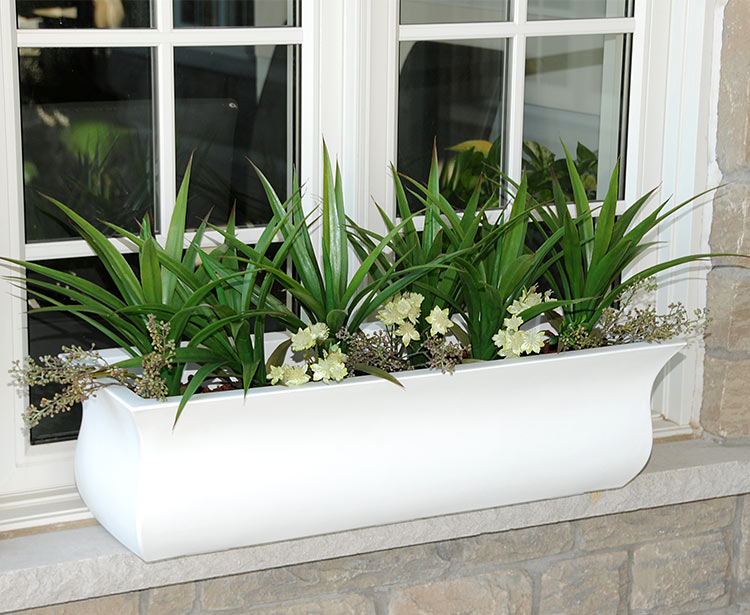 Tall, eye-catching thrillers add drama and a vertical element to your container garden.
Thrillers
Start by choosing your thriller plant varieties. Thrillers are any plant that grows tall and stands upright to add height to your floral arrangement. They add a vertical element to any combination and bring a sense of drama to your potted garden. Think of thrillers as centerpiece plants that have star quality; they are varieties that are big, bold, and beautiful to nab attention.
Thrillers can be flowering or foliage plants, or even ornamental grasses. Generally, thriller plants look best if placed in the center or back of the container and should grow about twice as tall as the container, planter, or pot. If the container will be viewed from all sides, put your thrillers in the center. If the container is viewed from only one side, place the thrillers in the back for the most impact on your botanical design.
Examples of thrillers are agave, variegated bamboo, elephant ears, banana plants, taro, canna lily, and snap dragons.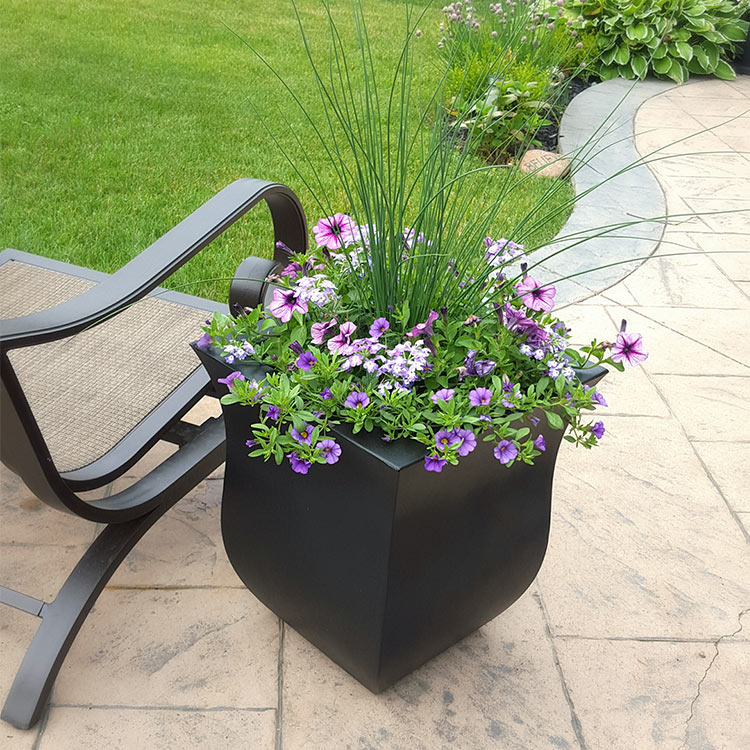 Add fullness to your potted garden arrangement with filler plants.
Fillers
After you have chosen your thrillers, the next step is to add filler plants to your arrangement. Fillers are covering plants that spread out as they grow between the thrillers and spillers. Filler plants tend to be more rounded and make the container look fuller by filling out the gaps between the other plant varieties.
Fillers look best when placed in front of or around the thriller varieties. They should be planted between the edge of the container and the thrillers. If the thrillers are at the center, surround them with the fillers. If the container or pot is to be viewed from all sides, plant your fillers all around to cover all the sides.
Examples of fillers are geraniums, impatiens, coleus, begonia, flowering cabbage, celosia, euphorbia, herbs, salvia, and petunias.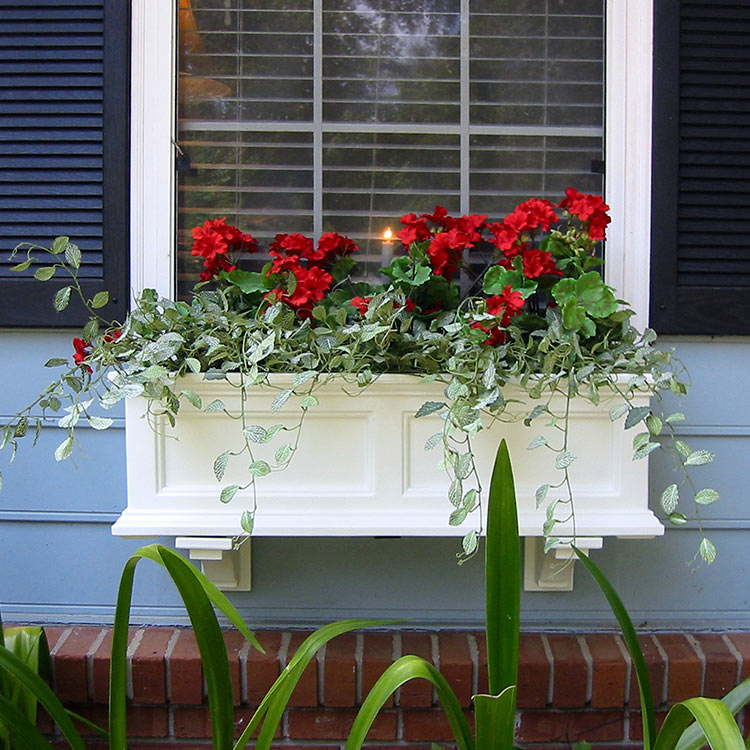 Soften and unify your arrangement with spiller plants.
Spillers
Finally, add splashy spillers to complete your floral arrangement. Spillers are trailing plants that drape or hang over the edge of the pot or container as they grow. Because they spill over the edges, these plant varieties will soften the overall look and help unify the arrangement, while adding a splash of color and intrigue to the composition. As they tumble over the edge and cascade down towards the ground, spillers will make the pot look rooted to its place, anchoring the garden to its location. Spillers can echo or contrast with the other plants in their shape, color, and texture.
Spillers should be planted close to the edge of the pot and are generally placed on all sides. For added interest, you can train a few tendrils to grow into and around the fillers and thrillers. Some spillers can be flowering and some foliage varieties. They can be used to add a pop of color and texture that serves as a counterpoint to the thriller and filler plants. Spillers can also be used in pots by themselves that can also be displayed individually on plant stands.
Examples of spillers are sweet potato vines, vinca, ivy, nasturtiums, verbena, creeping Jenny, bacopa, and herbs like oregano and thyme.
Following the recipe of using thrillers, fillers, and spillers when designing your container garden will make creating beautiful arrangements as easy as 1-2-3. These mini gardens will allow you to have fun and flex your creative side. Be sure to choose plants with similar sunlight and water requirements in your groupings to make care and maintenance less time consuming and hassle-free. Otherwise, plant what looks good to you. The right combination of thrillers, fillers, and spillers lets you grow a lush, eye-catching composition that is rich in color, texture, and form.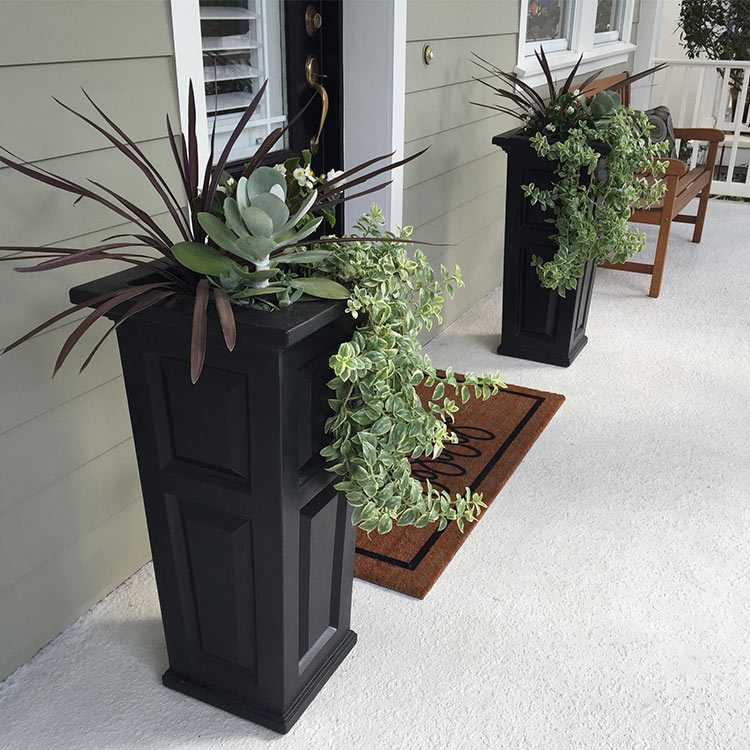 Following the recipe of using thrillers, fillers, and spillers when designing your container garden will make creating beautiful arrangements as easy as 1-2-3.
To get a start on your container garden, check out the selection of outdoor products from Riverbend Home. You'll find a wide variety of planters and containers made of ceramic, plastic, stone, and metal, along with window boxes and other products to spruce up your yard and add curb appeal to your home's exterior.