Smart & Comfortable Home
Universal Design For a Life-Long Home
Your home should be welcoming and accessible to everyone who lives there, regardless of their age, size, or ability. Outfitting your house using the principles of universal design can ensure your home meets the needs of all people. Not only will it allow you to age in place and live there for as long as possible, it will make it more marketable to a variety of people if you should decide to sell it in the future.
When planning a new construction or remodeling your existing home, keep in mind what options are available in appliances, sinks, fixtures, and layout that can incorporate the concept of a design for all. Here are some easy and fashionable ways to utilize universal design in your entire home to make it safer and easier to navigate.
Widen Doorways
Make sure doorways are at least 36" wide for easiest access. Install lever handles in place of doorknobs for easier openings. Where possible, hang the doors so they open out, not in to prevent the door from being blocked should someone fall down against it.
A built-in concrete ramp matching the front walkway and steps creates a more appealing front entrance.
Choose the Right Lighting
Make better use of natural light by installing more windows or skylights wherever possible. Install nightlights in bathrooms and hallways and easier-to-use rocker switches. To reduce glare, on sensitive eyes, use sconces on both sides of a bathroom mirror instead of overhead lights.
Make Everyday Items Accessible
Store items used more frequently at lower levels for better access. Open shelving and glass front cabinet doors in both your kitchen and bathroom also lets you see what's inside without having to open them. Pullout shelves in your cabinets make it easier to grab items from the back without strain.
Being able to see what's in the cabinet before opening it saves time and makes the contents more accessible. Add a pullout shelf to make it easier to grab items from the back of the cabinet.
Make Room Under Your Sink
Include a recessed niche under kitchen sinks to make them wheelchair friendly. Consider purchasing a wall-mount sink for the bathroom that allows you to install it at any height, making it accessible to anyone including small children and people using wheelchairs or other mobility devices. Since these sinks free up floor space, they are also a great way to incorporate a sleek, modern design in a small bathroom space.
Rethink Your Sink Fixtures
Height and accessibility for people who are seated are not the only things to consider in your sink design. For easier use, install faucets with lever handles or or motion or one touch activated. Full-length mirrors in the bathroom are better than smaller mirrors installed above a vanity or medicine cabinet mirrors, which are too high for children, shorter adults, or people in wheelchairs. Add a push-button or touchless soap dispenser on a wall or vanity for convenient access and to reduce the spread of germs.
Choose Appliances Wisely
Opt for wall ovens, which can be installed at any level and are perfect for anyone with limited mobility. Choose side-by-side refrigerators, so everyone has easy access to both the fridge and the freezer. Install the microwave on an island at a lower level to ensure people of all ages and abilities can reach it.
Install a pot filler faucet
A pot filler faucet over the stove is not just a luxury, it's a necessity. This type of faucet is convenient for everyone and eliminates the need to carry heavy pots full of water from the sink to the stove.
Vary the Countertop Height
One countertop height does not fit all. Give everyone a place to work by varying the heights of the countertops throughout the kitchen and bathrooms. If you also have a kitchen island, make sure there is 42"-58" of space around it to ensure maximum mobility and clearance.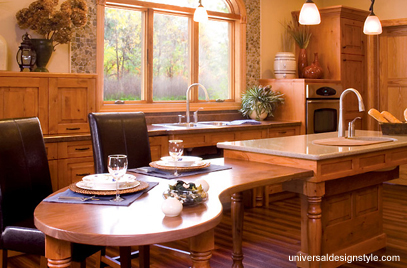 Creating a kitchen with varying countertop heights allows maximum mobility for all ages and abilities.
Easy to Handle Hardware
Cabinet hardware like cup pulls and large bar handles are easier to grab and hold. Install them in place of smaller knobs on your cabinets and drawers.
Enlarge and Outfit the Shower for Easy Access
Low threshold showers without curbs or doors make it easy for children, people with crutches, canes, or walkers to step or walk into without worry. They are also great for bathing the family dog. Add a handheld shower that's anchored to a grab bar to make bathing more convenient. Make sure the hose is at least 6' long for maximum reach. Integrated seats, stools, or fold-down benches can be added for people who cannot stand during a shower. Plus, a stool makes it easier to sit down and shave your legs in the shower. Install a shower caddy or low level shelf to store toiletries within quick and easy reach.
Change Your Bathtub to a Walk-in Model
Install a walk-in tub with an easy access door to allow people with limited mobility the ability to enjoy a relaxing soak without the difficulty of climbing over the side of a standard bathtub.
Walk-in tubs allow people with limited mobility the ability to enjoy a soak without the difficulty of climbing into a standard bathtub.
Install No-slip Flooring
Wet, slick tile floors and surfaces can be a safety hazard. Install tread strips in the bathtub or shower to help prevent slips and falls. Choose slip-resistant, textured tile options or vinyl flooring. Alternatively, you can install smaller tiles embedded in grout, which will increase the friction and make it less slippery.
Incorporate Grab Bars into Your Bathroom Accessories
Family members with limited mobility or balance problems will appreciate the increased safety and stability that grab bars provide. Today's stylish models come in a variety of styles and finishes to coordinate with the rest of your bathroom fixtures. Install them in the bathroom in the shower or tub and near toilets to provide assistance in standing up and sitting down.
Enjoy your home for years to come
The more you make your home safer and easily accessible, the longer you will be able to stay in it as you age. Making these little changes now will benefit a wider range of ages, abilities, and sizes not only for members of your family, but also friends and future owners of your property.