You've Got Questions, We've Got Answers
When you're in the market for a new or replacement kitchen sink faucet, it pays to do your homework and do a little research on styles, brands, and technologies to ensure you get the best fixture for your needs. To help you, we've compiled a few questions customers frequently ask when they are shopping for a kitchen sink faucet.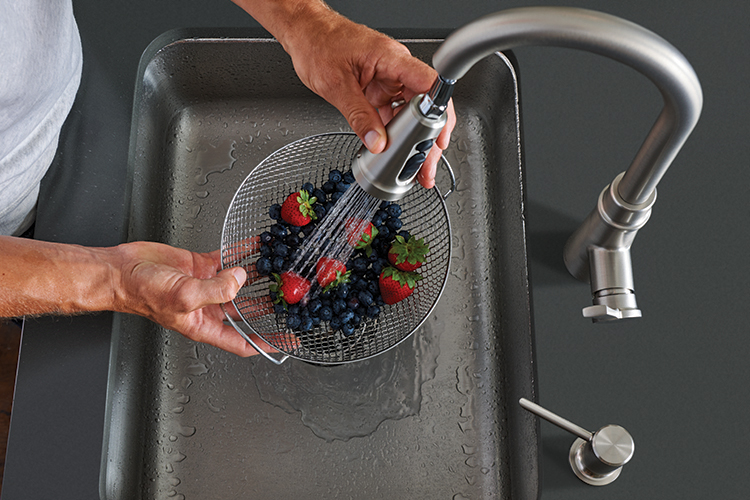 A kitchen sink faucet is one of the most used items in a busy kitchen.
What are the best kitchen sink faucet brands?
Deciding which brand of kitchen faucet to buy is a matter of personal preference. Most manufacturers offer a wide selection of models in various price points, styles, finishes, functionality, and quality. Four brands we found to be popular, reliable, and a great value are Moen, Delta, Kraus, and American Standard.
Moen is known for their sensored, pull-down faucets and have a longtime reputation for performance and design. Delta offers a host of features, styles, and models to fit any taste and budget. Kraus specializes in more modern styles, and their semi-professional, commercial-grade pull-down kitchen faucet models are great for busy kitchens. American Standard provides great value with reliable construction that lasts year after year in models designed for both residential and commercial use.
What is the cost to replace a kitchen sink faucet?
The cost to replace and install a new faucet in your kitchen sink depends on a few factors including the price of the new fixture and plumbing costs. On average, a new faucet can cost anywhere from $100 to $500 depending on style, finish, and features. Obviously, the more high-tech features such as hands-free operation that the faucet has or if it has a professional-grade design, the more it will cost.
If you are removing the old faucet and installing the new one yourself, you will save the money it costs to hire a plumber. If you are hiring a professional for the install, expect to pay an additional $150 to $300 depending on your area and the work involved in the installation process.
What is a centerset kitchen sink faucet?
Centerset faucets are for sinks with three holes.
A centerset kitchen sink faucet is made for basins with three holes. This type of faucet generally has two handles and has an integrated base plate attached to the spout and handles. To ensure you buy a faucet that fits the faucet holes in your existing sink, measure the distance between the two outermost holes (far left and far right) and choose a faucet with the same centers measurement. Centers are measured from the center of one handle to the center of the other and can range from 4", 6", and 8" on typical faucets.
What is the standard size hole for a kitchen sink faucet?
The standard size hole for kitchen faucets is generally 1-3/8" in diameter. Manufacturers will list what size holes the faucet fits as there can be some variation. If your counter or sink ledge is pre-drilled with faucet holes, measure them and check on the faucet manufacturer's manual to ensure the faucet will fit in the holes. If you are installing a new sink or counter that needs holes drilled, drill holes in the size the faucet calls for in order to get a proper fit.
What is the best kitchen sink faucet for hard water?
Hard water contains a high amount of mineral deposits (common in well water) that can leave residues on surfaces and in piping. You can also use a water softening filtration system, but it won't completely stop hard water deposits.
If you are having trouble with build-up and stains caused by hard water, your best bet is to get a kitchen sink faucet designed specifically for hard water usage. Look for a faucet that has ceramic seals in their internal workings which keep mineral residues from sticking and building up over time. Some faucets also have finishes such as Moen's Spot Resist Stainless that are more impervious to stains that will discolor or dull them over time.
What is a good flow rate for a kitchen sink faucet?
Most new kitchen sink faucets currently on the market have a flow rate of 2.2 gpm (gallons per minute). The flow rate is a function of the aerator that screws onto the top of the spout or nozzle that restricts the amount of water that comes out of the faucet.
If you live in an area with stricter water bans or conservation, you can select a faucet with a lower flow such as 1.5 gpm, 1.2 gpm, 1.0 gpm, and even as low as 0.5 gpm. The lower the flow rate, the less water used, and the more you will save on your water bill.
For more in-depth advice on what to look for when shopping for a kitchen sink faucet, check out our article, How to Choose Your Kitchen Sink Faucet.