All About Basement Bathroom Systems
For many homeowners, converting the basement into a usable living space is a great way to add value to their home. Basement bathroom renovations can be a challenge when installing toilets and sinks because the gravity assist that works in transporting waste in drains and sewer lines upstairs will no longer work in a below grade environment.
Fortunately, finding a way to transport basement wastewater to sewer or septic lines does not necessarily mean the prospect of disruptive construction and costly excavation of the cement floor. An upflush toilet system can provide an above-ground solution to removing effluent from a below grade bathroom.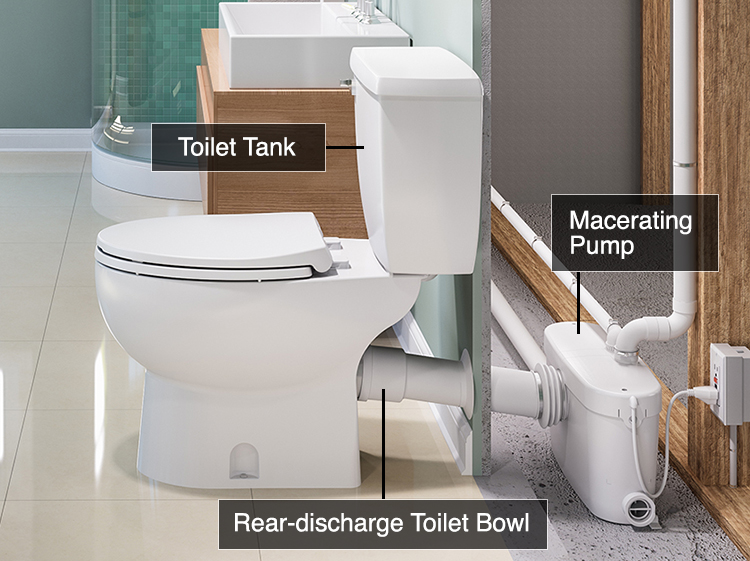 The basic Saniflo system consists of three components: the macerator pump, a rear-discharge toilet bowl, and a toilet tank.
Saniflo macerating toilet and pump systems offer a variety of products that make it cost-effective and easy to install a bathroom anywhere with a water supply and electrical power source. Besides basements, Saniflo systems are ideal for apartments, rental properties, offices, factories, vacation homes, cabins, mobile homes, and floating bath houses, etc. The basic system consists of three components: the macerator pump, a rear-discharge toilet bowl, and a toilet tank.
You can also choose self-contained systems such as the Sanicompact that combine the toilet and macerator pump in one unit or wall-mount toilets to save even more floor space. If accidental flushing of sanitary items is a concern, opt for a heavy-duty grinder pump that is designed to grind up even Q-tips. Grinder pumps are ideal for rental properties or offices where you can't control what is being flushed through the system.
How a Macerating Toilet
System Works
When the toilet is flushed, the water level rises and enters the pressure chamber of the Saniflo macerator or grinder pump where a pressure switch triggers the start of the motor.
The motor which is sealed in an oil-filled enclosure in turn activates the spindle or shaft that drives the impeller and macerator blades. The water and organic waste products picked up by the impeller are pulverized by the rotating blades, reducing the solids into fine particles that mix with the water to form a slurry.
The unit pumps out the liquefied waste effluent upward and/or horizontally through a standard discharge pipe just 3/4" or 1" in diameter that is tied into a municipal sewer system or septic system.
Once the macerating tank is empty, the motor automatically shuts off, and the system is ready for use again.
Benefits of an Upflush System
Works anywhere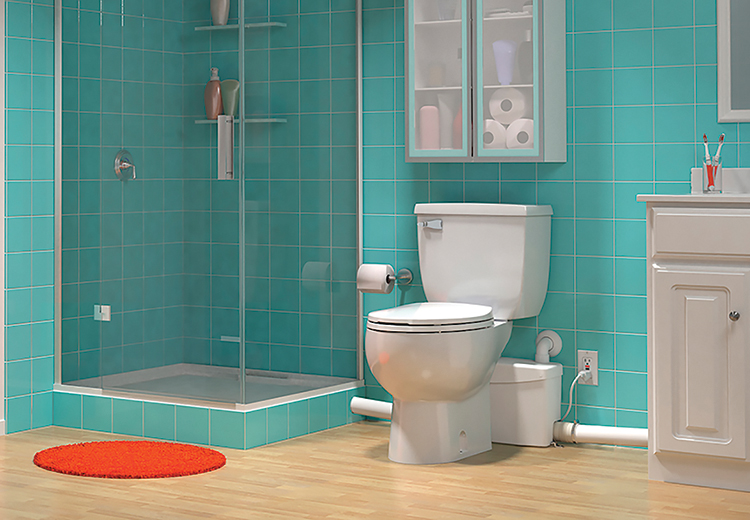 Saniflo pumps and toilets are perfect for adding extra bathroom facilities anywhere in your home.
Macerating systems are not limited to locations where downhill drainage or gravity is used to evacuate waste. They don't even need to be in close proximity to the main waste pipe (soil stack). Depending on the model, the pumps can discharge effluent vertically up to 25 feet and horizontally up to 150 feet.
A Saniflo system can be installed on top of any finished floor, eliminating the need to dig up the concrete as required by traditional methods using a sump and sewage ejector pump.
The systems can be installed anywhere that has access to a water supply and standard electrical power supply. They allow you to add extra toilet facilities to basements, offices, factories, rental properties, out buildings, cabins, or anywhere additional washroom facilities are needed.
They simplify construction and eliminate the need to cut through existing basement foundations to install special underground plumbing, reservoir tanks, or traditional sewage ejector pumps.
Saves space and water
The compact pump can be hidden in a wall cavity or behind the toilet bowl.
All models are low consumption type toilets. Unlike older toilets which can use up to 8 gallons of water per flush, the Saniflo systems use only 1.28 gallons per flush, making them an environmentally friendly choice.
With a short normal operating cycle of only 2-15 seconds on average, the unit's power consumption is minimal.
High performance and easy to maintain
They're low maintenance. The motors in a Saniflo pump have no gears or brushes to wear out and are factory sealed within an oil-filled enclosure, making the motor maintenance free. The macerating systems have stainless steel blades, eliminating the need to replace them due to corrosion.
With a short normal operating cycle of only 2-15 seconds on average, the unit's power consumption is minimal. The new models have smaller, more powerful motors so the macerating/pumping function is performed more quickly with less noise. Sound-absorbing rubber blocks and anti-vibration studs also reduce the transmission of vibrations for quieter operation.
Versatile
Pumps can also be used to handle gray water removal from laundry sinks, showers, dishwashers, washing machines (using an indirect connection), bathroom sinks, and wet bars.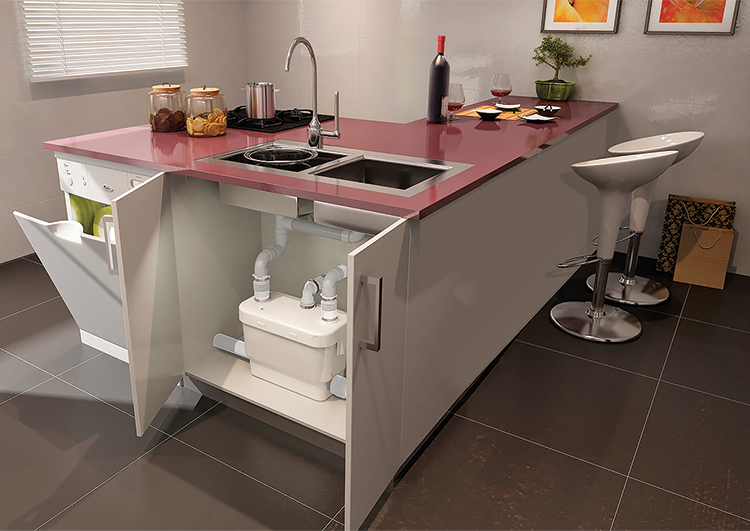 Pumps help with the removal of gray water from multiple sources.
Units are portable and can be relocated or removed when necessary. This makes them a viable option for temporary needs or when your situation changes.
Using an above-ground system such as Saniflo allows you to install a bathroom virtually anywhere you need one. Besides basements, these systems can be used in lofts/attics, garages, pool houses, and upper floors. They are low-cost, reliable, and easy-to-install.
Final Thoughts
If you are thinking about adding that new bath, consider purchasing an upflush system. Although the initial cost for the fixture may be more expensive than a standard toilet, the installation costs are far lower and more economical in the long run. You'll save on water bills over time, have fewer maintenance and repair issues, and have the versatility of having an extra bathroom anywhere you need it.