Outdoor Living
There is No Place Like Home: Make Your House a Staycation Destination
Need to escape and unwind from the daily grind? You don't need to take a trip away from home in order to enjoy a well-earned vacation. If you can't get away or just want to have a feel-good vibe anytime, you can revamp your humble abode and create a dream destination right in the comfort of your own home. With a little planning and effort, you can enjoy a relaxing resort feel by having a staycation without leaving your house.
Turn Your Backyard into a Garden Oasis
Colorful flowers turn your backyard into a beautiful garden oasis.
Nothing says summer like spending time outdoors. Take advantage of the warm weather by maximizing the use of your outdoor spaces by creating a backyard that is a beautiful and peaceful place to enjoy. Clear your yard of weeds and clutter and plant a variety of flowering shrubs, ornamental trees, and flower beds. A mix of perennials and annuals will ensure your garden is vibrant with color and fragrance for three seasons. Build a flagstone or brick pathway to add charm and artistry to your garden along with providing a place to walk amid the flowers. Tuck some bird feeders and a birdbath in a corner to encourage songbirds to come and stay.
Get Cooking Outside
An outdoor kitchen lets the cook be part of the social gathering.
Create an open and fun space to cook outdoors during family time or when entertaining a group. Having a seasonal outdoor kitchen will relieve the heat build-up from the oven and stove in your main kitchen and overall house to save on cooling costs. Plus, you'll be able to prepare a meal without missing out on the social interaction or feeling confined in one room while the crowd gathers. A backyard setting keeps the cook from being isolated from the rest of the party while creating a zone where cooking and entertaining are seamless activities.
An outdoor cooking space can be as simple as a grill on the patio or deck or as elaborate as a fully functional kitchen with counter space, built-in burners, prep sinks, mini fridge, warming drawer, rotisserie, wet bar, fireplace, and even a pizza oven. When planning your space, think about how you'll be using it. Focus on the function that best works for you and only get the outdoor appliances that you'll actually use. Choose a location that has easy access to the house, sun or shade, and any amenities such as a pool. Consider creating separate zones for dining and entertaining and decide on the must-haves for each location.
Lounge Around in the Great Outdoors
One of the best ways to enjoy the fresh air and sunshine is to bring your life outdoors. Outdoor living spaces can be screened in or roofed to make them more an extension of the house, or can be a dedicated garden spot. Make them an extension of your interiors with comfortable seating arranged to encourage gathering and conversation. Don't have a screened-in porch? Make one for a fraction of the cost by setting up a tent or portable gazebo that can be set up easily for use in the summer and taken down and stored away for winter.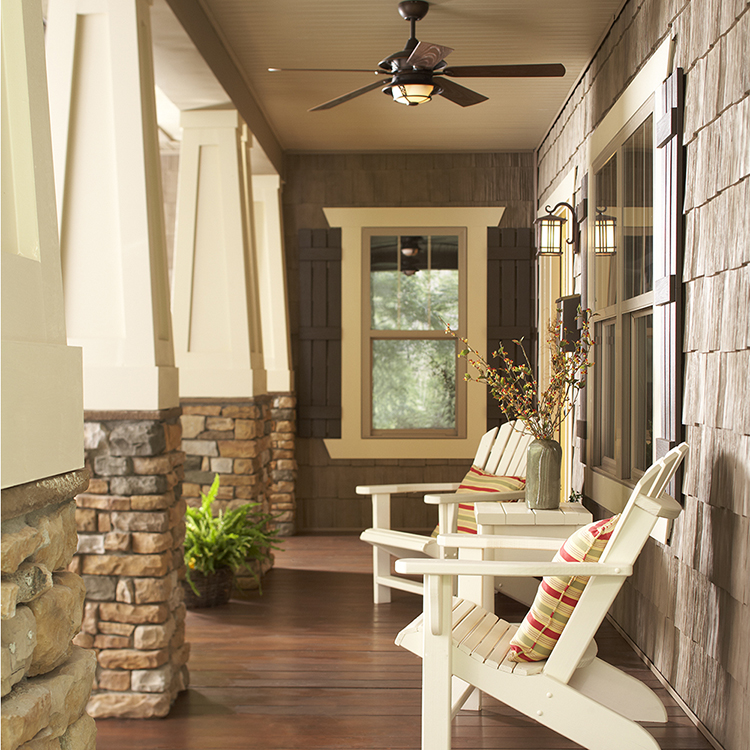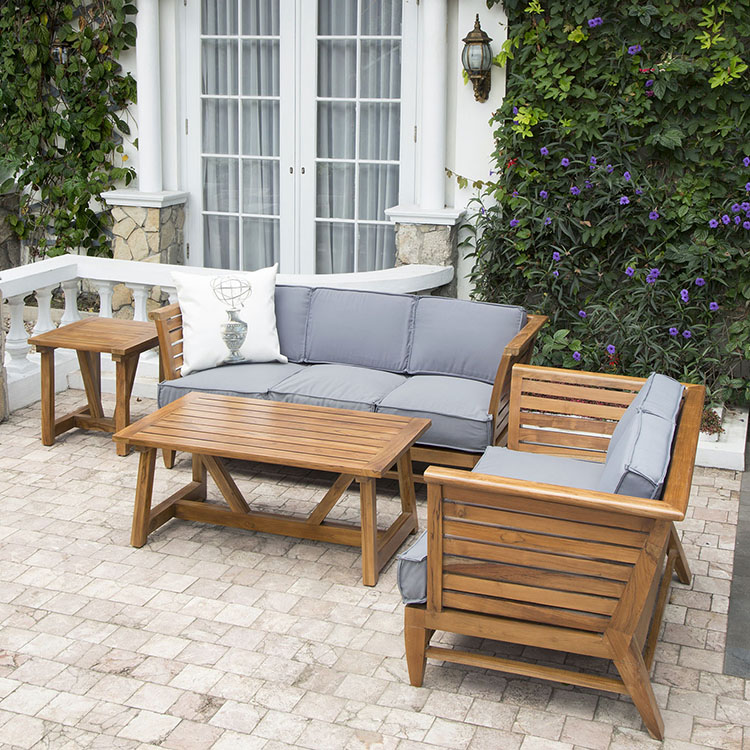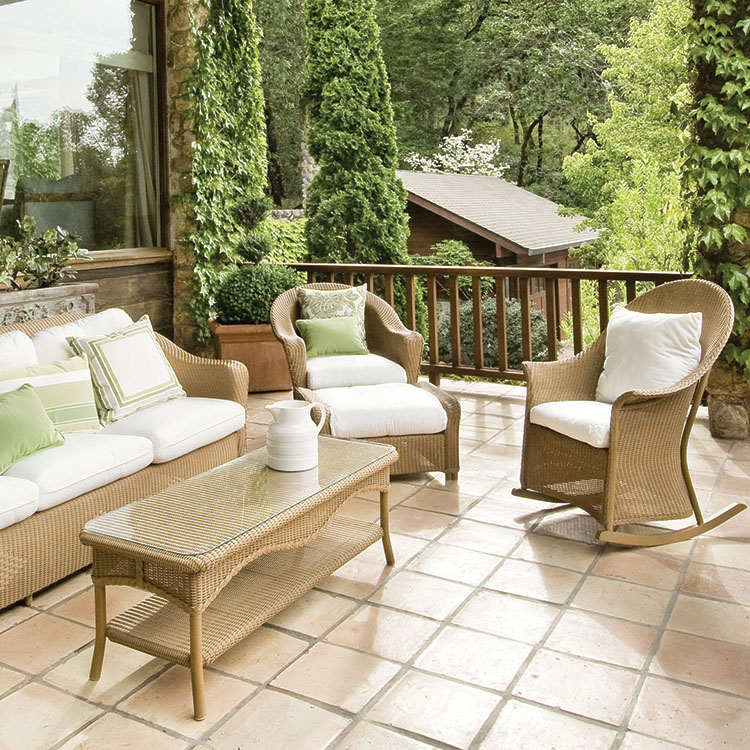 Dress up your patio furniture with colorful cushions and pillows covered in weather-resistant outdoor fabrics. You can change the color scheme with the seasons going from vibrant blues, greens, or yellows in the spring and summer months, and change to warmer toned reds, oranges, and browns in the fall. Mix in a variety of flowers and planters to make it even more inviting. Container plants make it easy to create an instant and portable garden anywhere.
Add a cabinet or console on your porch to stock any essentials for social gatherings and impromptu parties such as plastic or paper plates, drink ware, utensils, napkins, and serving dishes. Having such accessories handy makes it easy to relax and have a bite to eat outside at the spur of the moment. You start the day with an early morning coffee on the back porch or you can linger on the patio in the evening with a glass of wine.
Install a ceiling fan to keep the porch cool in the daytime heat. The cool breeze makes the porch more comfortable and relaxing and gives it a lazy, tropical resort feel. Add a patio heater so you can still enjoy your outdoor spaces in the cooler weather or late into the evening as the sun goes down. Not only do they keep the chill at bay, they also cast a warm glow to create ambience to your social gatherings.
Have a Fireside Chat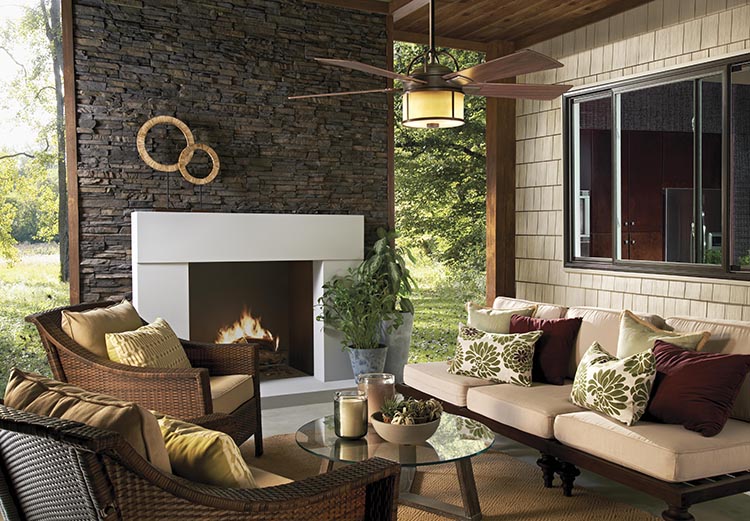 Relax by lounging around a fire feature.
Bring back memories of childhood campfires making s'mores and singing Kumbaya with a fire pit or outdoor fireplace. A fire pit creates a focal point that lights up the yard and lets you wind down your day with an evening fireside chat. You can build your own circular fire pit from landscaping stone or purchase a ready-made metal one from most retail stores that sell outdoor and garden supplies. Surround the fire pit with comfy seating, stock up on chocolate, graham crackers, and marshmallows, and you have the makings for a relaxing evening under the stars.
Light Up the Night
Whether you want to enjoy an intimate dinner for two or host a barbeque for a large family gathering, the right outdoor lighting adds ambiance and safety. Illuminate pathways with accent lighting and add outdoor sconces to porch walls and entryways. Hang strands of string lights or add candle holders to your deck or patio to give your outdoor living spaces a sophisticated and café atmosphere. Scented citronella candles will also keep those pesky mosquitoes away.
Unwind with the Soothing Sounds of a Babbling Brook
A water feature creates an instant zen quality.
Along with adding the element of fire to your backyard, why not also add water? If you don't have the space or money to invest in a pool, you can still have a water feature to enjoy. You can build a small pond or install a fountain. It can be as simple as a small container or receptacle that holds water circulated by a small submersible pond pump or as elaborate as a professionally landscaped and stocked with fish. Decorate your pond with water plants, rocks, and water-safe lights to give it the most visual impact. A fountain can be incorporated into your pond design, or be a separate feature in your garden or on your patio. Make sure your fountain is located within access to an exterior outlet to power it.
Get into the Swing of Things
A porch swing invites peaceful relaxtion.
Hang a hammock, porch, or tree swing to rock in your own private leisure space. You can enjoy some rest and relaxation with an afternoon snooze, or sit back and read some favorite books or that stack of unread magazines. Make sure you install the hammock on two sturdy trees that are spaced far enough apart. Or add a porch swing or rocking chair on your front porch. Lounging and swaying on a swing is a perfect way to relax while taking in the sights and sounds of summer around you. A porch swing gives the front of your house instant curb appeal and invites social interaction and conversations with your neighbors.
Create a Zen Bathroom with Spa-Worthy Features
Turn your bathroom into a restful spa-like retreat.
If the summer brings rain, you can still relax inside by creating a resort-worthy bcathroom where you can de-stress and unwind. Add a freestanding soaking bathtub or whirlpool bathtub where you can sit back and enjoy a soothing soak or refreshing bath massage. If luxury showers are more your style, trick out your bathroom with a steam bath or spa shower system. Freshen up the walls with a fresh coat of paint in a calming color and get clutter under control with some organizers. Extra touches such as radiant heated floors, towel warmers, dual vanity sinks, and vessel sinks can give your bathroom an upscale and spa feel without the price of staying at a luxury resort.
Turn Your Bedroom into a Restful Retreat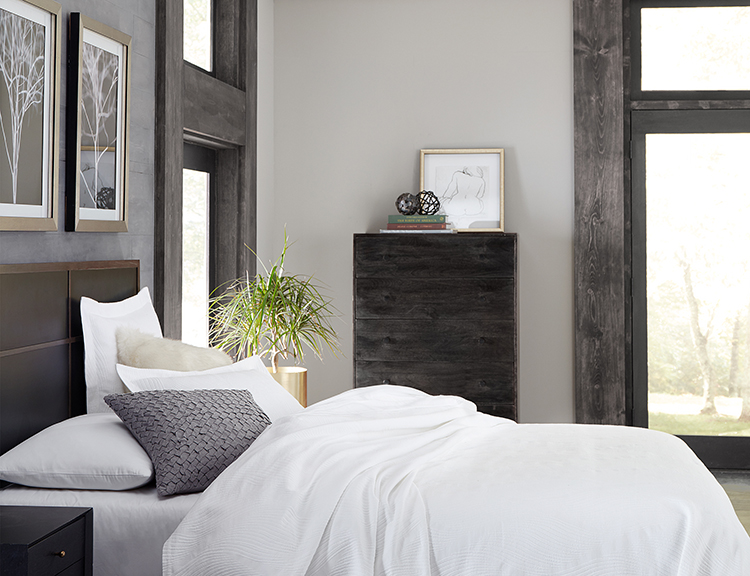 Use calming colors and softs textures to creat the ultimate bedroom retreat.
Vacation means rest as well as play. Update your bedroom to turn it into a personal sanctuary to recharge and forget about high-paced life. Choose soothing colors and indulge in lavish fabrics for your bedding. Purchase high thread count sheets, luxurious comforters, and fluffy pillows to make all the difference in your sleeping experience. Pipe in soothing sounds from your favorite music, a tabletop fountain, or a sound machine to help you refocus and get centered. A vase full of flowers, fresh air from an open window, or a vial of essential oils can add the finishing touch by making your bedroom smell heavenly.
Make your home a place where you feel at peace, inspired, and free to be yourself. Turn it into a sanctuary from the hectic, daily grind, and a retreat to refresh your body, mind, and spirit after a long day at work. When it's time for some rest and relaxation, leave your cares behind and let your home be your staycation destination.