Ways to Make Your Home Holiday Ready
The air is getting crisp and cool. The leaves have turned into a burst of autumn colors. As the temperatures cool and the nights get longer, it's the time to enjoy cozy nights by the fireplace, savoring the taste of hearty soups and stews. It's the time of year to gather friends and family to share and celebrate together. With the holiday season approaching, it's time to prepare your hearth and home to welcome friends and family when they come to call. Here's some ways to get ready for the festivities ahead in these fall and winter months.
Get Organized
Before that first guest arrives, declutter and reorganize every room of your house. Removing or storing your accumulation of stuff away out of sight frees up counters, floor space, tables, and shelves that can be used by guests and to hold holiday decorations. A neat, clean, and organized home also appears inviting and welcoming to everyone who comes to visit. Not enough closet space? Use sets of decorative boxes or baskets to store items. They not only keep your stuff out of sight, yet still accessible, they double as an attractive, practical way to accessorize a room.
Keep supplies organized with decorative storage containers.
Update and Decorate Your Entry
Make an impression when you greet your guests into a welcoming entryway. Bring in some natural elements such as dried floral arrangements, small gourds, and pine cones to fill trays and bowls to create decorative displays that change with the seasons. An accent table is a great place for displaying some seasonal décor to set a festive mood. Create an attractive tabletop vignette with a variety of accent pieces including candle holders, framed family photos, sculptures, and decorative containers. Wall mirrors can make a hallway look more spacious and help reflect more light into the space in darker months.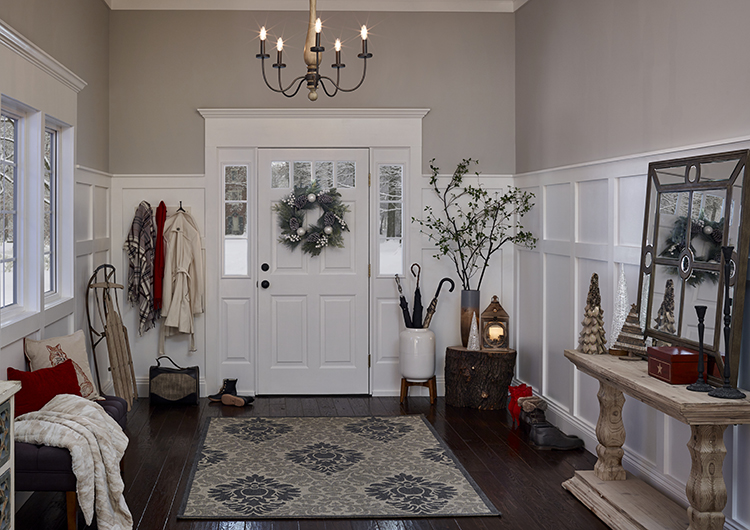 Tabletop accessories make a room more inviting.
Make the Most of Your Mantel
Your fireplace gets a lot of use during the winter months. Turn it into the room's focal point by dressing up the mantel for each holiday. Pumpkins, foliage, candles, and bowls filled with pine cones are perfect for fall. Wreathes, evergreen boughs, garlands, and reindeer figurines let you celebrate the winter season in style. And now that your fireplace is in use, keep embers safely confined with a practical and decorative fireplace screen.
Decorate your mantel for the holiday festivities.
Prepare Your Guest Bathroom
Organize and stock the bathroom guests will use as the holiday season approaches. Whether your guests are staying overnight, for an extended stay, or just for dinner, it's a good idea to make sure you have plenty of towels, soap, and toilet paper in easy access.
Ready a Bedroom for Overnight Guests
Make sure your overnight visitors have all the comforts of home by preparing a bedroom for their visit. Put fresh linens on the bed and clear out space in a closet or dresser for them to stash items if they are staying for several days. Make them feel welcome by placing extra pillows on the bed or one on an occasional chair if you have one in the room. Put a vase of fresh flowers on the nightstand, some books, magazines, and a table lamp for reading in bed.
Seat Your Guests
Make sure everyone who comes to visit has a place to sit in your living spaces and dining room. Ottomans and small benches can do double duty as seats in a living room or family room when you are entertaining or have guests staying over. Accent chairs add style and additional seating to living areas and can be used as extra seating around the dining room table. Hosting a larger group for dinner? Consider renting additional chairs and tables or dig out those folding card tables and chairs that come in handy for cookouts and parties.
A comfy chair lets you seat back and relax.
Wine and Dine in Style
Gathering friends and family together to partake of delicious food and drink is a hallmark of holiday celebrations. Set a stylish table with quality linens, a beautiful centerpiece with fresh flowers, and your best dishes, utensils, and serveware when you host guests for dinner. Make your table shine with themed decorations, layered place settings with chargers, placemats, matching napkins, and personalized elements such as name cards and small favors placed on the plate.
No celebratory gathering is complete without refreshing beverages. A delicious meal deserves the complement of fine wines and liquors. Stock up on a variety of vintages and enjoy tasting samples of your favorite vintages without wasting a drop. The Coravin wine systems let you pour without popping the cork, so the flavor is maintained from the first glass to the last. Bar carts, drink dispensers, and wine holders let you serve up beverages in style for all your guests.
The Coravin wine system lets you pour without removing the cork.
Most important of all, don't stress out. Remember, decorating for the holidays is a perfect way to get in the mood for the season's festivities. Your home doesn't have to be perfect, it just has to be a place your friends and family can relax and enjoy the company of loved ones.