A Weekend Warrior's Renovation Series: Bathroom Remodel – Episode 2
This post is the second in a series following one weekend warrior's full bathroom remodel. The series will cover a range of topics and projects from the perspective of a proud homeowner and DIY enthusiast, not a licensed contractor. Always remember that checking applicable building, plumbing, electrical, and other codes is critical to ensure safety, function, and increased value in your home.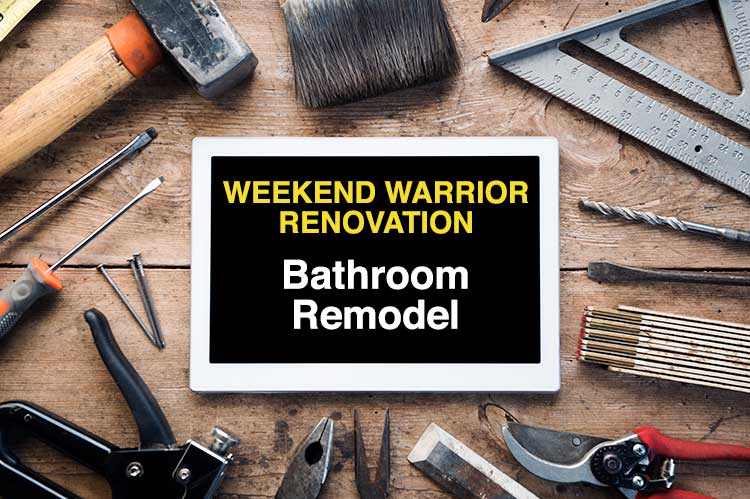 A Complete Bathroom Remodel - The Vision
The design phase of a new project is probably the most fun for my wife and me. It is about inspiration, imagination and choices! Here, I'll outline our approach and how we arrived at certain decisions that shape the project in regards to layout/fixtures, surfaces, and finishes.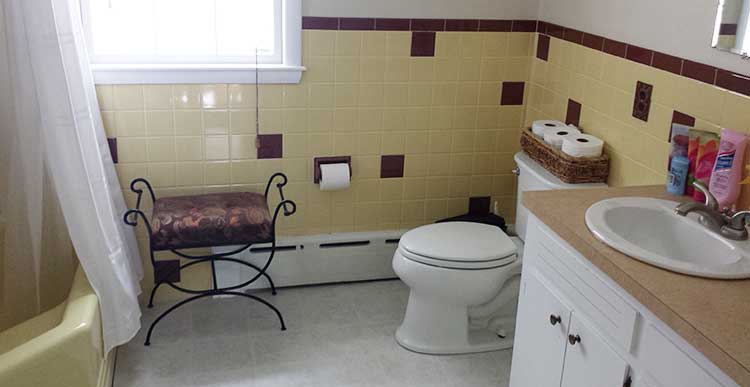 The bathroom before renovations began.
Layout and Fixtures
What do we LIKE about the old bathroom space?
It feels open and spacious.
The double vanity makes mornings a lot easier for our family of four.
Plenty of storage, including the custom medicine cabinet original to the house.
What do we DISLIKE about the old bathroom space?
Even with a double vanity, "hair and makeup supplies" can take over the counter.
It has two entrances, one from the hall and one from the master (which we leave locked).
The linen closet is very shallow, so not much gets stored in there beyond dirty laundry.
The tub is an awkward, shallow square shape- an adult can only shower in it.
The BaseRay cast iron baseboard radiator gives great heat, but wraps behind the toilet. Years of moisture have taken its toll, and it needs to go.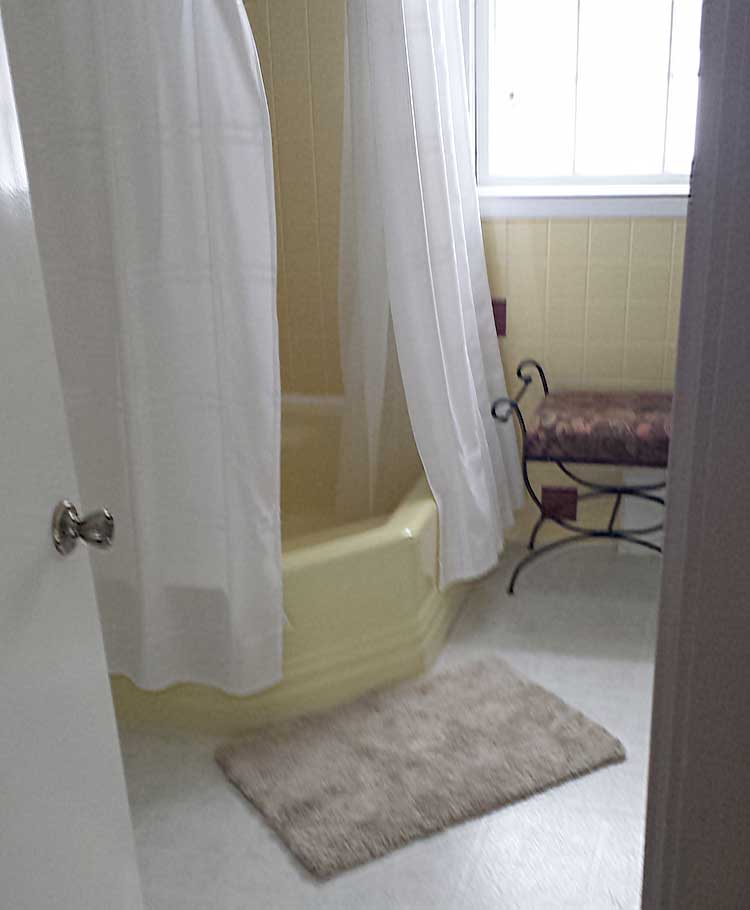 The small, oddly-shaped tub will be replaced with a new, larger alcove model.
So, here is the direction we decided upon for the layout and fixtures:
We will upgrade the vanity and toilet, but leave them where they are in the room (great for budget and scope too). The 72" double vanity is from James Martin Furniture, and the toilet will be an American Standard Heritage toilet that fits the existing 12" rough and features their incredible Vormax flushing technology.
The original wood medicine cabinet will be kept, but slightly modified.
The BaseRay radiator will be pulled out. The new panel radiator from Runtal will have more surface area (five feet long and four panels) and give off enough BTUs to eliminate the need for additional radiation behind the toilet.
The square cast iron tub will be replaced with an alcove style tub from American Standard that boasts more soaking depth for the adults. The partition that will close off the new tub will house the valve, shower arm/head, and tub spout. This also means relocating the drain by about 18" from its previous spot, but luckily it can all be done without opening the ceiling below after the old tub is out.
By ripping out the linen closet and closing off the door to the master bedroom, we make room for a new four-foot makeup vanity. That makes 10 linear feet of counter space in the bathroom!
The existing linen closet will be removed to make room for a make-up vanity.
Surfaces
Surface choices can have a big impact on a bathroom's beauty, durability, and ease of maintenance. We have a smaller bathroom remodel under our belt and have learned a lot. Given that this bathroom will be used heavily, we will plan accordingly.
Flooring will be 18" x 24" porcelain tile. While installing a larger format tile like this is a slightly more difficult install, it means less grout lines and therefore is easier to clean and maintain. We also chose porcelain for its durability and ease of maintenance compared to a porous natural stone tile that is softer and more prone to scratching.
Walls and ceilings will be finished with a plaster veneer. A professional application and a good paint job will handle moisture and humidity fluctuations in a main bath really well with a flawless, smooth finish.
The double sink vanity and makeup vanity will be topped with quartz. While quartz is generally more expensive than granite or marble, it is a manmade material that is nonporous. This means it resists stains and bacteria more effectively, which we love.
Shower walls will be covered in white, glazed ceramic subway tiles with minimal grout lines. Classic white subways lend a clean aesthetic and are easy to maintain with proper sealing. These tiles have timeless appeal and are incredibly cost effective to boot!
Finishes
Many small decisions complete the look and feel of the space and enhance its utility. Whether we're talking about paint color, drawer pulls, mirrors, wall art, wood trim, or a toilet paper holder, it is easy to get overwhelmed. However, great resources like riverbendhome.com advice and ideas, Pinterest, and blogs from our favorite design and decorating pros offer plenty of inspiration.
Color: To get the clean and calming feel we're after, our color palette consists primarily of whites, grays, and green hues. The wall color will be Comfort Gray from Sherwin Williams, which has just the right amount of green to it. Wood trim will be painted in White Dove from Benjamin Moore, which we had left over from our kitchen remodel and happens to match very well to the "cottage white" finish of our James Martin Furniture double vanity.
Metallics: We are choosing somewhat traditional chrome finishes for our faucets, vanity hardware, vanity lights, and accessories (towel bar, robe hook, and toilet paper holder). We like that they are timeless, sharp, and bright! We'll get some contrast from Venetian bronze (nearly black) entry door hardware and an iron shelf to hang above the makeup vanity.
Profiles: We will be doing our best to match the profile of the vanity skirt for our baseboard trim throughout. Window and door casings will be a slightly oversized colonial profile in place of the standard builder-grade casing.
Wall Decor: The vanity mirrors will double as wall art, so a substantial frame either in metallic or pearl is the plan. We found a gray-stained wood picture frame with a large matte that we want to incorporate. In fact, we plan on staining the pine entry door to match!
Fabrics: we are sticking to the clean whites and grays for the window coverings, towels, and shower curtain. We are still looking for the right chair upholstery for the makeup vanity, but this will probably be the very last thing that we buy.
Now that we've made key decisions about the layout, fixtures, surfaces, and finishes to be used in the project, we have a clearer picture of the budget impact of these choices. We are splurging on great fixtures and quartz countertops, but we will save on economical choices such as the glazed ceramic tiles in the shower and porcelain tile flooring. Most importantly, we'll save by doing as much work as possible ourselves. Therefore, the next installment will feature our "master plan" or project check list so we can get started!