The future of exterior and interior home design is clear: many of us will stay at home as we age, and multiple generations will be sharing space. This means that we will see more and more spaces designed for users with varied ability levels and needs.
This also means that the number of terms used to describe accessibility issues keeps growing, too. That can make it challenging to start planning a build or renovation, shop for products, or communicate with your architect or interior designer.
We'll help you sort things out.
Accessibility
Dictionary.com defines this as the property of "being able to be used, entered, or reached"; Wikipedia puts the term in perspective of the design community by calling it "the degree to which a product, device, service, or environment is available to as many people as possible." The term can be rather vague unless the context in which it is used defines the population requiring accessibility, such as…
Wheelchair or Handicapped Access
This more precise terminology makes it clear that wheelchair users will be able to enter the building and/or use the facilities.
ADA
This term is probably the most commonly used to designate accessibility, but it really refers to a very specific set of legislative guidelines regarding the requirements for accessible bathroom facilities in public areas.
The acronym stands for the Americans with Disabilities Act, and it can only be applied to products that specifically adhere to the requirements and guidelines of these laws. The designation also serves to identify residential products and fixtures that meet the requirements.
Aging in Place
This term addresses modifications and updates that allow people to remain in their own homes safely and comfortably as they get older. Many people simply prefer this option to assisted living or other facilities. And especially in areas where the real estate recovery is lagging behind, more and more older homeowners are choosing renovation over putting a house on the market.
How far a homeowner takes the aging in place concept is up to the individual. In the bathroom, one homeowner might simply install grab bars and a raised toilet seat, while another may anticipate more extensive needs by replacing a tub with a walk-in tub or with a threshold-free shower with a built in seat and installing a wall mount sink that will accommodate a walker or wheelchair.
In the kitchen, storage might be redesigned to be easier to reach without straining and lighting improved, especially for night safety. New designs for familiar appliances can ease access as well, such as pull-out refrigerator, microwave and dishwasher drawers.
And, of course, many designers recommend a pot filler faucet mounted over or next to the stove. There are dozens more great ideas for large and small changes that just make life a bit easier.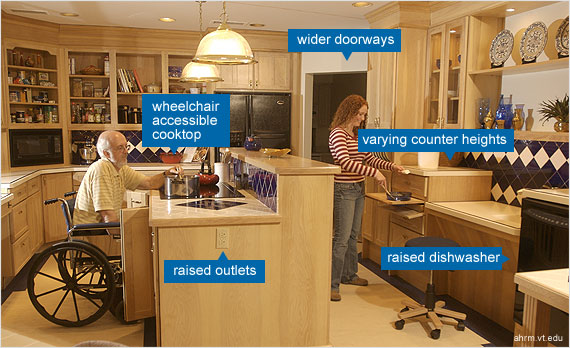 Universal Design
This may be the least understood design concept, yet it's probably the most exciting. AARP defines it thus: "Universal Design is about creating an attractive, stylish space that everyone, regardless of age, size, or ability, can live in or visit."
AARP advises that it is easier and less costly to incorporate basic Universal Design concepts, such as single floor living, a no-step entryway, and wide doorways and hallways, at the pre-construction stage. In addition, if Universal Design is done correctly, the organization says, people may not even know that special care has been taken in the design.
AARP's kitchen recommendations include raised, front loading clothes and dishwashers; side by side refrigerators; multi-level kitchen countertops with open space underneath to accommodate a seated cook; and easy access storage such as adjustable height cupboards and lazy Susans.
Bathrooms should have comfort height toilets, non-slip floors (in the tub and shower too), and of course, low or no threshold showers with seats. Both rooms should have plenty of task lighting and easy to grasp cabinet pulls.
At Riverbend Home we are always exploring new products that enhance safety and accessibility. See our wide variety of grab bars, ADA compliant toilets and more.