Kitchen
Big Ideas for Small Kitchens
Designing a small kitchen that meets all of your daily needs can be a challenge, but with clever uses of space and simple design ideas for small kitchens, you can create a functional space that looks and feels larger than its square footage. Get inspiration from our images and small kitchen design ideas that touch on lighting, color, layout, and storage below.
1. Light Up Your Small Kitchen
In small spaces, one of the most overlooked yet most important design elements is lighting. Aside from being a key safety feature, proper lighting can make a smaller space appear larger by drawing the eye up and brightening up the space. Layer your lighting with a blend of recessed lighting, pendant lights, under cabinet and even chandeliers to give your space a living large feel.
Bringing in eye catching lights will draw guests attention, up making the kitchen feel bigger.
2. Camouflage
Use color to make your small kitchen look larger. In a small kitchen, sticking to a monochrome theme blurs distinctions between cabinet, wall and appliances making it appear larger than it is. Another way to achieve this effect is with camouflaged appliances, blending them with your cabinets.
Camouflage your kitchen appliances with your cabinetry to achieve a larger look.
3. Remove Walls
If you're renovating, consider updating the layout by removing a non load-bearing wall in a small kitchen and replace it with a peninsula that opens up to another living area in your home. Even just opening up a "window" in a wall can make your kitchen feel larger. Plus, it provides an opportunity for casual seating and opens the kitchen up for entertaining.
Consider updating the kitchen layout by removing a non-load bearing wall.
4. Add Some Shelves
One of the biggest mistakes we see homeowners make is not making the most of the space they have. If you're renovating, invest in cabinets that reach all the way to the ceiling and consider installing pull out drawers in the toe kick space. Glass front cabinets and open shelving open up your space and provide a nice opportunity to display favorite pieces of glassware, appliances or dishware.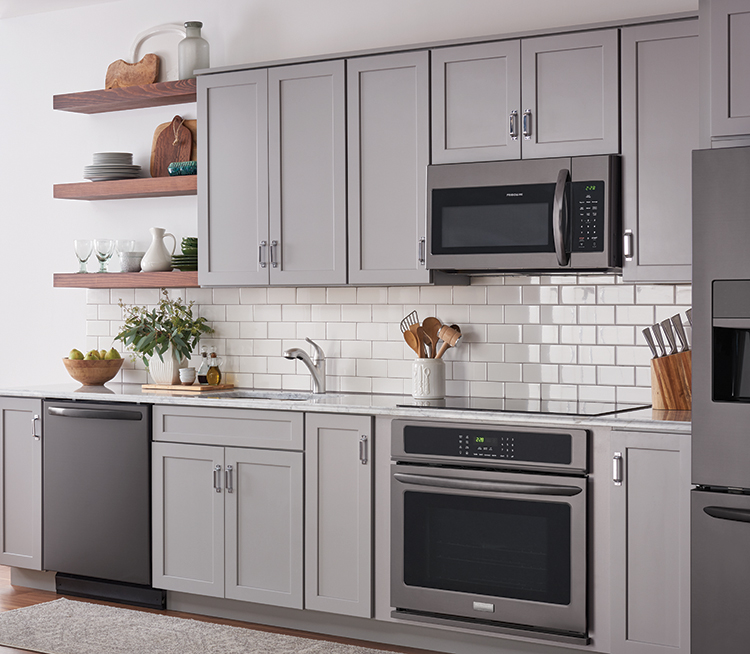 Adding open shelves gives an airy feel and offers room to show off favorite kitchen pieces.
5. Prime Real Estate
If you're not renovating or are renting, make use of above cabinet space with baskets or boxes to store things like nonperishable food or small appliances. It's also a great space to store things you don't use every day, such as serving platters and bowls for special occasions.
Don't let the space above your kitchen cabinets go to waste.
6. Get Creative
Use the wall space you have to maximize your storage solutions. A narrow standing shelf unit is a great place to keep your everyday cooking needs. Use a wall mounted wine rack for your mugs to free up some valuable cabinet space. Pot racks or wall mounted bars with s-hooks are a great small kitchen solution to store pots and pans and free up valuable cabinet and drawer space. A magnetic strip or peg board work well to store knives, scissors, and other small kitchen utensils too.