How to Choose Bathtub and Shower Faucets
Scope Out Your Project
As always, if you're replacing faucets, your choices depend on the fixtures you're keeping. You'll need to match your new faucets to your tub/shower configuration, bathroom décor, the finish of other faucets in the room, and other details such as a tub or tub deck that is already drilled with a certain number of holes. There are also technical issues to consider when it comes to tub and shower faucets.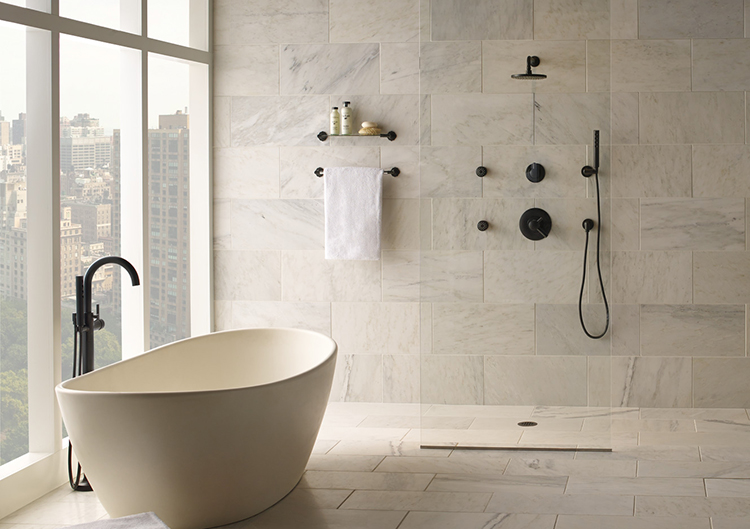 New bathroom tub and shower faucets take a little more planning than bathroom sink faucets, but the design impact makes it worthwhile.
If you are planning a full renovation or building new, depending on your available space you can consider several options for washing off the cares of the day:
Budget matters
Be sure to leave adequate funds in your renovation budget for your bathtub and shower faucets; don't treat them as an afterthought. These fixtures will contribute both beauty and pleasure to the retreat you create.
All About Valves
Let's begin our discussion with the technical issues we mentioned above.
The valve is the plumbing part that controls your water flow. You don't see it because it is covered by the control handle and escutcheon, or wall plate. The valve controls the pressure and temperature of the water in your bath or shower.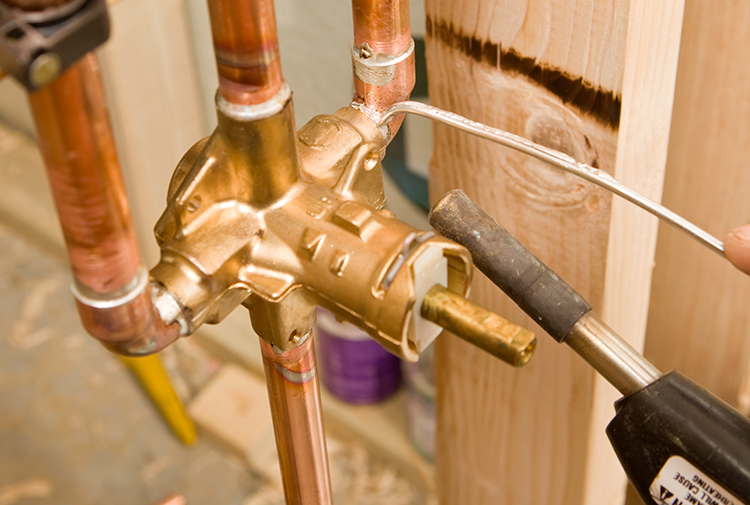 The part of your faucet you don't see—the valve—may be the most important part of all.
The valve is often referred to as a "rough-in valve" because it's roughed into the wall frame during construction and welded into the hot and cold water supplies. In new construction or a complete renovation, it works like this: the valve goes into the wall; the shower stall or shower system is put into place; and finally, the faucet set or trim kit is installed with the handle/control panel covering the valve.
By the way, "Trim" refers to the decorative, visible parts of your shower or combo tub/shower faucet set: control and handle, shower head, and tub spout.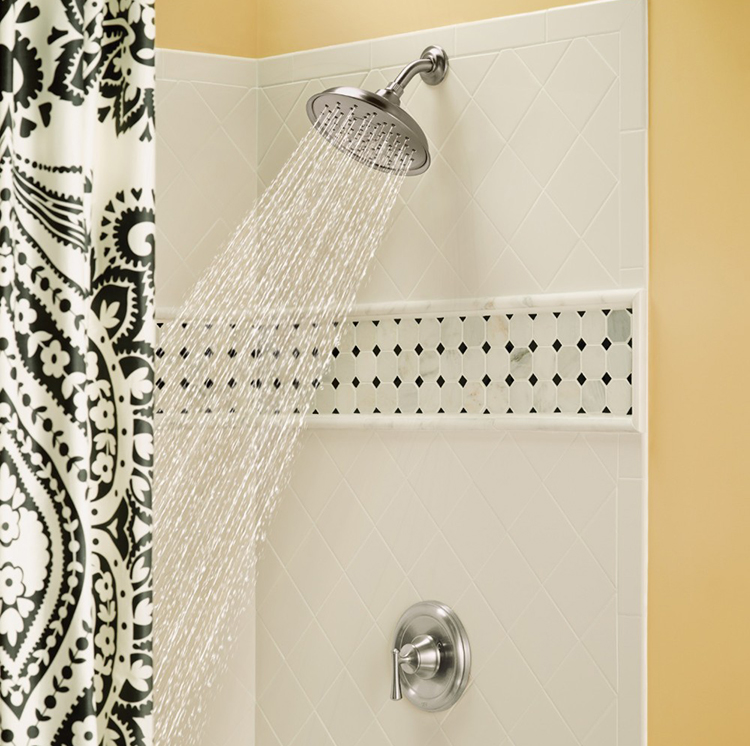 "Trim" refers to the decorative, visible parts of your tub/shower faucet set. The trim kit is installed over a valve.
What if you are not sure you want to get into a full bath renovation, and you're wondering if you can just install a fresh new trim kit for a quick update?
If you only read one thing in this article, read this!
If you purchase a trim kit, you need to make sure that you have the proper valve installed in the wall to receive it. Don't assume you can simply install a new tub/shower faucet over an existing valve.
So if you're replacing your shower and tub faucets, some planning is required. However, it's not too complicated once you know the basics:
Most trim kits require a specific model valve from the manufacturer who makes the kit.
Over the past five years or so, a number of companies including Delta, Grohe, hansgrohe, and others have begun making universal valves that can take different trim kits—still from that brand only.
Older valves are probably not going to take a new trim kit, although Symmons, for one, offers "re-trim kits" that fit some older Symmons valves.
Valves in renovations
Old valves don't just pop out once you remove the trim kit. Your plumber will need to open up the wall, cut out the old valve, and weld the new one into place. A quick, easy shower faucet update is only an option if you can buy a new trim kit to fit your existing valve as outlined above.
As we mentioned above, if you are replacing the entire shower or shower/tub your contractor will have access to the valve. If not, here are some other options:
If you are lucky enough to have a closet or other hidden surface on the other side of the wall, your contractor may be able to go in from behind.
Do a mini-update: Replace the cartridge in your old valve to improve performance and buy a snazzy new shower head, matching the finish to your existing control plate and tub spout.
Types of valves
Most tub and shower valves are pressure balancing valves, in fact, some building codes require these as an anti-scalding measure. These valves correct for temporary fluctuations caused by water usage elsewhere in the building by simply balancing the amount of hot and cold water in the mix. They have a single control for pressure and temperature.
The Cadillac of shower valves is the thermostatic valve. These valves regulate the temperature of the water itself, not just the mix, based on a preset preference. The thermostatic valve requires two handles, one to regulate temperature and one for on/off and pressure. You will most likely encounter this type of valve in a higher-end shower faucet or shower system.
Bathtub & Shower Faucet Configurations
Tub/shower combo faucets
The majority of houses and apartments still feature the standard tub/shower combo in the full bath: a bathtub with a shower head and tub spout mounted on the wall. These fixtures usually share a common handle and diverter, which is the lever, button or other mechanism that switches the water flow from tub to shower.
Shower-only trim kits
Shower-only trim kits, like combo trims, require a separate valve unless otherwise specified in the product description. They usually include a control and a shower head. A shower-only faucet may offer you the option of a thermostatic valve.
Tub-only faucets
Depending on your choice of tub, here are your faucet mounting options: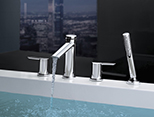 Deck mount: This can refer to either a faucet mounted on the rim of the tub itself or in a surrounding deck made of marble, tile, etc. Pipes are concealed. This category includes Roman tub fillers, a very popular style which may require a separate valve.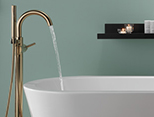 Floor mount (also called freestanding): An option for a tub without pre-drilled holes such as a soaking tub or vintage-look clawfoot tub. The water supply is installed in the floor; the exposed pipes, rising above the tub rim, are often attached to the tub or wall for support.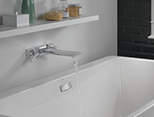 Wall mount: An alternative for a freestanding tub that is close to a wall. Your plumber will bring the water supply up behind the wall so the pipes are concealed and your beautiful new faucet has center stage.
Shower heads
Shower heads have become the star of many bathroom renovations, with a myriad of sizes, spray patterns, and luxury features available. In addition, shower heads are usually not that difficult to change. This is one luxury that does not have to drain your piggy bank.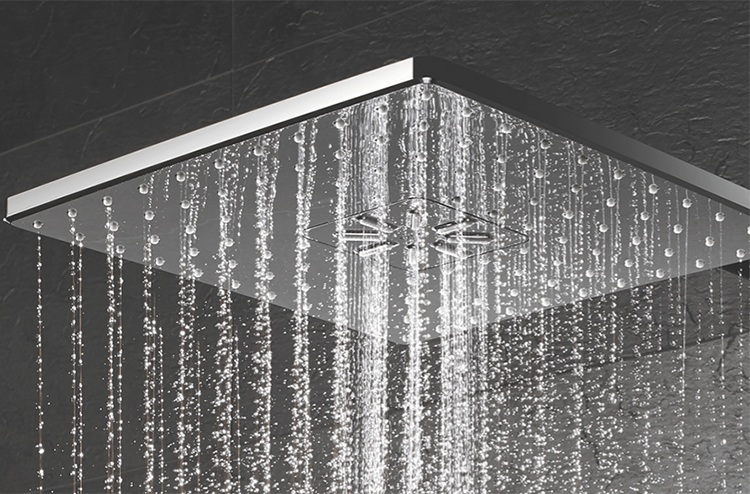 Shower heads come in all shapes, sizes, and price ranges.
Low-flow shower heads utilize advanced technology to provide an optimum experience with minimum water usage.
Check product specs to see if your shower head requires a shower arm, and if so, whether it is included or sold separately.
Shower Head Mounts
Fixed shower heads can be mounted on your shower wall or ceiling. They may be basic or elaborate, single function or multi-function. Even many of the simplest, most economical fixed shower heads swivel to allow you to adjust for bathers of different heights.
Handheld showers have become a phenomenon in the U.S., but they're not really new. They have been popular in Europe for a long time. They offer several advantages, including the flexibility to aim the spray wherever you like on your body or bring it down to a child, pet, or a pair of sandy feet. Plus, the cleaner-upper in the family will love the ability to rinse down the entire shower area.
A solo handshower can serve as a fixed head when on its slide bar or bracket. Or you can choose a combination fixed/handheld unit, either integrated or side by side.
Shower Head Shapes and Sizes
Shower heads can be circular, square or rectangular. Size-wise you can go from a compact 3-inch round model for a small space to an opulent 20+ inch ceiling unit that makes you feel like you are standing out in a field under a warm, gentle rain shower.
Don't go by size alone: A small shower head with a large number of high-quality spray channels may deliver a better flow than a larger fixture of lower quality.
Shower Head Functions and Spray Patterns
Shower heads can provide everything from a single basic spray to seven or eight luxurious functions. Different manufacturers offer a variety of patterns, such as rainshower, fast and slow massage, aerated spray, whirl, soft drench, and more. Some units even offer combined functions so you can have two spray patterns at once.
Showering Green
Government standards now mandate that shower heads use a maximum of 2.5 gallons of water per minute (gpm) at a standard 80psi (pounds per square inch) pressure. Low-flow shower heads use 2 gpm or less.
Going low-flow benefits both the planet and your wallet every time you shower. Hot water is one of the most significant utility expenses, and you can save dollars a day right away with a more efficient shower head.
Manufacturers have created technologies that offer the same feel as a 2.5 gpm shower, such as mixing air with the water droplets, in products that use 1.5 or even a single gallon per minute.
Shower Systems
Whether you are renovating or building new, installing a shower system is a big job, especially if you design your own custom system instead of purchasing a prepackaged system. We'll start with some basics.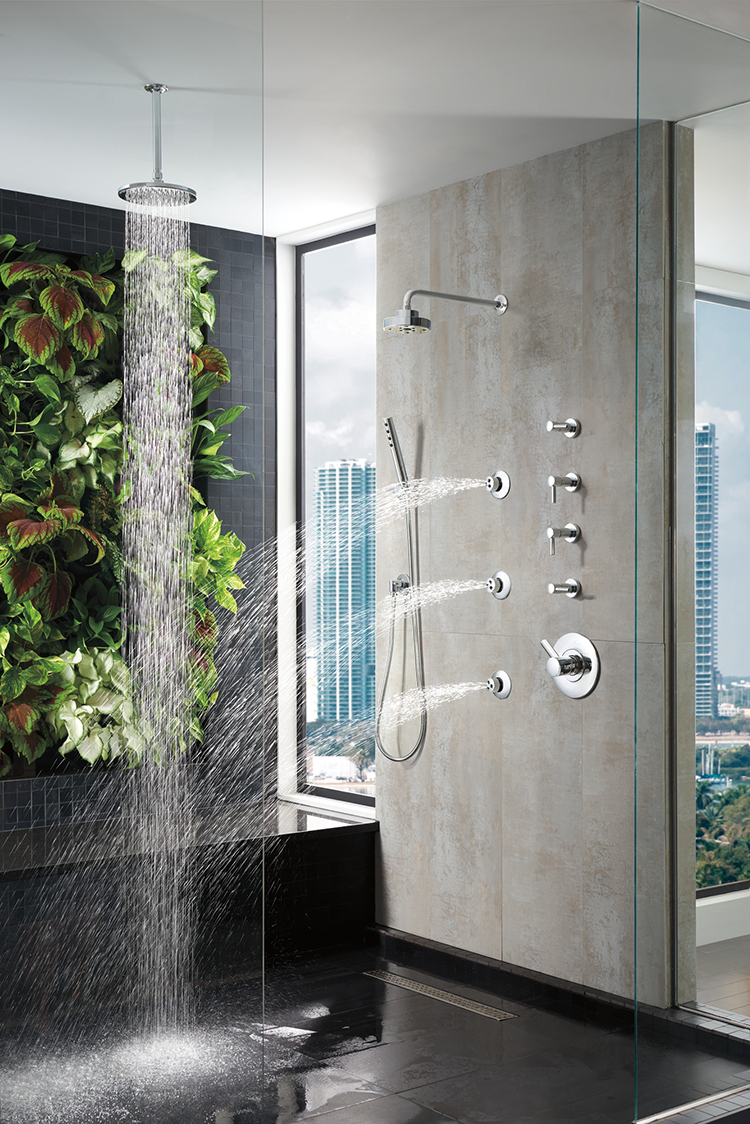 Hire a contractor who has successfully installed shower systems for other customers.
Shower systems can include a combination of valves, volume controls, diverters, shower head(s), body sprays and handshowers. Some systems may incorporate a tub filler as well. You can set up your shower system to accommodate a single bather, or with adequate space, two at a time.
The real challenge takes place behind the scenes. You and your contractor will need to evaluate your current plumbing system carefully, or plan ahead if you are building new. You will need to make sure you have adequate water pressure, hot water supply and drainage, among other things.
The positioning of the various components is vital. Small errors, such as measuring from the subfloor instead of finished floor height for the installation of the body sprays, can cause disappointment when you step inside your fabulous new shower.
You will also want to consider the heights of the various users and position outlets with everyone's comfort in mind.
Consult with your contractor before you decide to incorporate a low-flow shower head into a shower system. Performance is more of an issue when water pressure is divided among multiple outlets.