Buying Guide
How to Choose Your Bathroom Sink Faucet
As with any replacement or renovation, start by considering your household's needs.
Do you wash your hair in the sink? Make life easier with a high arc spout.
Do you crave a movie star bathroom on a budget? Today there are high-style faucets in every price range, so don't limit yourself.
Do the neighborhood kids congregate at your home? Minimize colds with a touch or hands-free faucet in the kids' bathroom.
Remember, if you're replacing your bathroom sink faucet but keeping your sink, or you've already chosen a new sink, you're limited to faucets that work with the mount style and number of pre-drilled holes in your sink.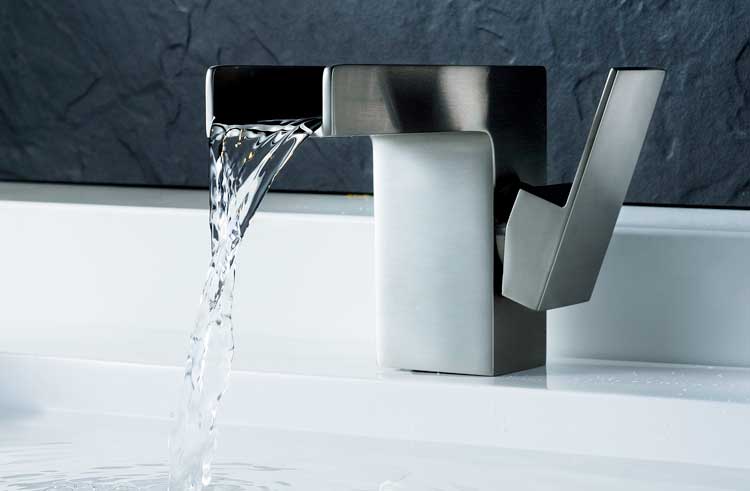 Make sure your faucet is a fit three ways: for your sink, your bathroom décor, and your lifestyle.
How Much Can You Spend?
First, get an idea of the range of prices of the products you like. The Riverbend Home Consultants can often find alternatives that give you the look you want at a lower price, or a fixture in the style you prefer with upgraded features.
Quality Matters
Material
Previously it was understood that to avoid leaks and last a long time, faucets should be made of metal, inside and out, preferably brass.
However, most metals, including brass, leach a tiny bit of lead into the water. Current regulations limit the amount of lead that faucets manufactured after January 4, 2014 can include. Manufacturers have decreased or eliminated the lead in residential faucets since this law took effect.
Some companies that want to go completely lead-free are using plastic in the faucet body. This is not a new practice, but was previously considered a sign of inferior quality, a stigma that these companies will have to combat. Other manufacturers are finding different ways to meet the standards. As with every aspect of your project, stay informed and ask questions.
The valves, or cartridges, that control the flow of water in your faucet are also a factor in the quality of the product. Washerless faucets, especially those utilizing the newer ceramic disc cartridges, are less likely to drip and they last longer, too.
Speaking of value…
Let's say a faucet in a large discount store looks identical to one you like on Riverbend Home or another reputable source that sells only quality products straight from top manufacturers. On occasion the insides of the discount faucet may be of lower quality than the more expensive version, and there is really no way to tell just by looking at it.
If this is the case, you may save a few dollars but the shortcuts taken with the store model will cost you money and time in the long run.
Choose Your Bathroom Sink Faucet Mount
Deck mount vs. wall mount: As in the kitchen, wall mount faucets are becoming more popular, but they are most appropriate for certain style sinks. For example, a wall mount faucet can look stunning over a vessel sink, wall mount sink, or even some undermount sinks.
Single handle faucet: If your sink has one hole, you need a single handle faucet. That won't limit your choices. Lots of fabulous new faucet designs are one-hole mounts, with many traditional and Arts and Crafts styles available along with contemporary and transitional styles.
Centerset bathroom sink faucets are compact, with the spout and two handles combined into a single base plate.
2- or 3- hole mount (check specs)
Typically 4 inch spread between handles
For smaller sink areas
Can be more difficult to clean since handles and spout are close together
Widespread bathroom sink faucets have two handles separate from the spout in the center. The three elements may be mounted directly in the counter or sink or on an escutcheon.
3-hole mount (or deck mount)
Typically an 8-inch spread between the two handles but can be up to 16 inches
For larger sink areas
Easier to clean
Note: A special category called mini-widespread offers the look of a widespread with the 4-inch spread of a centerset.
Choose Your Bathroom Sink Faucet Style
Match what you have
As with kitchen sinks, your bathroom faucets should match your overall décor. We've classified our faucet styles to make it easy to match faucets to the predominant style in your home or to mix and match in a scheme that works for you.
While kitchen faucets often act alone or with one accomplice, bathroom faucets travel in packs. You've got your sink faucet. Your shower faucet or faucets and tub faucets. Some people also want to coordinate a bidet faucet or toilet flush handle.
If you're the kind of person who puts together an eclectic mix with panache, that's great. But if you want to be a bit more conventional, choose a bathroom sink faucet with a coordinating suite or collection of other bathroom fixtures.
If you are just replacing one fixture, whether you go for the same style or not you will most likely want to match the finish of your new faucet to the fixtures you already have.
Spouts
There are many beautiful bathroom faucets with conventional spout shapes, but thankfully for those of us who enjoy a lot of selection, the days of three or four standard shapes are gone. Here are some newer trends:
High arc faucets offer an elegant appearance, plus the convenience of easily washing whatever you need to wash, filling tall vessels, etc.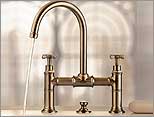 Bridge faucets, a popular trend in traditionally themed kitchens, are becoming more common in bathrooms as well.
Tall spout faucets are designed to reach up and over vessel sinks and above counter sinks. These products may sometimes be kits comprised of a regular height faucet with an extender.
A note about drains
A small number of bathroom faucets are sold without the drain assembly. This is sometimes noted in product descriptions with the terminology "less drain". If you choose one of these faucets you will need to purchase the drain assembly separately. Where appropriate, Riverbend Home notes this requirement in the bullets accompanying the product information.
Choose Your Bathroom
Faucet Finish
Faucet finish is the decorative, protective coating on your fixture. Different metals produce very different effects. You can also choose a shiny, polished surface or a warmer, lightly textured surface, which may be called matte, satin, or brushed depending on the material and manufacturer.
A distressed bronze finish adds interest and texture to a bathroom faucet.
Everyone wants a durable faucet, and finishes have come a long way in that department. According to Consumer Reports, "tougher finishes are now common on all but the cheapest faucets".
PVD (physical vapor deposition) is a fairly new process for bonding a finish to a faucet. With PVD, the finish becomes an integral part of the faucet rather than just a coating. Faucet finishes utilizing this process resist tarnish, scratches, and corrosion and retain their good-as-new look for a long, long time. Finishes that are meant to age into a patina generally do not utilize PVD technology.
Check the warranty on the finish, which may be different from the overall faucet warranty and can even vary for two different finishes from the same manufacturer.
The chart below offers some general information. Every manufacturer and product is different, so use it as a starting point for your own research.
| Finish | Options | Pros | Cons |
| --- | --- | --- | --- |
| Brass | Gloss, satin, antique | Durable, solid, enhances antique and vintage decors | Can be costly |
| Bronze | Satin, brushed | Resists scratching; complements neutral decor | If resale an issue, may not appeal to everyone's taste |
| Oil Rubbed Bronze | N/A | Resists scratching; enhances traditional, Mediterranean, or rustic decor | Dark color not suitable for every decor |
| Chrome | Polished, brushed, matte | Most economical; durable; enhances many décors; resurging in popularity | May show water marks; wipe with microfiber cloth |
| Nickel | Satin, brushed, polished | Durable, easy to clean, versatile; adds elegant, upscale note to decor | May be costly |
| Stainless steel | Polished, brushed, matte | Economical, won't corrode or tarnish, easy to clean; enhances modern decor | Polished texture may show water marks |
Choose Special Features
Hands-free and touch faucets: The bathroom is a place where we are naturally concerned about hygiene. Hands-free faucets turn on when you pass your hands below the spout. Touch faucets allow you to turn on the water by touching the spout or handles with any part of your hand or arm.
This stylish hygienic faucet is activated by either moving your hand under the spout or touching it with any part of your hand or arm.
Water conserving faucets: When you see the WaterSense® symbol you know the faucet meets the water saving specifications designated by the EPA. It is designed with a maximum flow rate of 1.5 gallons per minute (gpm).
ADA: The Americans with Disabilities Act refers to government legislation that sets standards for adapting buildings and facilities for people with special requirements.
To be labeled as ADA compliant, bathroom faucets must be mounted to ADA-compliant sinks for the age group that will primarily use the facility. Faucets must be operable with one hand, without tight grasping or twisting, and should be activated using a maximum of five pounds of force. Hand-operated metering faucets must remain open for at least 10 seconds.
The ADA designation is often misunderstood. The requirements in the legislation are generally aimed at public access areas. While qualifying products may also be great for the home, a much wider range of stylish kitchen and bath products have been adapted for homeowners who are planning to age in place as well as for people with immediate accessibility needs.