Finding the Ideal Cookware
Choosing cookware for your kitchen is not an easy task. Pots and pans can range in style and type with so many brands, designs, and materials such as non-stick ceramic, stainless steel, cast iron, aluminum, and copper, and multi-ply clad metals are available. Deciding what type of cookware material is best for you can seem overwhelming.
Sorting through the different materials available can be daunting. Our tips for selecting the right type of cookware will help you determine the perfect cookware for you.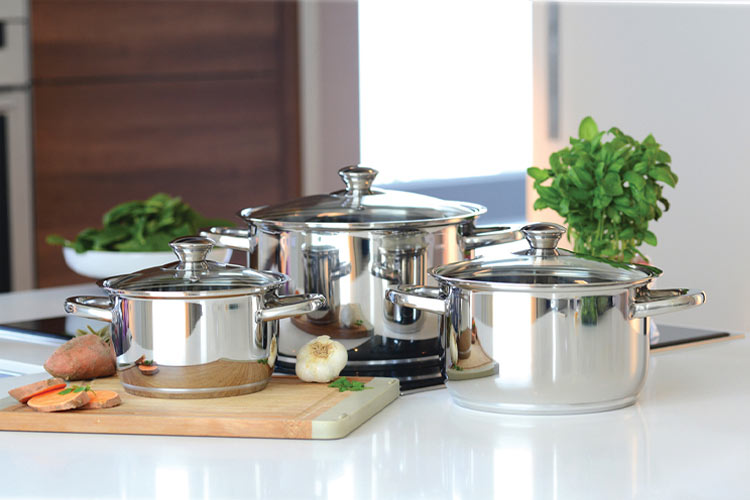 The right cookware can make preparing meals easier and more enjoyable.
Things to Consider Before You Buy
Cooking Style
Evaluate your cooking style before deciding what type of cookware to buy. What cookware you need and use will depend on your cooking skill level, how much you enjoy cooking, the types of cooking you do, and how often you cook or entertain. If you tend to prepare more elaborate meals, enjoy trying all kinds of recipes, or entertain frequently, you will probably need a more extensive selection of tools and equipment compared to someone who tends to order take-out more often or cooks just simple family meals.
Type of Cooktop
Most cookware is designed for use on any type of stove or cooktop with a few exceptions to be aware of when selecting your pots and pans. If you have a smooth-surface (glass or ceramic) range, you will need flat-bottomed pots. Induction cooktops work better with magnetic stainless steel and cannot be used with aluminum, copper, copper-clad, or glass/ceramic products.
Heat Conductivity
Heat conductivity is something to consider when choosing the type of metal your cookware is made from as some metals conduct heat better than others. For example, copper is a good heat conductor while stainless steel is not. The better conductivity, the more evenly your food will cook. More conductive metals will also react to temperature changes faster, meaning your cookware will heat up and cool down quicker.
Durability
Buying quality cookware is an investment. You will use it every day so you want it to last. Some types of cookware will maintain its good looks longer than others and offer more durability over a lifetime of use. Stainless steel is considered one of the best materials in this respect.
Reactivity
Some metals can react to certain foods such as acidic foods like tomatoes. These types of foods will actually absorb some of the reactive metal, imparting a metallic or bitter taste to the food. Reactive metals can also be prone to staining and can discolor some foods and sauces.
Maintenance
Think about how much effort and time you are willing to commit to keeping your cookware looking good and in tip-top shape. Some cookware such as aluminum needs to be handwashed. Copper needs to be periodically polished to keep it looking pristine. Cast iron requires certain care and periodic re-seasoning to ensure it lasts and maintains its stick-resistant surface. Stainless steel is dishwasher safe (unless it has wooden or some types of plastic handles) and is the easiest to care for.
Price
Everyone's budget is different. For the best value, buy the best you can afford especially on pans you will use the most. Good-quality cookware will last longer and perform better in the long run and is well worth the investment.
Cookware Comes in a Choice of Materials
The final decision on whether you want stainless steel, cast iron, copper or aluminium cookware is really a personal choice based on how much time you spend cooking (and cleaning your cookware), your expertise in the kitchen, and your budget.