Buying Guide
Cookware Buying Guide

Finding the Ideal Cookware
Whether you are buying your first set of cookware, adding to your existing pots and pans, or looking to upgrade your cookware, deciding what you need for your kitchen can be confusing. Cookware comes in a wide range of styles, designs, brands, and materials, so choosing which is right for you can seem an impossible task. Knowing if you need a saucepan, fry pan, griddle, sauté pan, Dutch oven, or roaster and made of what metal that is best for you can seem overwhelming.
With all these options in mind, how do you select the right type of cookware for your skillset and budget? This buying guide will give you the information you need to know to make an informed decision and choose cookware to best suit your needs.
Learn how to choose cookware to suit your style, skill, and budget.
The Parts of a Pan
Handle
The handle provides a secure and comfortable grip and lets you easily pick up and hold the pan to transition it from stovetop to oven or to remove it from the burner. Handles can be made of a variety of materials and styles including metal, wood-clad, silicone-coated, and heat-resistant plastic. The best cookware offers stay-cool designs that allow you to hold them without mitts.
Rivets
Top-quality cookware use rivets to join the handle to the body. Rivets create a sturdy joint that never needs tightening though they can be harder to clean. Other fasteners such as screws or welded joints can be used. Screws make it easy to replace the handles, but will require periodic tightening. Welded joints allow for a smooth interior, but are not as sturdy as the riveted joints.
Body
The body is the main part of the pan and can be made of a variety of materials such as stainless steel, aluminum, enameled cast iron, non-enameled cast iron, or copper.
Rim
The rim or edge of the pan can either be slightly rolled, straight, or incorporate a pouring spout. Rolled rims or those with spouts make pouring liquids from the pan into a serving dish or bakeware easier. Straight edges work better for tossing or stirring ingredients.
Cooking Surface
The interior surface of the pan which includes non-stick, stainless steel, and cast iron. Each type has pros and cons based on the different foods being cooked on it. Non-stick offers easy clean-up. Stainless steel is durable and good for browning and sautéing. Cast iron is durable, stick-resistant, and can go from stovetop to oven.
Core
Many pans, especially stainless steel cookware, are constructed with multiple layers of metal which come in contact with the heat source. The core is the layer made of conductive metals such as aluminum or copper.
Base
A flat base will work best on smooth-top electric stoves. For induction ranges, bases with magnetic materials such as stainless steel respond better to the magnetic field generated by the cooktop.
Sides
The sides of the pan can be high or low, vertical or flared depending on the designated usage. High vertical sides that are found in most saucepans are ideal for simmering liquids. Flared sides which are found in many sauté and fry pans help cooking liquids reduce through evaporation.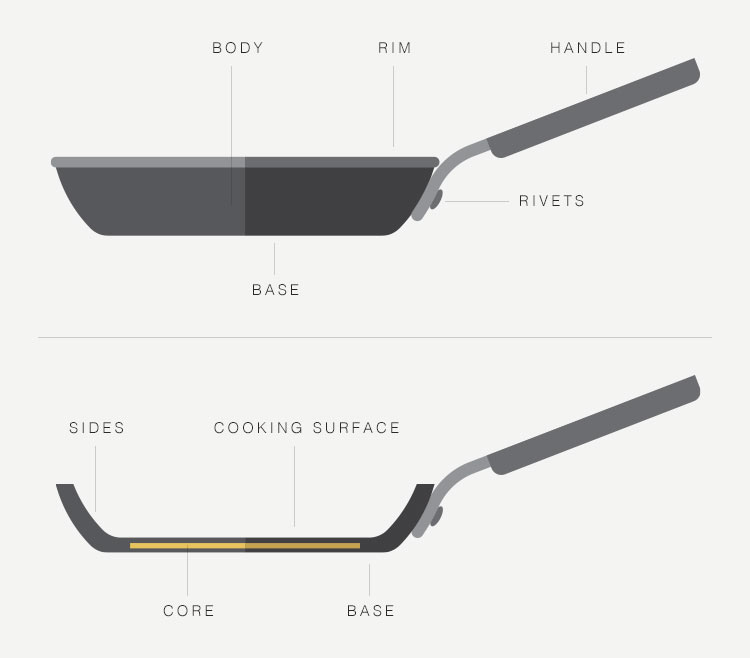 Common terms used to describe the anatomy of a cooking pan.
Common Types of Cookware and Its Uses
The final choice of what types of pans to purchase is a personal choice based on your budget and your methods and style of cooking. Start with a few basics including a few saucepans, a skillet, fry pan, stock pot, and sauté pan. More specialty pans such as a griddle, wok, Dutch oven, pressure cooker, and other task-specific cookware can be added as budget and need permits.