Buying Guide
Find Your Perfect Kitchen Faucet Quick-Start Guide
Decide what matters most when choosing the right kitchen faucet for your home. Once you know, use our filters to start shopping!
1. Finish? We Just Started!
The finish (or color) plays a big part in the design of your kitchen.
Chrome
Chrome is still the standard in most homes. It's a classic finish that will never go out of style. Chrome finishes can be polished with a smooth reflective look or brushed for a textured matte look.
Stainless
Stainless Steel is the next most common finish. With stainless steel appliances on the rise, keeping everything one finish has never been easier. Stainless has a little texture and will not be shiny.
Bronze
There are many variations in bronze such as tumbled, Venetian, and oil rubbed. When buying multiple faucets be sure to buy from the same manufacturer and collection for the best match.
Nickel
Nickel is very similar to chrome, with the main difference being a slightly yellow hue. Nickel finishes can either be polished with a smooth reflective look or brushed with a more textured matte look.
Gold
Gold is a bold option for a kitchen. If you are looking for something unique that will be a focal point then gold might be the right finish for you. The finish will typically have a textured brushed look to it.
Black
Another slightly bold option is black. These finishes usually have no texture, no polished quality, and are a flat matte finish. If you don't want any shine or metal features a matte black finish is perfect for you.
2. Handles. One? Two? Look Ma No Hands?
Two Handles
Faucets with two handles will give you the most control over temperature and flow volume.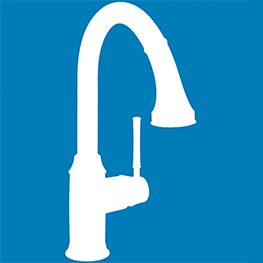 One Handle
New and updated silhouettes offer sleek designs. The single handle controls both hot and cold water.
Touch-Free
Motion sensors are usually in the front, on top, or both. They operate as a single handle faucet as well.
3. Pull Out, Pull Down, Side Sprayer,
Oh My!
Being able to spray water wherever you need it is a great feature to have in the kitchen. But finding which option is best for you can be challenging.
Pull Out Faucets
Pull out spray faucets are typically not as tall as pull down spray faucets, which means they are a good choice for standard to shallow depth sinks because splashing is minimized. They also typically have a longer hose which may be an advantage.
Pull Down Faucets
Pull down spray faucets are usually taller than pull out spray faucets and are a good choice if you have a deep sink that can accommodate the flow of water coming from a higher point, otherwise splashing could occur. Keep in mind the hose will most likely not be as long as a pull out faucet's hose.
Side Spray Faucets
Side spray faucets have the sprayer separate from the faucet. If you have this type and would like to have a pull out or pull down faucet instead, the sprayer hole can be used for a soap dispenser.
4. Holey, Holy, Wholly
Knowing the correct number of holes your sink (or counter, in the case of undermount sinks) has is an important part of picking the right faucet.
5. Escutcheon
If you are looking to replace your faucet but not your sink, or have holes already drilled in your counter, you will need to buy a faucet with the same number of holes. Or do you? If your sink has three holes, but you've decided you love the look of the single hole faucet, you can get that faucet with its matching escutcheon to cover the other two sink holes. Escutcheons, deck plates, and cover plates all serve the same purpose.
Escutcheon, deck plates, and cover plates can all cover unused sink holes.
6. Style Says Who You Are, Without
Having to Speak
If that's true, my home says I'm a working mom who doesn't have time to have style, unless diaper chic is a style. That said, the style of faucet you choose can make a big statement. So think about the look you're going for before buying.
Contemporary: comfortable and welcoming without being cluttered or dark. Shop Contemporary Kitchen Faucets.
Farmhouse: minimalist approach while mixing comfortable, practical furnishings with salvaged materials to create rooms that invite you to sit down and relax awhile. Shop Farmhouse Kitchen Faucets.
Traditional: calm, orderly, and predictable. There is nothing wild or chaotic in a traditional room. Shop Traditional Kitchen Faucets.
Industrial: takes cues from old factories and industrial spaces. Shop Industrial Kitchen Faucets.
Modern: refers to a period of time, it is a design style that was created in the 1920′s – 1950′s. Shop Modern Kitchen Faucets.
Looking for more kitchen advice? Check out our other helpful articles: How to Choose Your Kitchen Faucet, How to Choose Your Kitchen Lighting, and How To Choose Your Kitchen Sink.