Buying Guide
How to Choose Bathroom Vanity Lighting
Where You Need Light the Most
As an important hub of activity in your home, the bathroom sees constant daily use during our morning and evening routines. The bathroom vanity especially is the center of our self-care tasks and requires adequate lighting that is practical, functional, and stylish. Personal grooming requires just the right amount of well-placed lighting. Too little and you can't see what you are doing. Too much and you are hindered by glare and harsh lighting. Poor placement can also affect functionality and usefulness of the available lighting.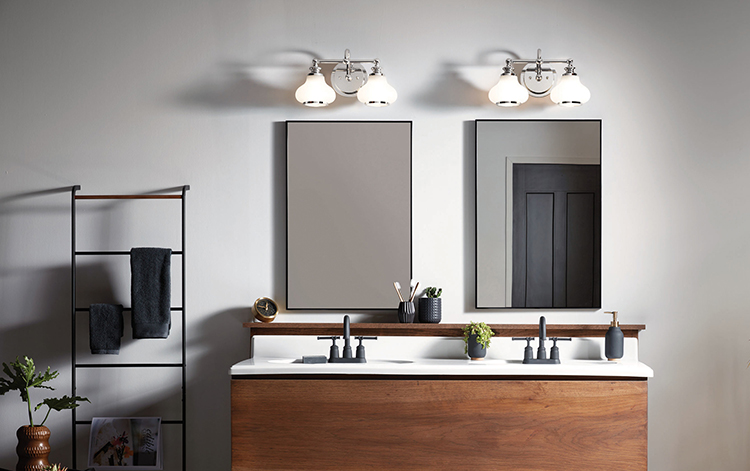 Properly positioned vanity lights shine light where you need it most.
So how do we solve the challenges involved in choosing bathroom lighting fixtures to ensure they live up to their full potential? Picking the perfect bathroom vanity lighting is not as difficult as it may seem. There are many options of bath bars or multi-light vanity fixtures and wall sconces to choose from that will work with your vanity size, personal style, and specific space. Read on for more ideas and tips for selecting just the right bathroom lighting.
Pick a Pair of Sconces
Wall sconces are a popular choice to light the area around a bathroom vanity. Usually found in single-light designs, wall sconces are highly functional and attractive. Best of all, they don't take up a lot of space, so they are a great choice for powder rooms, smaller bathrooms, and for pedestal sinks and single-sink vanities.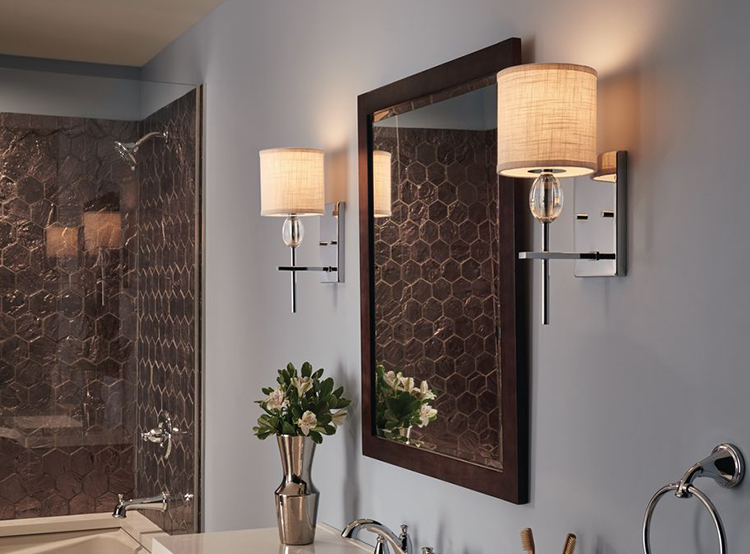 Sconces on each side of the mirror are functional and enhance a room's look.
In main bathrooms where the mirror is used for shaving, applying makeup, or putting in your contact lenses, it is essential to have lighting fixtures to illuminate your face. You want to light up you, not the mirror or the wall. For this reason, sconces are generally installed in pairs with one on each side of the mirror over the sink. Together, they will provide even lighting from the side to ensure your face is not left in the dark while also avoiding harsh shadows.
To get the most function from wall-mounted sconces, choose fixtures with semi-opaque shades that gently diffuse the light rather than opaque shades that will completely block the light from traveling forward and prevent the light from reaching your face. Sconces with multiple bulbs are also a good choice for providing more even light as they will generate light from several angles to more effectively eliminate shadows.
Many sconces give you the option of installing them with the shades facing up or down, making them more versatile and able to better suit your individual space and décor design. More modern fixtures are linear in shape to cast a longer stretch of light up and down, giving your bathroom a crisp look and feel.
Sconces are a great way to evenly light your vanity space, fill the space on the sides of your mirror for a decorative touch, and for installing on walls with a narrow mirror or multiple mirrors with spaces in between them. If the room is very small with not enough room for a pair of sconces or the space is tall and narrow, install a single sconce above the mirror.
When installing sconces, the ideal width is about 28" apart, though this can vary depending on the mirror and vanity width. For optimum lighting, they should also be mounted around 60" above the floor. If you install the sconce(s) above the mirror, the width of your fixture should be about a third of the width of the mirror, but should never exceed its total width.
Light From Above with Multi-Lamp Vanity Fixtures
For wider vanities, especially double vanities measuring 60" or 72" wide, having a sconce on each side may be spaced too far apart to produce strong enough light to provide even illumination for someone standing in the middle or off to one side of a large vanity. Or, your bathroom configuration does not leave enough wall space on the sides along the mirror to make room for sconces. In these cases, a better choice would be a horizontally orientated, multi-light fixture that mounts above the mirror. These fixtures use a series of two, three, four, or more lights to cast a more even illumination no matter where you stand.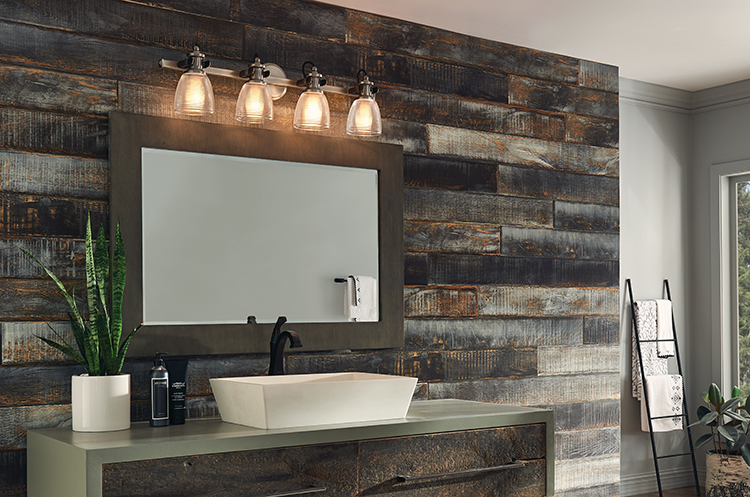 Use multi-light fixtures over wider vanities
Lighting fixtures mounted over the mirror work well in bathrooms with tall ceilings since they draw the eye upward and play into the verticality of the space by adding a focal point up high. Generally, these fixtures should be installed with the shades orientated in a downward cast to ensure plenty of light reaches your face.
When choosing your vanity fixture, whether it is a two, three, or four-light version, you want to ensure you have plenty of illumination while creating a balanced look with your mirror and vanity cabinet. The wider the vanity, the longer lighting fixture you can install. Select one that is no wider that the width of your cabinet which may be wider than your mirror. A good rule of thumb is to pick one that is about 75% of your mirror's total width, mount them high above the floor (about 78" is recommended) and center them above the cabinet. For longer or double sink vanities, you may want to use two of the same style fixture, installed over each sink.
Create Drama with a Series of Pendants
Another, more creative option for lighting the area around larger and wider vanities is to install a series of pendant lights. If hung low enough (while still providing enough headroom), they can function similarly to sconces mounted at the sides. Hung higher, they act similarly to fixtures mounted above the mirror. Unlike vanity lights and sconces, they don't attach to the wall, letting you hang them from the ceiling in whatever configuration you choose. For added drama, you can mix and match complementary styles and shade designs to give your bathroom a unique look and feel.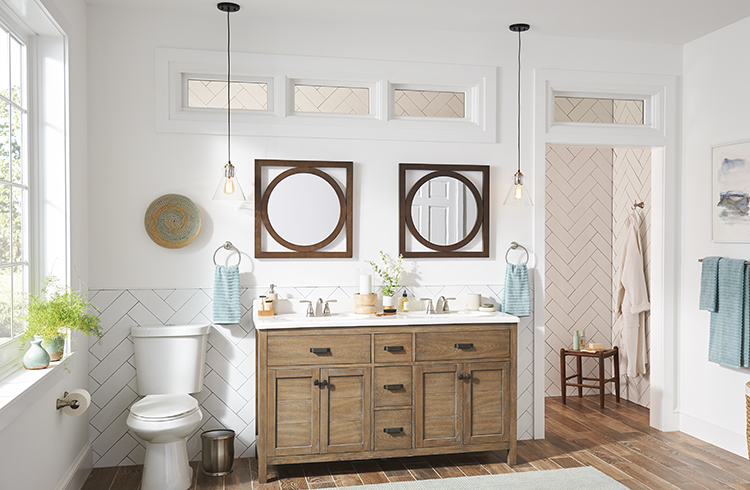 Pendants offer a more creative option to traditional vanity fixtures.
Pendants also work well if your bathroom has an architectural feature that makes it difficult to install lights on the wall. For example, a window may make sconce placement awkward, an angled wall may make it impossible to mount a standard vanity light, or the wall is already tiled from floor to ceiling and you do not wish to cut out the tile to add a new lighting fixture.
Similar to the rules for hanging sconces, you will want to hang the pendant(s) low enough to shed the light where you need it, and use a shade type that will allow the light to diffuse outward in all directions. Thus, both your face and the room will be illuminated evenly. Do not hang them too close together; otherwise, they will obstruct your view and prevent you from seeing the mirror properly. Make sure you allow at least 30" between them.
Layer the Lights
Although vanity lights get top priority since they work the hardest in the bathroom, don't forget to add other lighting fixtures in other areas of the bathroom. Add a wet-rated recessed ceiling light in the shower stall especially in an enclosed alcove design. A more open shower design with an exceptionally tall ceiling overhead may allow a flush-mount ceiling fixture.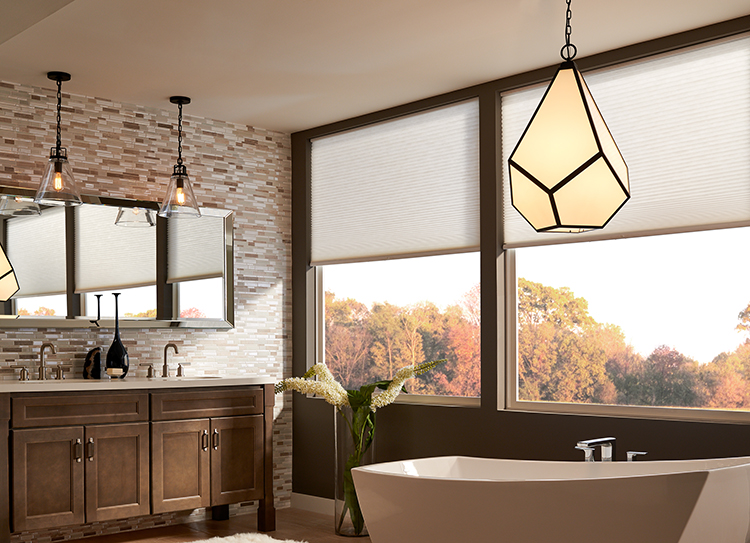 Choose a style that complements the other lighting fixtures in the room.
Chandeliers, flush and semi-flush mount fixtures, and recessed lighting will also work well over freestanding bathtubs, toilets, or the central areas of the room. A good bathroom lighting plan will incorporate a series of layers of different types of fixtures to ensure ample light is supplied where it's needed for showers, bathing, and grooming while also enhancing the overall look and mood of the room.
Keep it Safe for Wet Environments
Water and bathrooms go hand in hand. Steam and mist from the shower, splashes from the sink or tub tend to create a wet environment. When choosing lighting fixtures for the bathroom, not every light will do. For shower lighting, you will need fixtures that are wet rated. For above tubs and vanities, you should select lighting fixtures that are rated for damp or wet environments for safety and to ensure longevity of the light. Also, keep in mind some shade materials stand up to moist locations better such as glass or acrylic rather than fabric which can stain or mildew from moisture or splashing.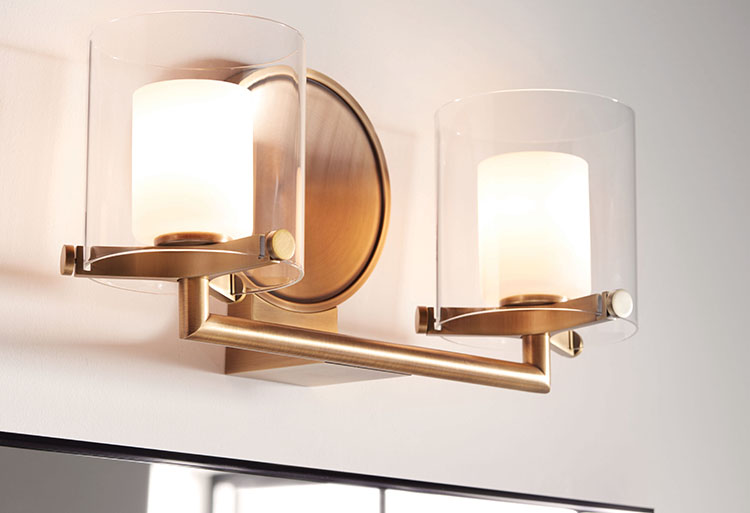 Fixtures with glass shades stand up to damp environments.
After you determine what type of bathroom vanity lighting you need, you can shop for various styles and finishes to suit your décor and personal tastes. For more ideas for lighting fixtures, check out Riverbend Home's great selection of vanity lights, sconces, chandeliers, pendants, flush and semi-flush mount fixtures, and recessed lighting fixtures