Buying Guide
How to Choose the Right Vanity for Your Bathroom
When you are renovating an existing bathroom or building a new bathroom from scratch, selecting a vanity is a major decision for the remodeling process. Along with a tub or shower, a vanity is one of the biggest purchases you will make. Here's some tips to help you choose the right bath vanity to suit your space, style, and needs.
How to Measure Your
Bathroom Vanity
The biggest factor to consider when buying a bathroom vanity is the size. Your floor plan and overall space will help you determine the best size vanity for your room. Width, depth, and height dimensions need to be factored into your choice and are based first and foremost on your bathroom's size. Obviously if you have a small bathroom and can only fit a single vanity, you can immediately exclude looking at all double vanities which are wider.
For depth, leave enough space so protruding corners will not impede foot traffic and movement through the bathroom. Factor in existing features such as mirrors, lighting, medicine cabinets, faucet height and height requirements of the home's occupants when selecting the vanity's height.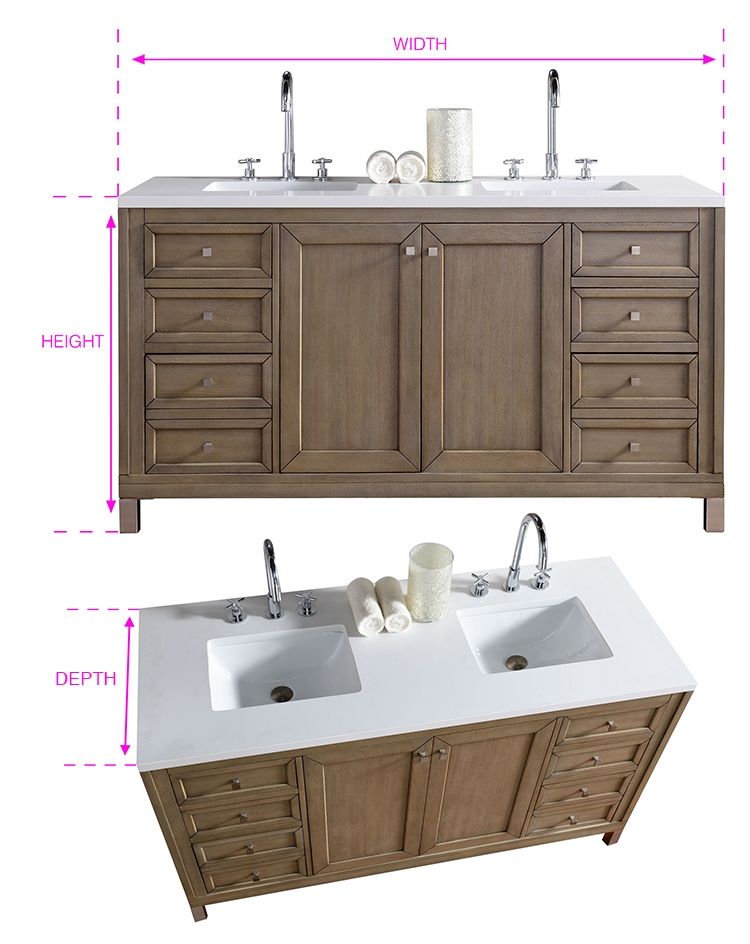 How to measure the bath vanity's width, height, and depth for the perfect fit.
Single, Double or Floating Vanity
Vanities come in a plethora of sizes, so make sure you find one that will fit in your space and still have the function you need. There is no real "standard" in vanity sizes, but there are common sizes for single and double vanities.
The most common single vanity size is 36" wide, and the most common double vanity size is 72" wide. Standard height is 31" and standard depth is 21".
As with most things you buy for your home, take into consideration who will be using the item most. If the vanity is for a children's bathroom, consider purchasing a shorter vanity. Or, if your bathroom is lacking space, consider a vanity that isn't as deep as most.
Holds one sink
Typically this is the most common size of vanity
Ideal for smaller sized bathrooms
Typically range 24" - 48" wide but can also be as wide as 60"
Sinks can be placed in the middle, left, or right of the vanity (adding an interesting visual to your bathroom)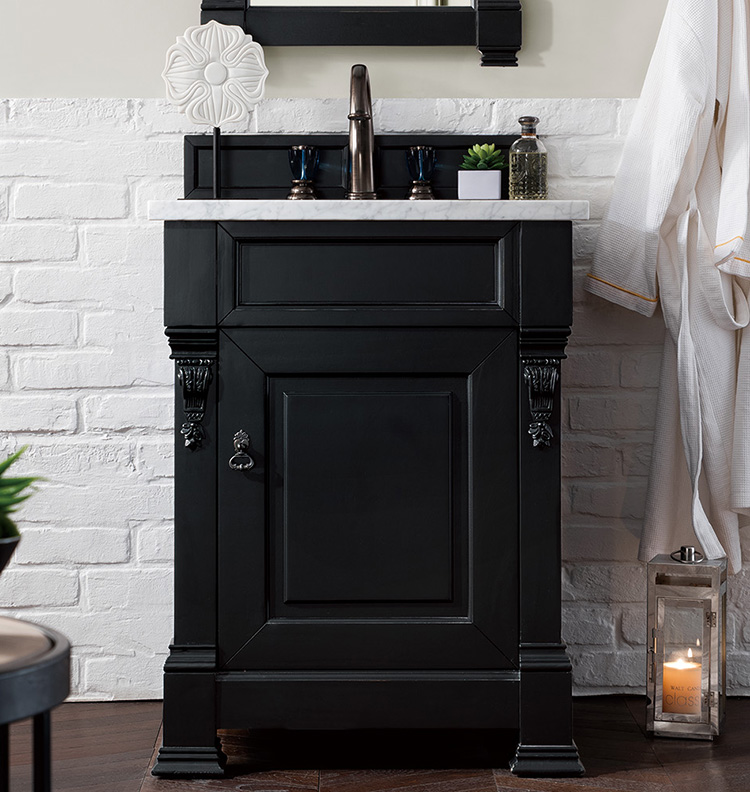 A single bath vanity is perfect for smaller bathrooms.
Holds two sinks
Commonly referred to as "his and her sinks"
Ideal if you have more than 60" of space
Typically range in size from 48" - 72"
Great for any bathroom being shared
A double vanity is a great choice for shared bathrooms.
Floating vanities are a very popular choice for a more modern bathroom. Mounted to the wall, they free up floor space and make it easier to clean around them. A floating vanity is a great option for small bathrooms. They can be found with closed cabinetry or a more modern open shelving style. The open area underneath a wall-mounted vanity makes them a great choice for bathrooms that need to be ADA accessible for wheelchairs.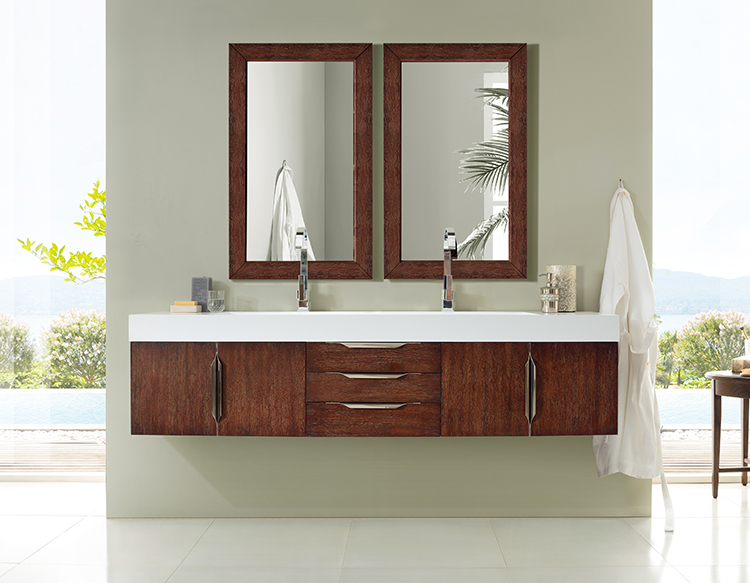 A wall-mounted floating bath vanity uses less floor space.
Picking a Bathroom Vanity Style
Once you have determined the size range you can fit into your bathroom space, you can narrow down the style of vanity to fit your home's décor and your personal taste. Some of the more common styles include modern, traditional, transitional, and rustic.
Sleek hardware and faucets
Color scheme is usually monochromatic, with little to no textures
Typically has a symmetrical design of cabinets, drawers, and sinks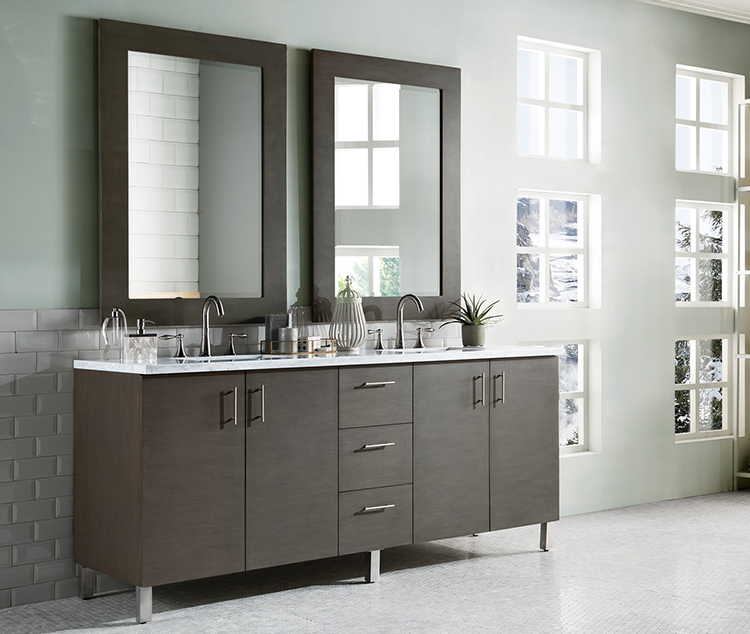 Modern bath vanities are sleek with minimal details.
Classic lines and hardware with a furniture-style quality
Usually have more detailing molding or carved details
Color scheme is usually in the wood colors (oak, mahogany, etc.)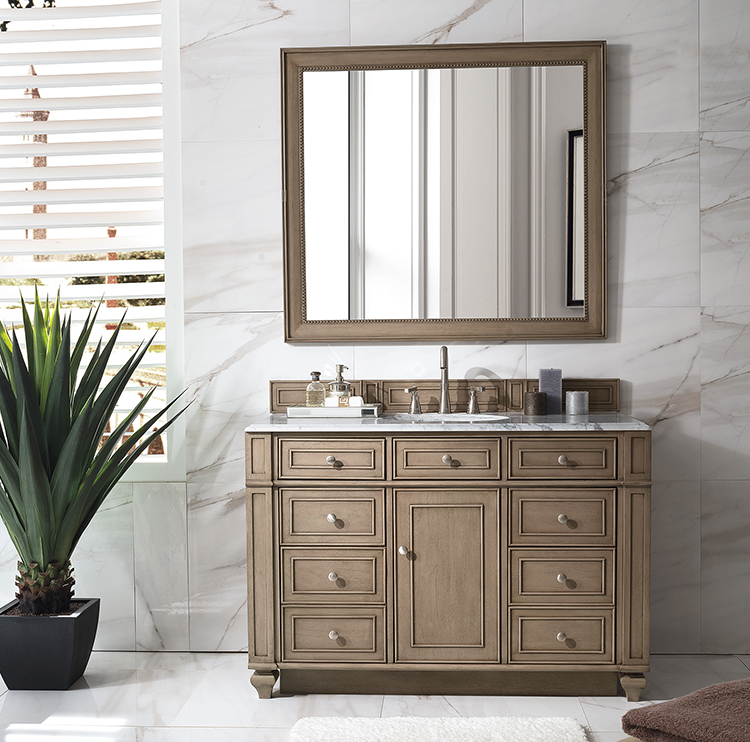 Traditional bath vanities have a classic design with elegant details.
Mix of traditional and contemporary
Symmetrical design
Classic and timeless
Can be stained wood or painted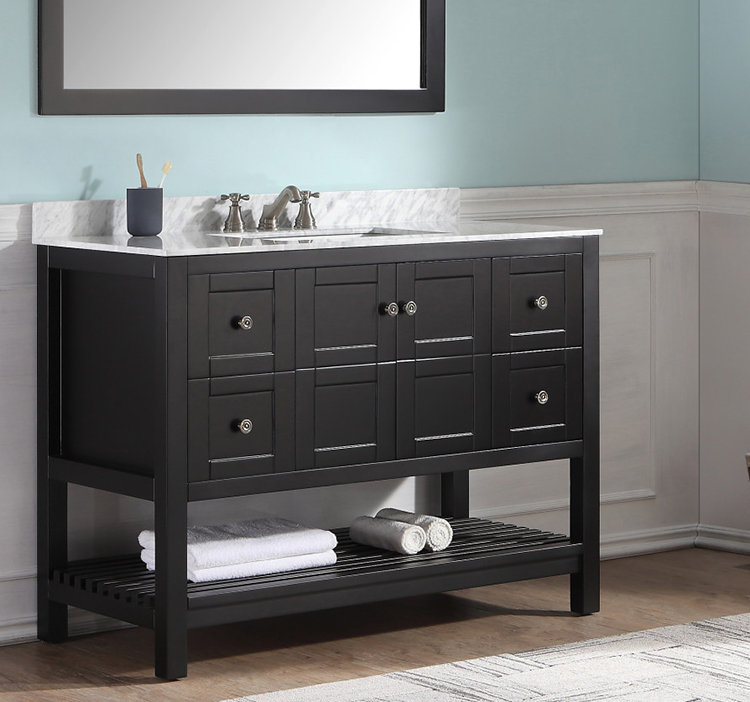 Transitional bath vanities are a blend of modern and traditional elements.
Organic textures
Natural wood tones
Can be made from repurposed furniture or salvaged lumber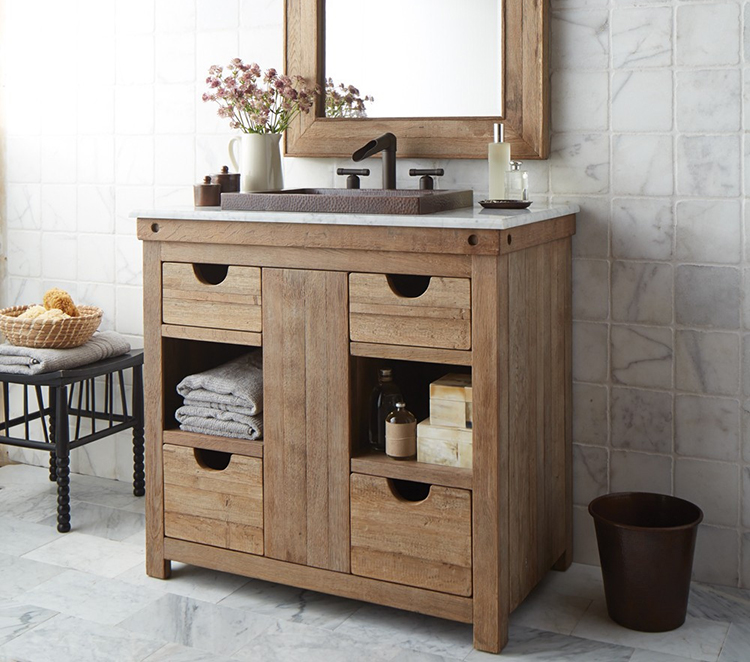 Rustic or farmhouse style bath vanities showcase natural woods with warm feel.
Final Things to Consider When Buying a Bathroom
Vanity Online
Other options to consider are finish (stained wood or painted) and type of storage (drawers, doors, or open shelving). Once the cabinetry is selected, you will also need to consider top material, sink style, and faucet type. Vanity cabinets can be purchased separate from the countertop or with a vanity top already installed. The options are limited only by space and budget.
For more products for your bathroom, check out Riverbend Home's great selection of faucets, sinks, toilets and bidets, bathtubs and showers, cabinet hardware, mirrors, lighting, and accessories.